Welcoming the first day of October with these yummy pumpkin pie muffins!  Moist pumpkin pie muffins topped with sweetened cream cheese, a sprinkle of cinnamon, and served warm of course.  The perfect snack or breakfast muffin for all the cool Autumn weekends ahead!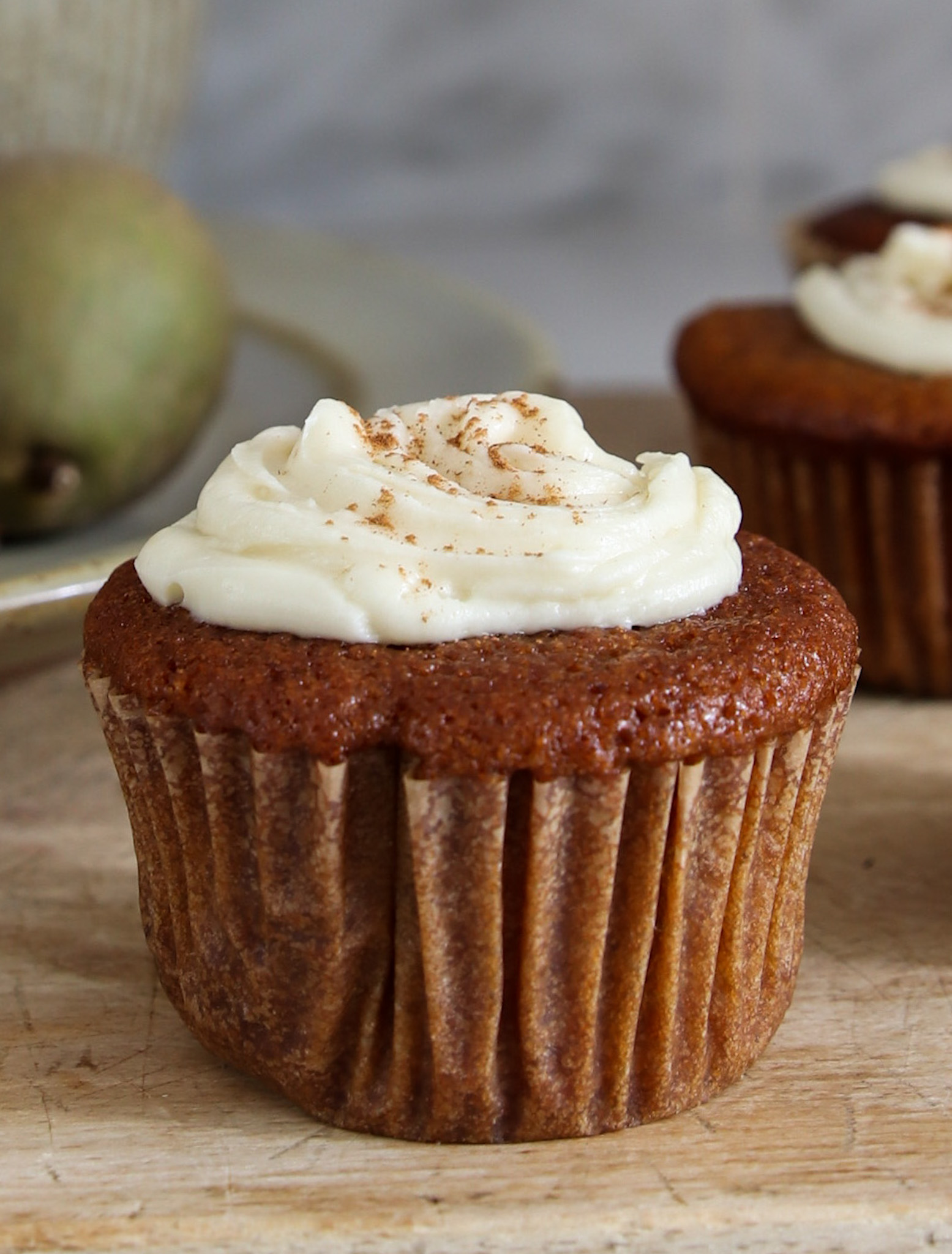 Thanks so much for visiting!  This post contains affiliate links which means if you choose to purchase an item I would receive a small amount of compensation to help support my website.  I only link products that I personally own or items that I love.
Also, I've teamed up with a talented group of bloggers and we are all sharing a pumpkin dessert.  Make sure to scroll down and see what else its cooking!
This time of year I always find myself a bit more anxious. When I get into this situation I almost always find myself wanting to nest in my home and bake all things cozy. Baking in the Fall feels so relaxing and reminds me of being a kid.
So let's talk about the details of these pumpkin pie muffins. I tried a couple recipes and decided I wanted them not to taste too sweet so I cut the sugar and added honey.  Honey is still technically sugar but there are some potential benefits especially when you purchase locally.  Instead of canola or vegetable oil (not the best health wise) I used melted butter. For the frosting I added orange zest but my son said he preferred the frosting without so you choose;) It's my opinion that when treats are homemade they are generally healthier or should I say less un-healthy, especially when you use organic and local ingredients.  Sometimes if you make too many substitutions no one eats them.
The bottom line
What's important though is that every last bite of this muffin is beyond delicious. The warming spices, sweet honey, and citrusy cream cheese frosting makes these muffins so yummy. I couldn't ask for a more perfect muffin.
How to make Pumpkin Pie Muffins
The batter is made with the standard ingredients: butter, eggs, and flour. The key here is using real pumpkin puree not pumpkin pie filling. A full can of pumpkin provides lots of flavor, moisture, and pumpkin is full of vitamin A so that's helpful from a nutritional standpoint. For extra flavor and sweetness, I  added sweet local honey and my pumpkin pie spice which is so easy to make (recipe here). Mix your eggs, sugar, and pumpkin first and then add the dry ingredients.
These pumpkin pie muffins are so good, trust me. The smell when they're baking is reason enough to make them.  Actually if you want to eat them with out the frosting, go for it.  They're that good..  so cozy, so autumn.
Do the cupcakes need to be refrigerated?
If the cupcakes are not frosted, it's okay to leave them at room temperature for a day or two. Once you frost the cupcakes you'll want to store them in an airtight container in the refrigerator.
Can I freeze the cupcakes?
Yes you can!  Pumpkin pie cupcakes and frosting can be frozen for up to three months. When you're ready to enjoy them, simply thaw them overnight in the refrigerator and bring to room temperature. Alternatively you can freeze just the cupcakes and frost later.
Is there a gluten-free option available?
Yes! I recommend using Bob's Red Mill 1 to 1 flour in place of all-purpose flour.  It works perfectly and doesn't change the taste or texture of your muffin.
So with that, let's welcome in the weekend and bake up a bath of these delicious pumpkin pie muffins!
Kitchen shopping links:
Don't forget to check out more inspiration on Pinterest!
If you make these pumpkin pie muffins, please leave a comment and give this recipe a rating.  Oh and don't forget to tag me on Instagram so I can see your pumpkin pie muffins Above all, I love hearing from you guys and always do my best to respond to each and every comment. And of course, if you do make this recipe, don't forget to also tag me on Instagram! Looking through the photos of recipes you all have made is my favorite!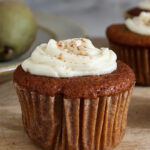 Pumpkin Pie Muffins
Filled with warming spices, farm fresh butter, and local honey, these pumpkin pie muffins are sure to be a hit!
Total Time
1
hour
20
minutes
Ingredients
4

eggs

1

cup

sugar

3/4

cup

honey

1/2

cup

plus 1 tbsp butter, melted

1 3/4

cup

all-purpose or gluten-free flour

2

tsp

baking powder

1

tsp

baking soda

4

tsp

pumpkin pie spice

(recipe link in blog post)

3/4

tsp

salt

1 (15 ounce)

can

pumpkin puree

(do not use pumpkin pie filling)

1/4

cup

corn starch

8

ounces

cream cheese, softened

(for frosting)

1

tbsp

butter

1

tsp

orange zest

(optional)

1

tbsp

orange juice

(optional)

4

cups

powdered sugar

plus 2

tsp

cinnamon

(for sprinkling over cream cheese frosting)
Instructions
To make the cupcakes, blend eggs, sugar, butter, and pumpkin in a medium size bowl.

Add dry ingredients to pumpkin mixture and beat until well blended.

POUR mixture into lined muffin pan, filling about 2/3 full.

Bake in preheated 350 degrees oven for 30 minutes or until center springs back when touched. Cool 30 minutes. Spread with frosting.

To make the frosting: Beat cream cheese and butter until fluffy. Add orange juice, zest, and powdered sugar. Whip until smooth and pipe or spread over cooled cupcakes.
17 Sweet Pumpkin Recipes

Pumpkin Banana Bread or Pumpkin Apple Bread? – My 100 Year Old Home
Spiced Pumpkin Cake with Espresso Frosting – Finding Lovely
Creamy Pumpkin Spice Latte – Satori Design For Living
Pumpkin Pie Muffins – Lemon Grove Lane

Pumpkin Muffins with My Secret Crumb Topping– Happy Happy Nester
Easy Pumpkin Roll Recipe – Jennifer Maune
Pumpkin Pecan Cobbler – Sincerely, Marie Designs
Pumpkin Pie Bars – My Sweet Savannah

One Bowl Pumpkin Olive Oil Cake – Modern Glam
Copycat Starbucks Keto Pumpkin Cream Cheese Muffins – The Happy Housie
Dairy Free Pumpkin Ice-Cream – Zevy Joy
Pumpkin Pastry Twists – Paint Me Pink

Low Carb Keto Caramel Pumpkin Cheesecakes – Tatertots & Jello
Pumpkin Madeleines – Most Lovely Things
Baked Pumpkin Cake Donuts – Inspiration For Moms
Easy Mini Pumpkin Pie – Dreaming of Homemaking
Pumpkin Cinnamon Rolls – Twelve on Main