Stay warm this season with my favorite homemade Extra Creamy Hot Cocoa. Enjoy your hot cocoa with a heaping tablespoon of whipped cream, sprinkling of cinnamon, and peppermint sprinkles. Perfect for sipping while wrapping presents or at your next holiday party. This recipe requires just a few ingredients and takes only a few minutes to make! Unlike most holiday treats, Extra Creamy Hot Cocoa isn't too sweet, making it a delicious option that can be enjoyed by all of your family and friends!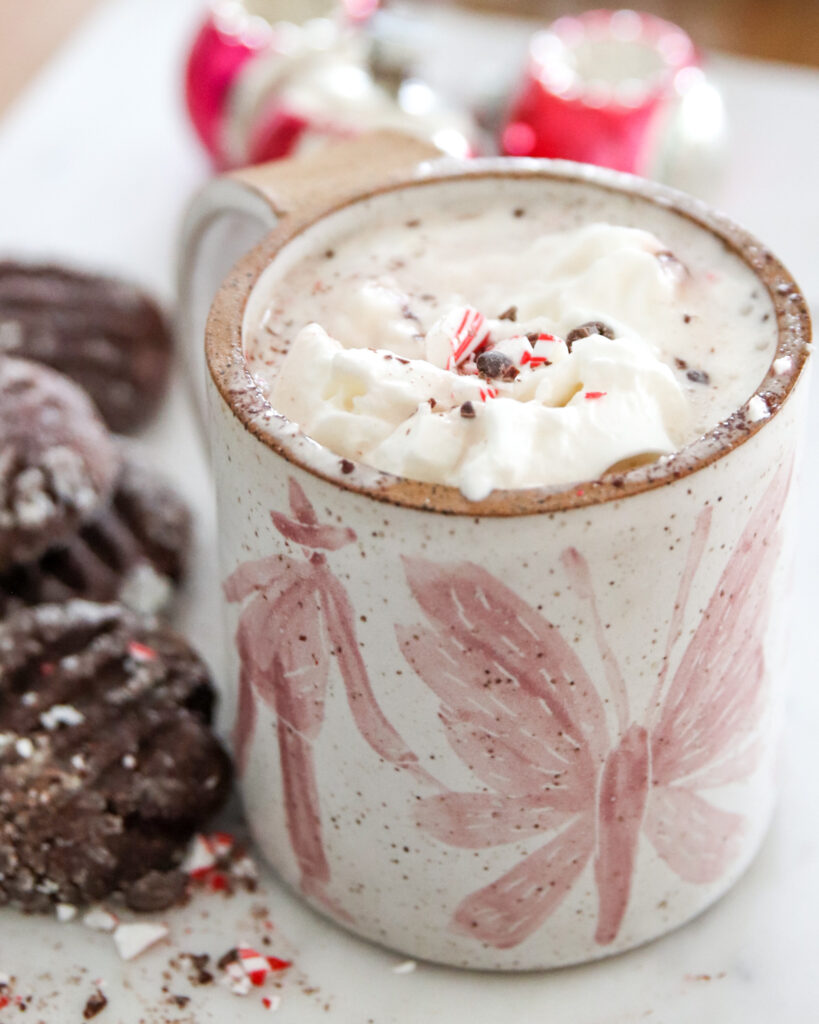 In the wintertime there's nothing better than taking a long walk in the mountains and coming home to a warm mug of Extra Creamy Hot Cocoa. We are in full Christmas mode here, and I couldn't be happier. No matter how crazy life is, there's something about Christmas time that makes everything feel a little bit better. As a family, we always try to make the season fun by doing something festive everyday. Having Extra Creamy Hot Cocoa is on the festive list!
If you're like me you've probably got lots of activities planned for the next few weeks, so to help get you into the spirit of the season I'm sharing my go-to hot cocoa recipe. Remember it's not too sweet so you need-not feel too guilty about indulging while your working at your computer, wrapping presents, or sitting by the fire.
How to make Homemade Extra Creamy Hot Cocoa
As I said above, you'll only need a few ingredients and you might have them on-hand.
I use whole milk and a little whipping cream. You'll also need dark chocolate, cinnamon, and peppermint sticks. If I have extra chocolate I add that too!
Mix everything in a pot a warm it up! Ladle into mugs and top with whipped cream, a sprinkle of cinnamon, and peppermint -so delicious.
I do recommend having these ingredients on hand all winter long so you can make Homemade Extra Creamy Hot Cocoa anytime you'd like. I like to sip mine while I'm working at my computer or watching a holiday movie. Either way, relax and enjoy because you know what they say… this is the most wonderful time of the year!
Here's a list of some of my favorite holiday movies and don't forget to put on your favorite lounge wear and cozy socks!
Looking for more Christmas treats?

Homemade Extra Creamy Hot Cocoa
Ingredients
3 1/2 cups whole milk
1/2 cup full cream
6 ounces dark chocolate, chopped
1/3 cup maple syrup
1 pinch flakey salt
Whip cream
peppermint and chocolate sprinkles
cinnamon
Directions
Heat milk and whole cream in sauce pan.
In a double broiler, melt dark chocolate.
When the chocolate melts, add the maple syrup.
Add the melted chocolate and maple syrup to warm milk and gently stir until mixed.
Pour into mugs and top with whip cream, crushed peppermint, a sprinkle of cinnamon, and a dusting of chocolate.