POTAGE PARMENTIER (potato leek soup)
A classic French soup, Potage Parmentier (potato leek soup) is simple to make and delicious!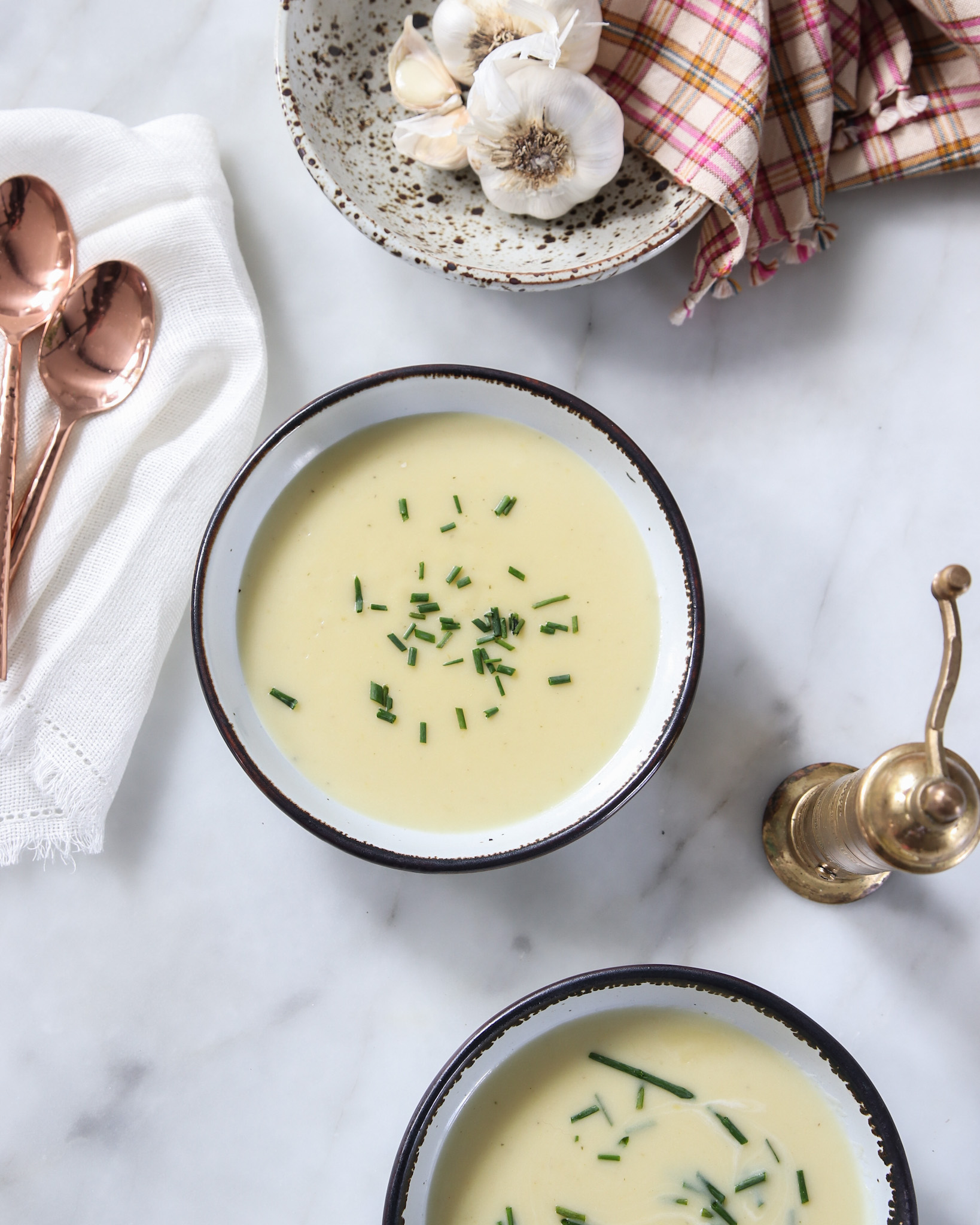 It's been so cold the past week or so.  This week we finally had a dusting of snow and I enjoyed it so much!  Snow is welcome as it's a reprieve from the constant rain here in the Pacific Northwest.  I like to get a fire going, cozy up in lounge-wear and make a big pot of potage parmentier (French Potato Leek Soup).
In France, potato leek soup is considered an essential soup as the ingredients are commonly used in French cooking: potato, leeks, butter, onion, cream.  Potage Parmentier can be served as a main course with a side salad and crusty bread or you can serve it with chicken thighs simmered in a wine sauce.  Julia Childs shares her version potage parmentier in Mastering the Art of French Cooking, a classic cookbook that should be in every kitchen.  She says adding extra vegetables is fine so if you'd like, add a carrot or two. For the topping, get creative. Try fried onion, bacon, or chives!
What you'll need for POTAGE PARMENTIER (potato leek soup)

How to make POTAGE PARMENTIER (potato leek soup)
Making Potage Permentier (potato leek soup) is simple but first you have to cut up the leeks.  They are typically sandy and gritty between the layers so they will require a good rinse.  I usually discard the dark green end and use only the white ends.  Slice in half lengthwise and rinse under cold water while pulling apart the layers so you can remove the dirt tucked inside. Dry them off and give the leeks a rough chop.
Melt the butter and olive oil in your soup pot and then add the leeks, garlic, and salt. Don't brown, just simmer until wilted. Add the potatoes, broth, and spices.  Allow to simmer until the potatoes are soft.
Can I freeze Potage Pamentier (potato leek soup)?  Yes, providing you leave the cream out.  Thaw out the soup, add the cream and serve!
Remove bay leaves and thyme. Using an immersion blender (a must for every kitchen), blend the soup mixture until creamy and there are no potato lumps.  Add the cream and simmer until warm, not boiling.  Ladle into serving bowls and topp with chives.  Serve with a salad like this one and some crusty bread if you'd like.
Share or pin for later!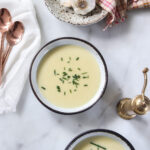 Potato Leak Soup
A French classic! This creamy potato leek soup is a meal in itself or can be served as a first course. It's simple to prepare and delicious.
Ingredients
2

tbsp

butter

2

tbsp

olive oil

1

tsp

salt

1/2

tsp

pepper

6

leeks

4

cloves crush garlic

2

pounds

Yukon Gold potatoes, peeled and quartered

6-8

cups

vegetable or chicken broth

I use my homemade bone broth

2

bay leaves

3 sprigs

thyme

1

cup

whipping cream or you also use half & half

chopped chive for garnish
Instructions
Melt butter in large soup pot over medium heat. Add olive oil, leeks, and salt. After about a minute, add the garlic. Avoid browning, just soften the leeks and garlic.

Add potatoes, broth, bay leaves, and thyme and simmer until potatoes are soft.

Remove thyme and bay leaves.

Using an immersion blender (you can also use a standing blender), blend the soup mixture until smooth with no potato lumps.

Add cream to the soup mixture and heat, don't boil.

Taste and season as needed. If the mixture is too thick, add water or additional broth.
Recipe Notes
This soup can be frozen for 6-8 weeks if the cream is not added.  Simply defrost, add cream and simmer until warm.
Pairs well with my strawberry spinach salad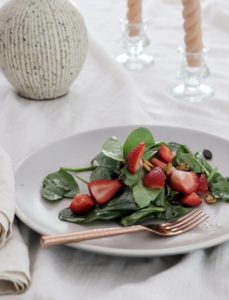 https://www.lemongrovelane.com/strawberry-spinach-salad-with-roasted-pepitas/
Thanks so much for visiting!  This post contains affiliate links which means if you choose to purchase an item I would receive a small amount of compensation to help support my website.  I only link products that I personally own or items that I love.