Start the new year off right with my favorite Healthy Soup Recipes!  Wintertime always has me craving warm, comfort food and a hearty bowl of soup hits the spot plus is packed full of nutritional goodness to keep your body healthy!
Healthy Soup Recipes
Looking for ways to get more veggies in your diet?  Soup is a great way to sneak vegetables into your diet and if you add homemade bone broth, your taking everything up yet another notch – so good for you!  Don't forget to warm up a loaf of your favorite crusty bread to soak up some of that nutrient dense broth and serve a mixed green salad on the side if you'd like.
So grab your favorite soup bowl and let's dive in!
A classic French soup, Potage Parmentier (potato leek soup) is simple to make and delicious!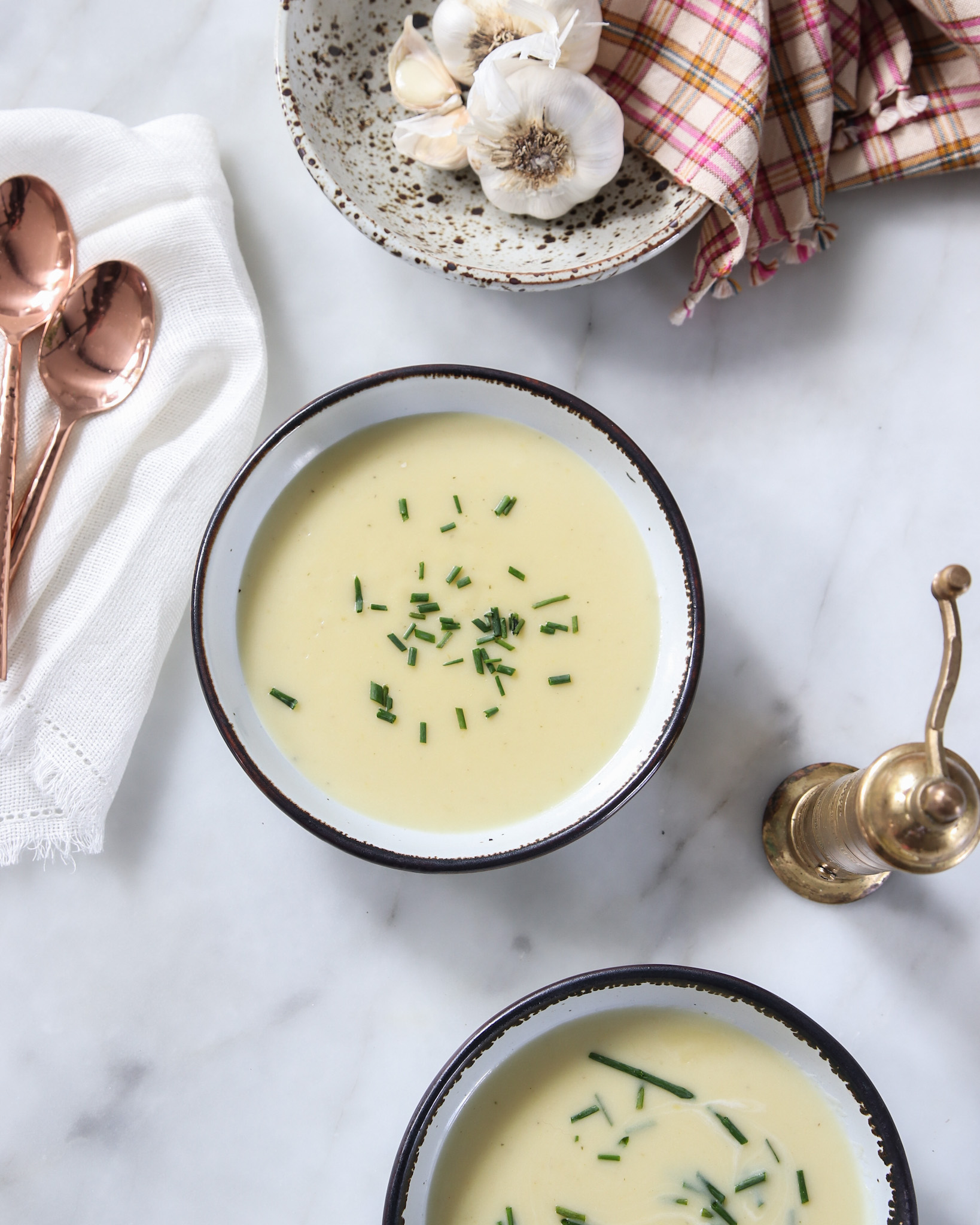 This is the perfect weeknight meal.  It's delicious, packed full of nutrients,  and will satisfy you craving for warm comfort food. My husband likes this because it has a little bit of bacon.  You can omit that if you'd like to or substitute turkey sausage.  If I have a busy work week ahead, I 'll sometimes prepare this over the weekend and then we simply reheat for a hearty winter meal.
This creamy roasted butternut squash soup with sage is one of my favorite winter soups.  I make it with bone broth to boost the nutritive value and then add fried sage leaves for a delicious and filling meal.  Make sure you pick up some crusty bread and farm fresh butter to enjoy on the side!
This is our version of the tried and true Chicken Tortilla Soup and it is so easy.  All you have to do is put everything in your dutch oven or slow cooker and you will come back to a perfectly delicious and cozy bowl of tortilla soup.  It doesn't get any better than that.
Chicken soup not only tastes good, it's packed full of nutrients and is said to boost immune function and reduce the symptoms of cold and flu. I've been making this recipe for years and it's a family favorite.  Don't forget a loaf of crusty bread, you'll need it for dunking in the hot broth!