Cozy home decor | Simple ways to add warmth to your home
Cozy home decor | Simple ways to add warmth to your home ~ Do you want to create a cozy winter home?  This post is all about cozy home decor. Today I'm sharing 7 simple ways to add warmth to your home!  
Are you a fan of the cold, winter months?  Here in the Pacific Northwest our winters are long, gray, and cold.  Some of my friends have blue lights to help get through the darkest days.  Over the year I've learned to embrace to season and generally don't let it affect my state of mind.
The dark, cold days are an opportunity to be snug, cozy, and hibernate.  The forest is quiet and the trees are bare.  Nature is preparing for spring and while things might look dead or dormant, there is lots of action going on behind the scenes.  We are in hibernation mode and if I were to put a positive spin on the dark, dreary weather, I'd say that this is a time for rest and recovery.  There's plenty of opportunity to get caught up on reading, and to focus on healthy, healing behavior.
So I take the opportunity to get into some cozy lounge wear and cuddle on the couch under a cozy blanket, sip tea, nibble on dark chocolate and flip through some of my favorite design and cooking books.  Go ahead, take shelter from that cold weather and create a winter home today! Here are 7 ways to add winter warmth to your favorite spaces and create the cozy homes you've always wanted.
Cozy Home Decor | simple ways to add warmth to your home
Candles
I love t0 watch flickering candles dance in the dim light and I find the warm glow mesmerizing. A single pillar candle or a grouping of tapers can be placed anywhere to create levity (something we all crave now).  In the wintertime, wood candle holders or lanterns create an organic, nature inspired feel and a scented candle can take you away.  One of my favorites recently is Fez Morocco. The crisp fir notes of this candle give way to salt and fig and are inspired historic Medina in Morocco
Branches
Birch branches are wintry and look pretty grouped together in a basket.  What I do most though is clip branches from my yard or I pick up a bunch from the grocery store.  This week I got really lucky and found branches and garden roses at the market.  A few days later I noticed a few blooms on the branches.  I was so excited!
Flowers
Garden roses and peonies are my favorite and both make me happy even as the petals begin to fall.  I've found that the garden roses don't live as long as peonies so I always give them a little extra care when I get them home.  I remove the outside petals and green leaves under the flower.  Next I cut the stem on an angle to make sure the flower can drink up lots of water.  Speaking of water, always change the water in your vases and pour yourself a glass while you're at it! Dehydration is common during the winter months.
Sip
Sipping a cup of tea in the afternoon while reading is a luxury for me.  It's kinda like taking a bath, something I always want to do but in reality, seldom do. With that said, I'll make a cup of tea right now ;)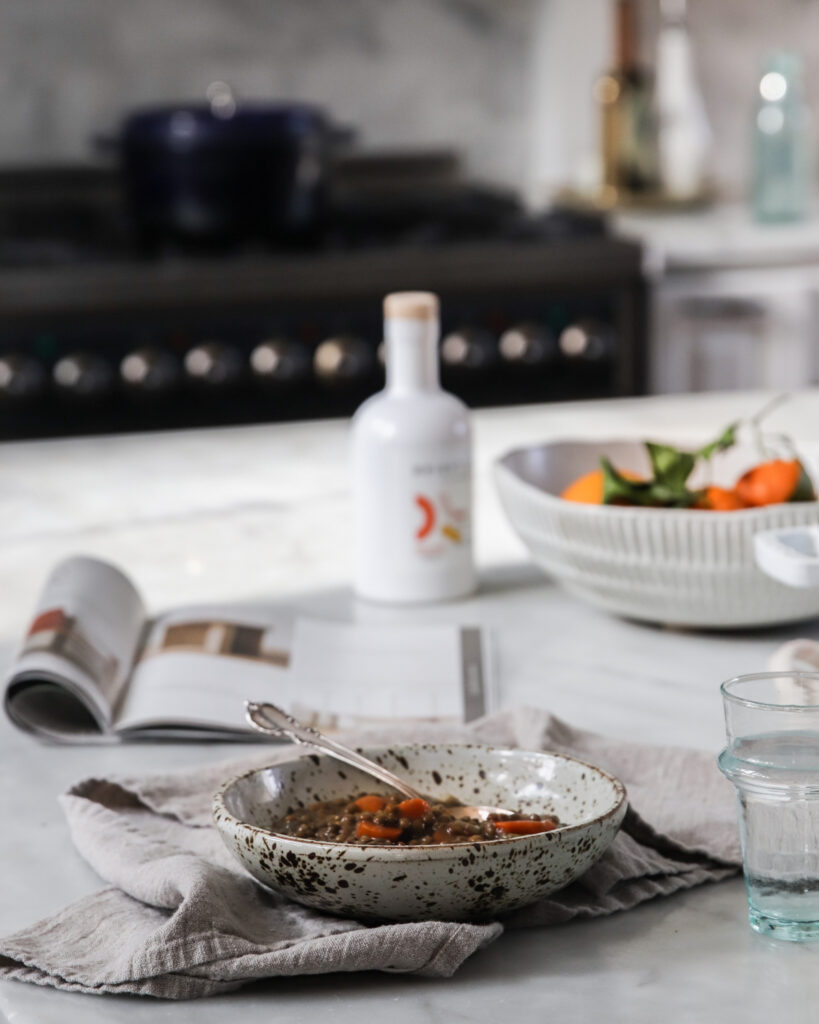 Make soup
They say soup for the soul and I agree.  During the wintertime I make a least one pot of soup a week.  In case you missed it, you can see all of my favorite soup recipes here!  
Soups are a great way to sneak extra veggies in your diet and then there's the broth.  Full of nutrition!

Cozy faux fur and alpaca throws
This one is so warm and I also throw a sheepskin rug over my couch.  Don't forget soft pillows!  Our home is lived in.  That means things are seldom perfect and always begging to be touched or sat on.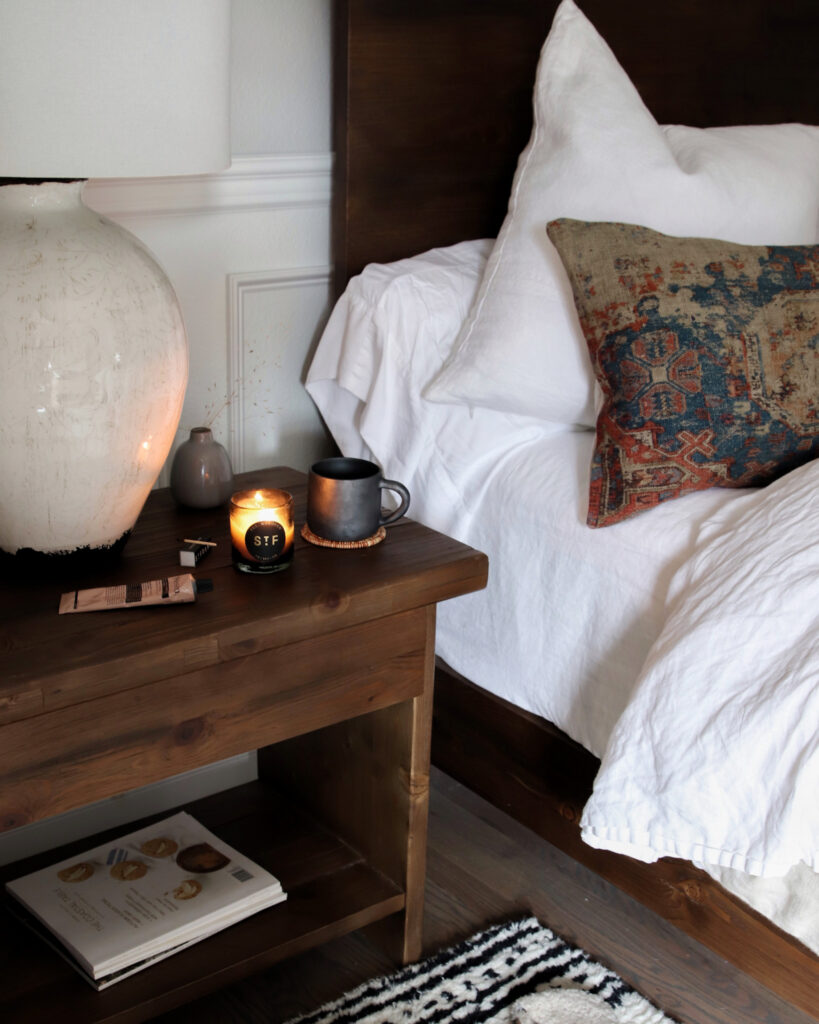 Calming bedside table
Full disclosure, I usually have a pile of magazines or books next to my bed so things aren't usually this tidy:) On the table itself though I try to keep just the following items: a candle, hand lotion, a coaster, a single flower or foliage, and glass or mug for tea or water. My candle, mug, and coaster are from St. Frank. Use my $50 gift card on your first purchase of $250 or more! I like to show my home as is.. lived in and super comfy.  Nothing is off limits.
Having a cozy rug and slippers bedside is a must! These suede moroccan slippers are so soft and luxurious.  Don't forget to use lemongrovelane15 for a discount on any Jenni Kayne purchase!
This post contains affiliate links.  This means that if you were to purchase from one of my links I would receive a small commission.  These pennies add up and help me keep my blog going.  I only share links for items that I either own or would love in my own home.  Thank you for all of your kind support!
More winter inspiration!

DIY Giant Wooden Winter Snowflake // Tatertots & Jello
Winter Decorating Ideas in the Living Room // My 100 Year Old Home
Cozy Winter Decor My Way // Twelve On Main
Simple Ways to Add Warmth to Your Home // Lemon Grove Lane

Cozy, Scandi Inspired Faux Fur Stool Upcycle // The DIY Mommy
How I Decorate After Christmas // Modern Glam
8 Winter Decorating Ideas // Happy Happy Nester