A simmering pot of soft, creamy legumes and veggies on the stove in the wintertime is so satisfying.  Today I'm sharing an easy lentil soup recipe that can be dressed up or down depending on who's coming to dinner.  Lentils in particular are full of protein, making them a good choice if you are going for a meatless meal.
Nutritional Benefits of Lentils
Having a protein, carbohydrate, and fat with each meal makes sense from a nutritional perspective, yes?  To keep it simple, a cup or so of lentils has about as much protein as a small chicken breast.  Lentils also contain lots of fiber, about have you daily requirement in about a cup.
Like most beans, lentils are inexpensive so if you are trying to bring down the grocery bill, add more legumes!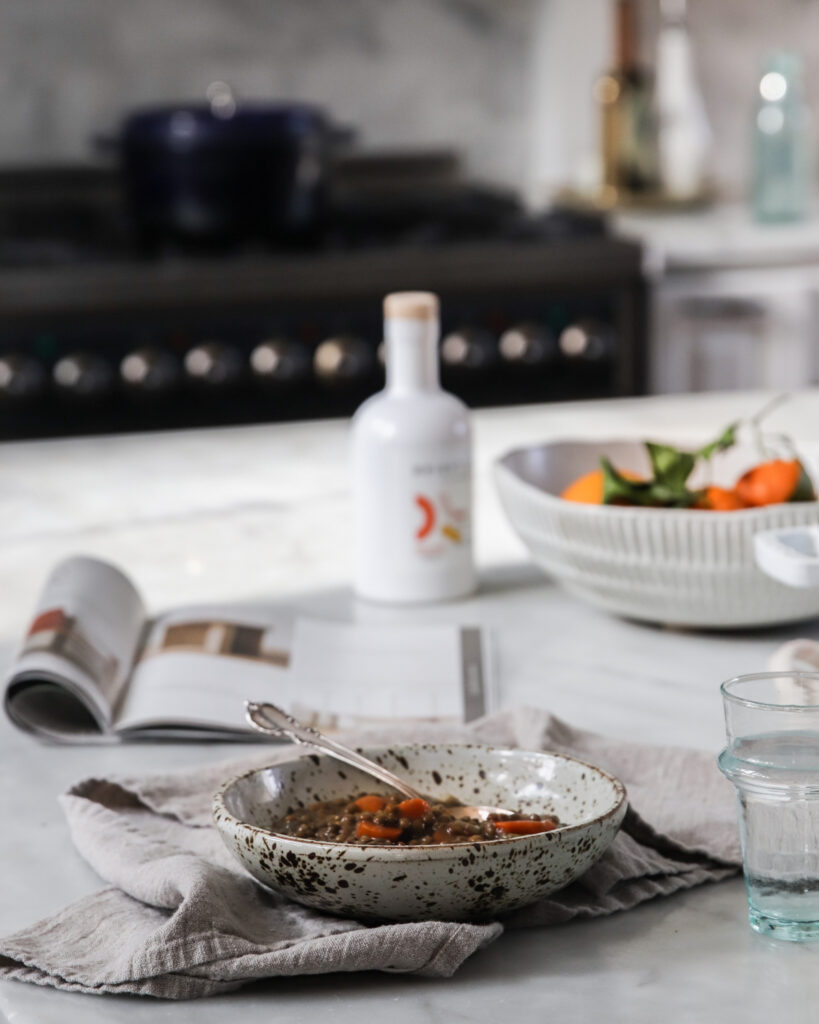 How to prepare Easy Lentil Soup
First soak your lentils.  This process makes them easier to digest and shortens the cooking time.  Normally you'd need to simmer your lentils for 3 or 4 hours before they are done.  If you soak them first, your soup will be done in less than an hour. If you don't have time to soak your lentils just use canned.   I use my mini food processor to chop the onion and garlic. Another short-cut and helps avoid 'tears' while chopping onion.  To my dutch oven, I add olive oil and then saute the onion for a couple minutes. Make sure to salt the onion.  Next I add the garlic and continue cooking until the onion is translucent. Next I add the celery, carrots, and lentils.  Saute for a couple minutes and then add your broth.  You can read my blog post on how to make bone broth, (here) it's so easy, especially with an instant pot.  If you'd like to purchase bone broth, it's expensive but worth it in my opinion.  The brand I like is Kettle and Fire.  If you are making this Vegan, replace the bone broth with a vegetable broth.  Simmer and add additional water as needed.  Lentil soup makes great leftovers too!
What to serve with your soup
Serve your lentil soup with a fresh green salad and my go to vinaigrette dressing along with a crusty loaf of bread.  Another option is to serve with a heaping pile of creamy, buttery mashed potatoes.  So delicious!  If you are looking for Vegan soup options, try my Vegetable Curry Recipe!
Check out all of my favorite soup recipes here!
Check out our Pinterest for more inspiration!
Easy Lentil Soup
What I love about this soup is that it can be dressed up and served as a main course and is an easy weekday meal. You can soak your beans or used canned if you'd like. Lentils are high in fiber and protein so this is a wonderful choice if you are wanting a meatless meal.
Soaking time (overnight optional)
3
hours
Ingredients
14

ounces

(or 1 1/2 cups) lentils

soaked overnight or canned

2

tbsp

coconut or olive oil

1

medium onion (diced)

1

tsp

salt

pepper

3

cloves

garlic

2

medium carrots (about 3/4 cup chopped)

2

stalks of celery (chopped)

1/4

cup

cilantro

1

bay leaf

1/2

tsp

ground coriander

1

tsp

ground cumin

14 - 16

ounces

beef or chicken bone broth (may substitute veggie broth for vegan option)

Add extra water as needed during the cooking process.
Instructions
Rinse and soak lentils overnight if possible or simply use canned. Soaking lentils reduces cooking time and makes them easier to digest.

In your dutch oven or heavy soup pot, heat coconut or olive oil over medium heat and add onion and salt. Simmer for a couple minutes.

Add garlic and pepper and continue to cook until onions are translucent, about 4 or 5 minutes. Add water during the cooking process if needed.

Add celery, carrots, cilantro, bay leaf, and seasonings to pot and cook for about 4 minutes.

Add lentils and broth to your soup pot. Give everything a good stir and simmer for approximately 40 minutes. Your lentils will start to break up if they are overcooked.

Salt and pepper to taste and serve!