Chicken Soup from Scratch
How to make chicken soup from scratch
I'm so excited to share our favorite winter soup recipe: Chicken Soup from Scratch. Chicken soup not only tastes good, it's packed full of nutrients and is said to boost immune function and reduce the symptoms of cold and flu. I've been making this recipe for years and it's a family favorite. Don't forget a loaf of crusty bread, you'll need it for dunking in the hot broth!
What ingredients do I need for chicken soup from scratch?
4 to 5 pound whole chicken cut into eight pieces. I ask the butcher to do this and I also request that skin be removed. They are usually happy to do this so just ask:) . Make sure you specify EIGHT pieces. Once I asked the butcher to cut up the bird for chicken soup and he literally diced it!!
You will also need a few other ingredients:
Flat leaf parsley for topping your soup
4-6 cloves of garlic
1 or 2 onion
2 sticks of celery
4 to 6 carrots
1 bayleaf
kosher salt
filtered water
Are there health benefits to chicken soup from scratch?
Some studies suggest that chicken soup can help improve immune function and reduce the symptoms of the common cold. Chicken contains an amino acid called cysteine that is released when soup is made. This amino acid is said to help thin mucus in the lungs, thus reducing symptoms that often come with cold and flu. The ingredients you add to chicken soup also contain immune boosting antioxidants and nutrients from the onions, carrots, celery, and parsley.
Can I freeze my chicken soup?
Yes you can! Freeze in containers that are eco friendly and nontoxic like these clear mason jar containers.
Helpful cooking tools:
Save and pin for later!
Thank you so much for stopping by!
This post contains affiliate links which means that if you were to make a purchase using one of my links I would receive a small amount of compensation. I only link to products that I personally own, or know and love.
Yield: 6 servings
How to Make Chicken Soup from Scratch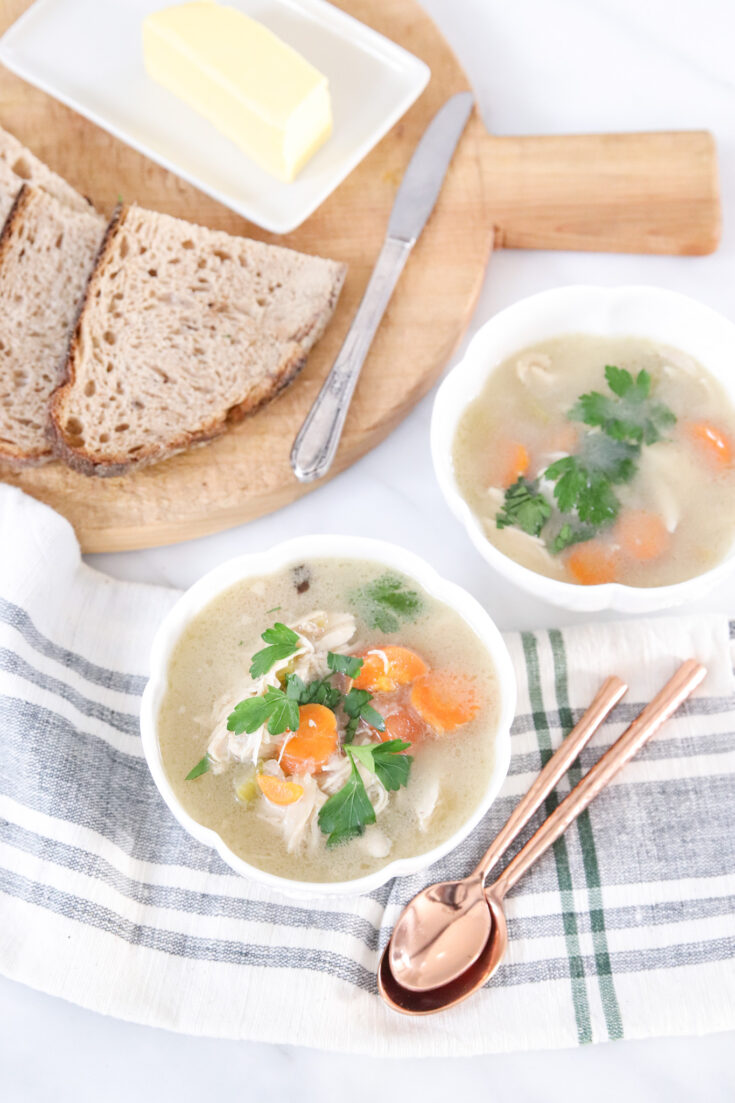 They say chicken soup for the soul and I promise, this recipe does just that. If you feel a cold coming on, feeling blue, or if you are craving a warm, cozy soup, try this recipe!
Cook Time
1 hour
30 minutes
Ingredients
1 whole 4 -5 pound chicken Optional: have the butcher cut in 8 pieces and remove skin
1 heaping tbsp kosher salt
1 tbsp apple cider vinegar
2 onions (peeled and diced) Use one large onion or two small to medium onion
3-5 cloves of garlic
2 celery sticks
4-5 carrots
1 bay leaf
spring water
fresh parsley for garnish
Instructions
I start by asking the butcher to cut my chicken up into 8 pieces. If they'll remove the skin, have them do that too.
Wash the chicken pieces and place in Dutch oven. Make sure to wash your hands and sanitize the sink after washing/handling poultry, beef, or fish.
Cover the chicken pieces with spring water, apple cider vinegar, and salt.
Bring to a boil and simmer for 30 minutes.
While the chicken simmers dice onions, celery, bay leaf, and garlic cloves. I like to use a food processor to dice the onion and garlic. This saves time and prevents eye irritation. Add diced onions and celery to your soup.
After about 45 minutes, remove chicken breasts to prevent it from getting tough from over-cooking.
Remove chicken pieces from the Dutch oven and allow to cool slightly. Remove the meat and set aside. Add the bones back to the pot and allow to simmer for a few hours.
When you are ready to serve, remove the bones and add back the cut up chicken meat.
Wash and chop carrots. Add to soup pot and simmer until carrots are soft.
Remove soup from heat and allow to cool slightly.
Serve with crusty bread and salad if you'd like.
Notes
Sometimes I prepare the the night before and allow the meat (with bones) to sit overnight. This allows us to get the added health benefits of bone broth. See my bone broth recipe here.
Recommended Products
As an Amazon Associate and member of other affiliate programs, I earn from qualifying purchases.