How to Roast Pork in the Oven
This Roast Pork in the Oven is simple to make and the end result will be tender juicy, falling off the bone pork! No slow cooker needed, just a low and slow oven roast for a moist and delicious Roast Pork every time. Left overs can go into tacos or you can make pork sliders!
This is a very simple recipe. All you'll need to do is mix together a few ingredients to make a rub and then slowly roast your pork in the oven.
Up until recently I haven't been a fan of pork. This rub, coupled with the slow roast process changed my opinion!
How to Roast Pork in the Oven
First you'll need a large baking pan. I use this one as it's made with steel and is aluminum free. When you slow cook pork in the oven, boneless or bone-in, you will have a lot of flexibility when it comes to cooking. When slow cooking pork in the oven, you have lots of flexibility when it comes to cooking. Leaving the pork in an extra hour or two isn't a problem in fact it will probably result in a more tender, juicy roast! Once out of the oven, it's ready to serve up!
What's the best cut to roast pork in the oven?
This recipe calls for boneless. If you purchase a pork shoulder the cut will be leaner and will take longer to cook to get that tender, juicy meat. Bone in is also delicious! A few weeks ago a roasted pork, bone in and it was so juicy. Don't forget though that the bone accounts for part of the weight. If you are serving a hungry crowd, I'd recommend almost a half pound per person, minus the bone.
Flexible Cook Time
One of the best things about this dish is that flexibility during and after cooking. You almost can't overcook pork roast and if if gets cold you can put it back in the oven for a few minutes without concern of it drying out. The pork cooks uncovered so it develops a dark brown crusty exterior.
For dessert I recommend Cowboy Ranch Cookies or Chocolate Chip Cookie Bars.
Roast Pork in the Oven | Have you made this recipe?
Yay I'm so glad you tried it! Please let me know if you liked it!
Yield: serves 4-6
Pot Roast Recipe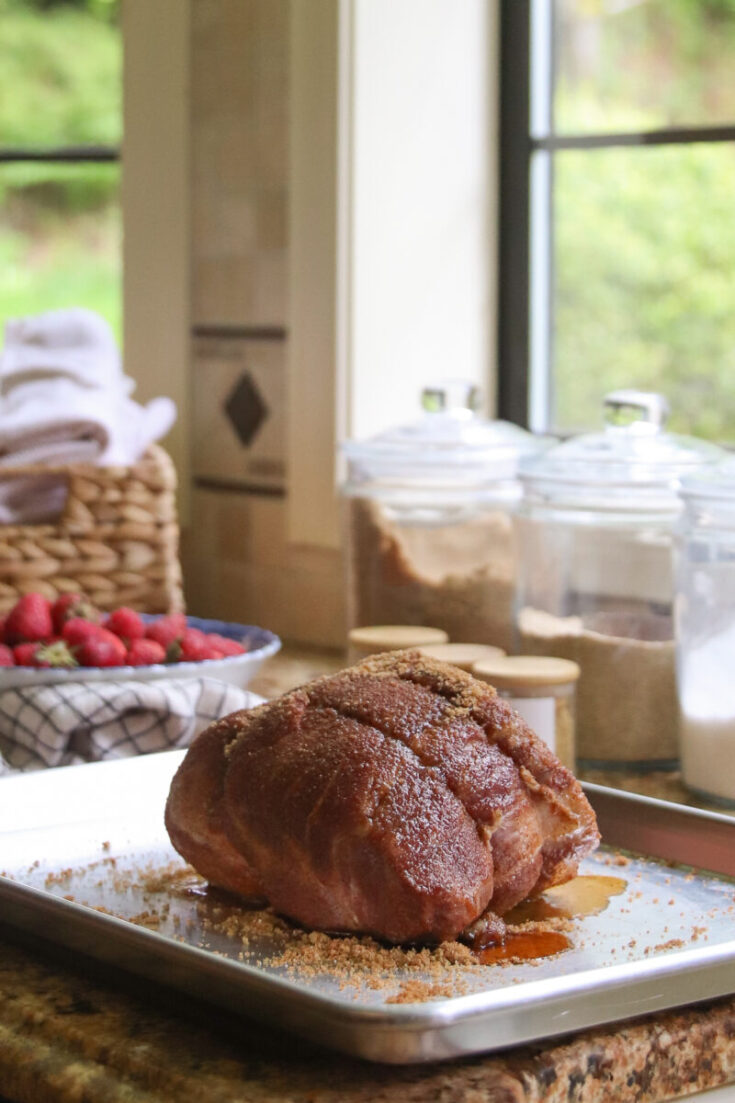 The rub is perfect for this cut of meat. The key is to roast slow and low. Use the leftovers to make sliders!
Additional Time
50 minutes
Total Time
6 hours
30 minutes
Ingredients
2 teaspoons mustard
1/2 cup brown sugar
2 teaspoons of coarsely ground black pepper
1 1tablespoon kosher salt
1 1/2 teaspoons garlic powder
1/2 teaspoon onion powder
1/2 teaspoon red pepper flakes
1/2 teaspoon cayenne pepper
1/2 teaspoon ginger powder
1/2 teaspoon ground cumin
1/2 teaspoon smoked paprika
1/4 teaspoon dried thyme leaves
1 (3 - 3 1/2 pound) boneless pork roast (bone in or out)
Instructions
Make the rub: Mix brown sugar, pepper, salt, garlic powder, mustard powder, ground ginger, onion powder, red pepper flakes, cayenne pepper, cumin, paprika, and thyme in a bowl. Rub mustard and spice rub over the pork and wrap tightly in plastic wrap for a few hours or overnight.

Preheat oven to 425 degrees F.

Place roast on a sheet pan and sear in the oven for 20 minutes.

Reduce heat to 250 degrees F. and cook for 4 to 6 hours or until internal temperature reaches 160 degrees F.
Notes
Use left overs to make sliders or pork tacos!
Recommended Products
As an Amazon Associate and member of other affiliate programs, I earn from qualifying purchases.
Nutrition Information:
Serving Size:
4 ounce
Amount Per Serving:
Calories:

359
Total Fat:

16.8 gramsg
Cholesterol:

92 milligramsmg
Carbohydrates:

20 gramsg
Protein:

30.9g