The best chocolate chip cookie bars with chocolate chunks
After trying several chocolate chip cookie bars recipes I came up with my own version and I promise, if you are looking for a moist and chewy chocolate chip cookie bar, look no further! Packed full of chocolate chips and buttery goodness these will quickly become a family favorite!
What we love about Chocolate Chip Cookie Bars
If I had to choose just one guilty pleasure, chocolate chip cookie bars would be it! These are so much easier to make than individual cookies. The dough goes in the oven all at once and when done, is perfect every time. Individual cookies sometimes come out flat or unevenly cooked. Not these!
I make these every few weeks for my family and they devour them every time! I hope you try these and if you decide to make them, tag me! @lemongrovelane
What you'll need to bake chocolate chip cookie bars
butter: I take out butter the morning of .. so it's soft and ready to cream with the sugars.
sugar: Just like chocolate chip cookies, you'll need granulated and brown sugar.
egg: again, room temperature is best.
vanilla extract
all-purpose flour: you can experiment with gluten-free varieties. The texture might change a bit but they will still be delicious.
baking soda/baking powder
salt
lots of chocolate chips plus a chocolate bar (I'll explain why later!)
How to make chewy, extra chocolatey cookie bars
In a large bowl, cream room temperature butter and sugar. This will take about 2 minutes.
Once the butter and sugar is light and fluffy add the egg and vanilla extract. Use your mixer to cream the ingredients until light and fluffy.
Slowly add the dry ingredients. The mixture will seem dry but that's okay. Avoid over-mixing. You don't want your cookies bars to be too heavy or cakey.
Add the chocolate chips and chopped chocolate chunks. I use a high quality dark chocolate. This is the best part! The chunks of chocolate a an unexpected delicious surprise.
Press the dough onto a lightly greased, parchment lined 9″ by 13″ baker, I use this one.
Bake until just barely golden on top about 25 minutes at 350 degrees Fahrenheit. Don't over bake.

Q&A
Can I freeze chocolate chip cookie bars?
Yes! Chocolate chip cookie bars freeze well, in fact I freeze my leftovers routinely because I don't I will nibble away at them until they are gone!
Why are my chocolate chip cookie bars hard?
Probably because you've over mixed your dough.
How do I know when my chocolate chip cookie bars are done?
They are done when ou notice the top is golden. Your cookie bars will continue to cook and "set" after they have been removed from the oven. Plan to serve your cookie bars about 30 minutes after removing from the oven.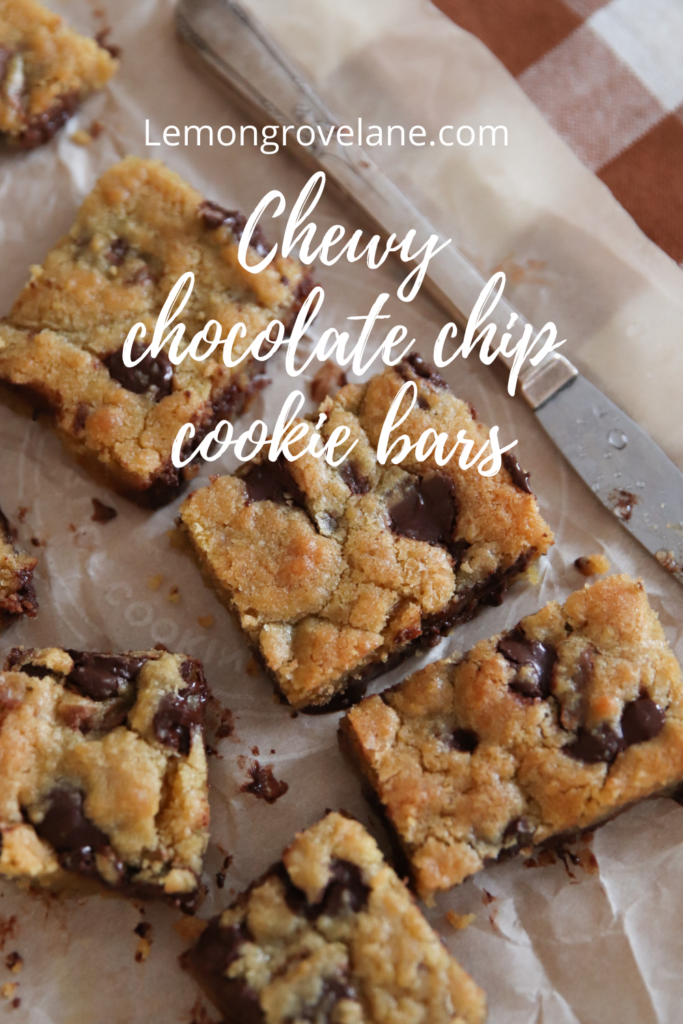 Yield: 16 servings
Moist and chewy chocolate chip cookie bars
If you're looking for a moist, chocolatey, chewy cookie bar, go no further! These are the best! Let me know what you think!
Ingredients
1 cup or 2 sticks of butter (use unsalted if you'd like but don't stress about it if you only have salted)
3/4 cup granulated sugar
3/4 cup light brown sugar
1 egg (room temperature is best)
2 1/2 tsp vanilla extract
2 cups all-purpose flour
1/4 tsp salt
1/2 tsp baking powder
1/4 tsp baking soda
1 cup semi sweet chocolate chips plus 1 8ounce chocolate bar, chopped
Instructions
Preheat oven to 350 degrees F. Lightly grease a 9″ by 13″ baker and line the center with parchment paper.
In a large bowl, cream butter and sugar.
Add the egg and vanilla extract
In a separate bowl, add flour, salt, baking powder, and baking soda. Whisk gently.
Add dry ingredients to wet ingredients. Using a hand mixer, blend until ingredients are incorporated. Don't over mix.
Add chocolate and stir with a wooden spoon.
Press into cooking baker.
Bake for 25 minutes.
Remove from oven and allow to set for about 20 to 30 minutes. Serve!
Notes
Allow to set for 20-30 minutes prior to serving.
Recommended Products
As an Amazon Associate and member of other affiliate programs, I earn from qualifying purchases.