How to Make Extra Moist Lemon Pound Cake
With summer in full swing I've been motivated to add lemon to everything so today I'm sharing my recipe for Extra Moist Lemon Pound Cake. It's super moist and has a delicious lemony flavor. Extra Moist Lemon Pound Cake is delicious as is but I decided to go all-out and add a lemony icing.  Don't skimp on this one friends, go for it and just enjoy!
Extra Moist Lemon Pound Cake is as beautiful as it is delicious. Store bought pound cake can be a little dry. This pound cake is buttery, moist and the dense texture results in the perfect slice every time.
Extra Moist Lemon Pound Cake Recipe
This crowd pleasing dessert takes just a few minutes to make. It's easy to put together and the result is something so delicious!
In this cake, the lemon taste comes mainly from the glaze, although there is obvious lemon flavor in the cake too. It's the lemony glaze that makes the perfect balance so make sure to add it!
This pound cakes needs only one large lemon, that's it so must of us are likely to have all the ingredients in our pantry or refrigerator. Lemon Pound Cake can be made quickly using typical pantry and fridge items so if you need to whip of a quick dessert or gift item this is a great option.
I usually make my pound cake in a traditional loaf pan but you can also use a bundt or speciality pan for something different. For Easter try a specialty pan or use various shapes like these bunnies or beehives!
Extra Moist Lemon Pound Cake ingredients
This recipe is made of staple ingredients and takes just a few minutes to make. Lemon Pound Cake is made with six staple ingredients: butter, sugar, eggs, flour, lemon, and sour cream.
How to make extra moist lemon pound cake: Q & A
Why is my pound cake not moist?
The instructions are simple but if you skip something like "eggs should be at room temperature" your cake might not be as moist or the texture might not be right. Measure, sift, and whip as directed. Be patient and stay organized for the best Lemon Pound Cake.
Why is my pound cake heavy?
It's likely that not enough air was incorporated into the butter and sugar. Make sure you take the time to cream the butter and sugar prior to adding eggs and flour.
Take your eggs, butter, sour cream out of the refrigerator and allow to get to room temperature. That's about a half hour ahead of assembly time. Make sure to put the flour, salt, baking soda and powder in a separate bowl and whisk until combined. It's tempting to add it directly to the butter and sugar mixture but it's best the dry ingredients are whisked together first.
How to store extra moist lemon pound cake
To prevent your cake from drying out, store in an airtight container (cool first) for 2 days or refrigerate for up to 4 days.
Can I freeze extra moist lemon pound cake?
Yes! Lemon Pound Cake freezes well in a stasher or standard freezer bag. I usually slice my cake up so it's easy to pull a slice or two out. To thaw a slice, set on a paper towel and it should be ready to eat in less than 30 minutes.
How to make Extra Moist Lemon Pound Cake
Prepare by greasing a bread pan and preheat the oven to 325 degrees F.
Fluff it up – in a mixing bowl, beat butter for about 3 minutes. Gradually add sugar and continue to beat until light and fluffy.
Eggs should be added one at a time. Blend on low and don't over mx.
Add the remaining ingredients alternating flour and sour cream. Add vanilla and lemon juice last and mix until smooth.
Pour cake mix into prepared loaf pan and bake for about an hour or until toothpick inserted in center comes out clean.
Lemon glaze – combine powdered sugar with lemon juice. Stir until smooth and spoon over your Lemon Pound Cake loaf.
If you love lemon as much as I do make sure to check out these other delicious recipes!
Extra Moist Lemon Pound Cake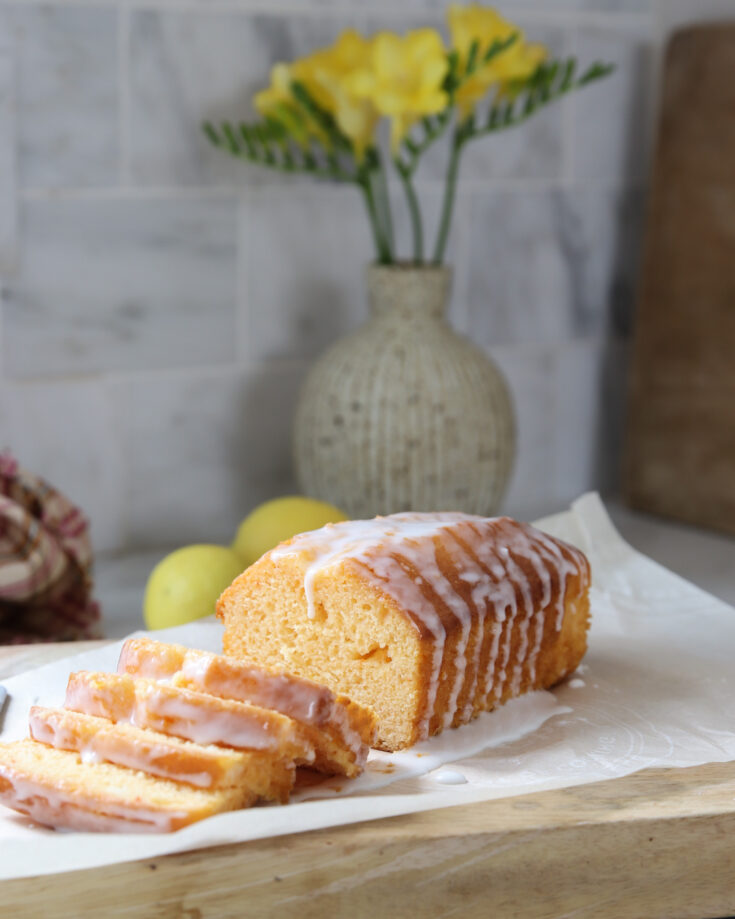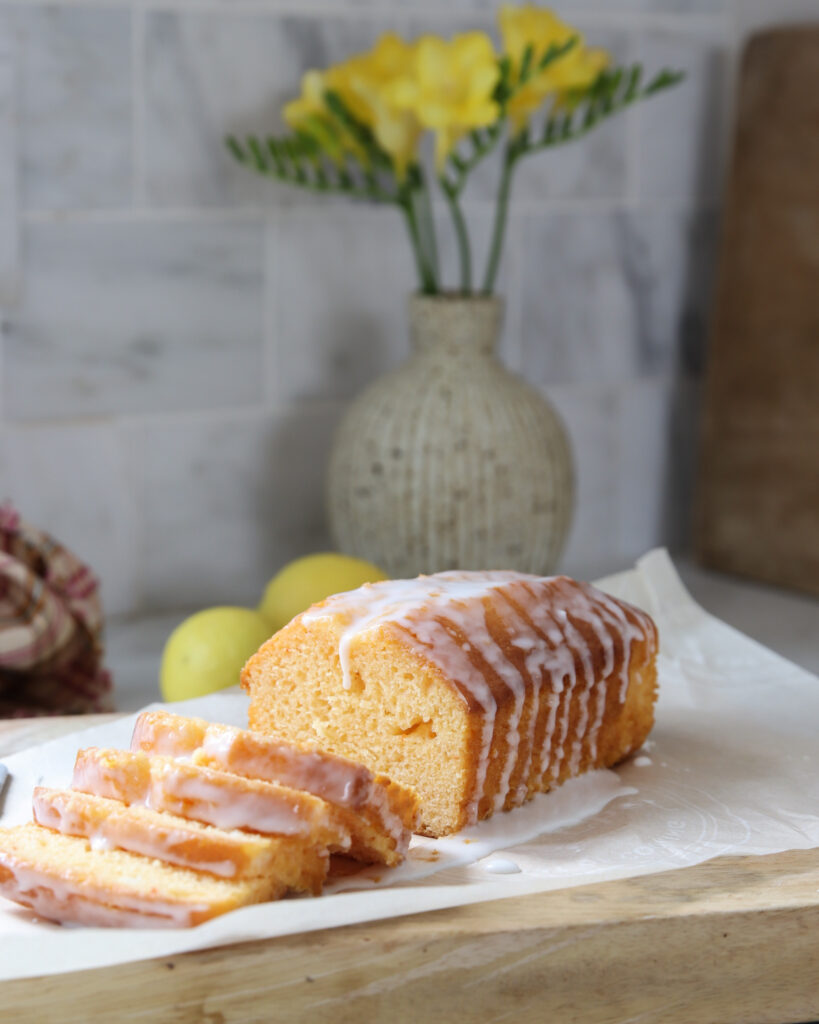 A moist and delicious pound cake that tastes like spring in every bite.
Ingredients
1 1/2 cups All-purpose flour ((leveled))
1/2 tsp baking powder
1/2 tsp salt
1 cup (or two sticks) unsalted butter, softened to room temperature
1 cup sugar
3 eggs (room temperature)
1/4 cup sour cream (room temperature)
the zest of one lemon
2 tsp vanilla extract
1 tbsp lemon juice
Instructions
Place your oven rack to the lower position and preheat the oven to 350 degrees F. Grease a 9×5 inch loaf pan with coconut oil or butter.
Whisk flour, baking powder and salt in a large bowl and set aside.
With a handheld or stand up mixed fitted with a whisk attachment, whip the butter until smooth and creamy, about a minute. Slowly add sugar and beat on medium/high for about 2 more minutes until combined. One at a time, add the eggs and when everything is mixed, add the sour cream, lemon juice, vanilla, and lemon zest. Mix until combined. Don't worry if the mix looks a little curdled.
Turn the mixer to low and gradually add the dry ingredients.
Spoon the batter into prepared loaf pan and bake for 50 to 60 minutes or until toothpick inserted in the center comes out clean. I recommend tenting your lemon loaf for the last 20 minutes to keep in moist and prevent the top from getting too brown.
Remove from oven when done, allow to cool on a wire rack for about 45 minutes. Carefully remove from the loaf pan and spoon icing over the top. This can be done if the cake is still warm.
Prepare lemon icing: Whisk powdered sugar, cream, and lemon juice together and stir until smooth. Spoon over cake and serve immediately.
Covered, the cake can sit at room temperature for 2 days, otherwise wrap it up and refrigerate for 5 days or freeze.
Take a second to rate this recipe!
To make the Lemon Pound Cake icing, add 2 tbsp lemon juice and a tbsp of heavy cream to 1 cup confectioners (powdered) sugar. Stir until smooth and then spoon over your lemon pound cake. Add more lemon juice if needed.