How to make homemade Bourbon Peach Jam
Making jam from seasonal fruits is a fun way to enjoy the flavors of the season all summer long. Seasonally we head to our local farm to purchase flats or crates of organically grown apples or pitted (stone) fruits like peaches to make fruit preserves and apple butter.
Biting into a ripe peach, juice dripping of course, is the best! This year I bought a few pounds of peaches to enjoy as a snack and also made bourbon peach jam to enjoy on our charcuterie board. Leave the bourbon out and mix a little bit in your plain, greek yogurt, toast in the morning, or on vanilla ice cream!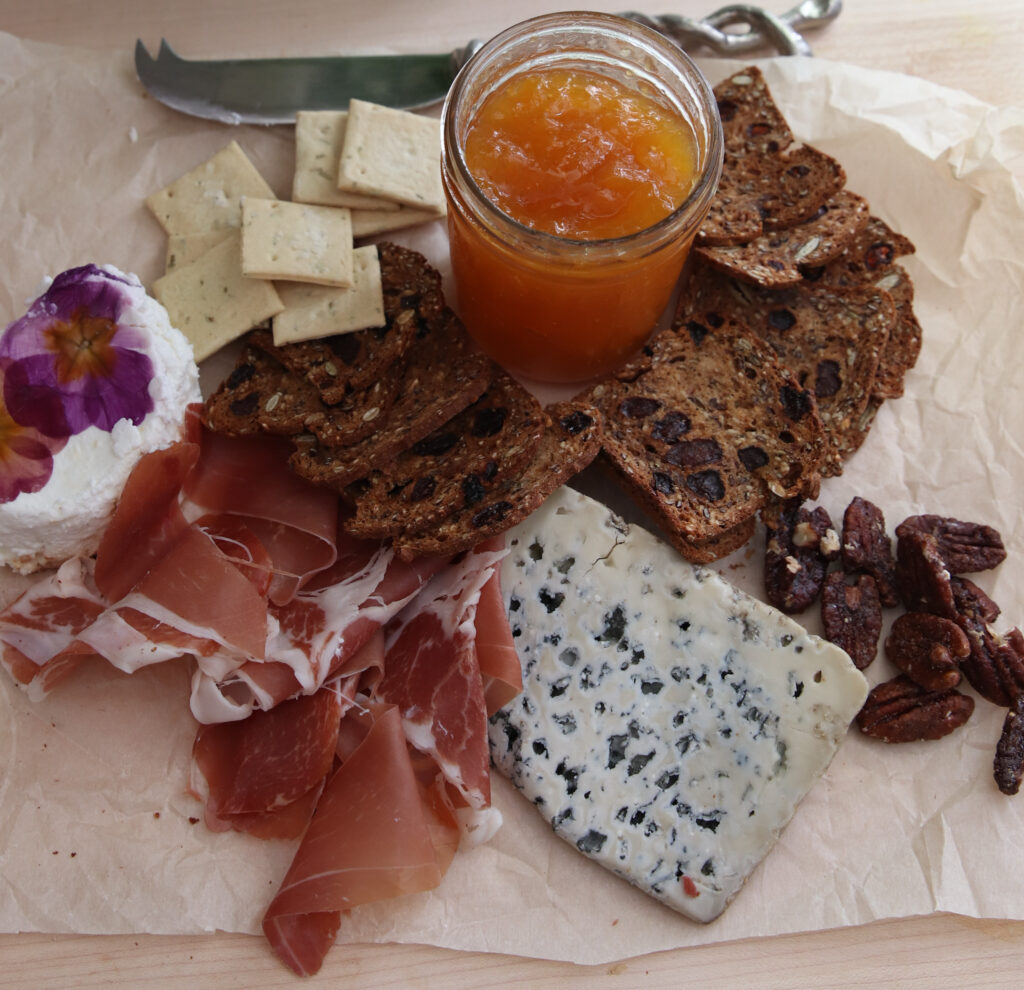 Preparing to make Jam
Gather all of your supplies prior to starting the jam. Also keep in mind that peaches rippen quickly so plan according. Follow the tips below for 'jam success' and don't forget to enlist the kids or your partner to help! Always start with fresh, ripe fruit! You can add less sugar if you start with sweeter fruit!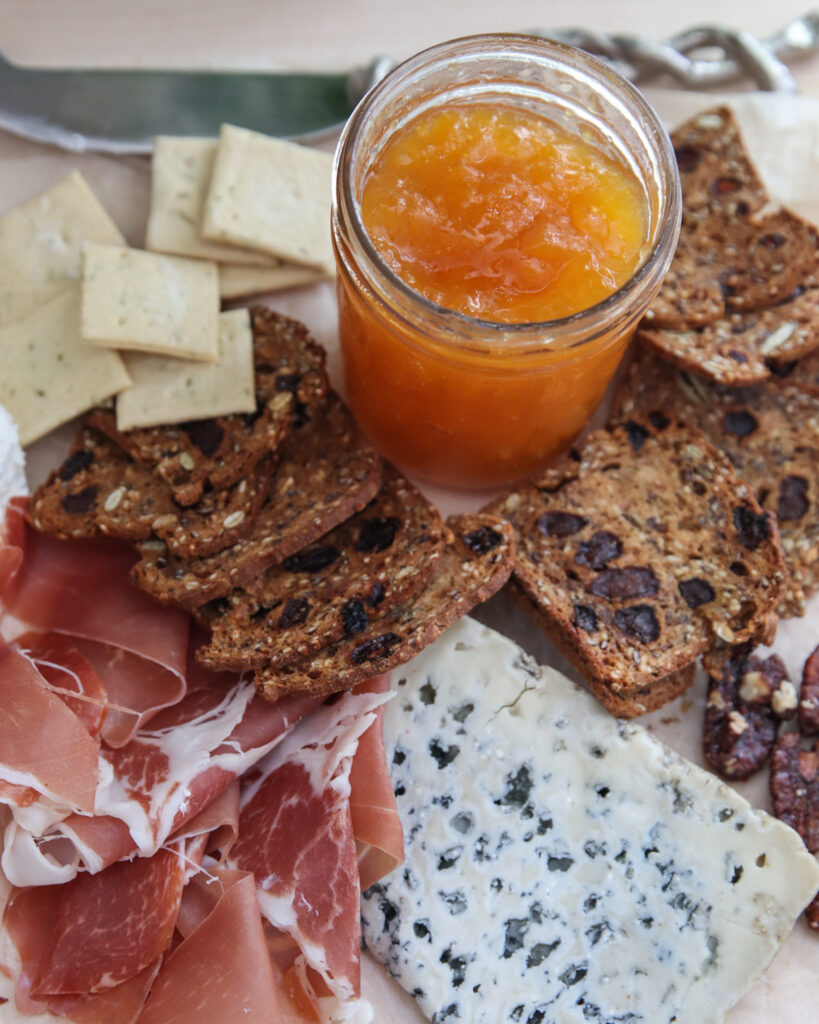 Tips for making the best peach jam
Gently wash and dry your fruit.
Smaller batches are easier to make.
Make sure all of your equipment is clean.
Allow jam to 'set' or cool prior to laddling into jars.
Skim the jam with a large spoon as it's reaching its setting point. Remove and "scum" that rises to the top.
Make sure your jars and lids are boiled as directed. Everything needs to be clean.
Tools you will need to make peach jam
Frequently asked questions
How ripe do my peaches need to be prior to making jam? The peaches should be fresh and at their peak with no bruises.
Can skins be left on peaches when I make jam? It's a personal choice, you don't have to peel the peaches to can them however most people prefer them that way. Canning with the skin on doesn't seem to affect tast and can result in the syrup becoming a lovely pink color.
Why is my jam runny and not setting well? This is likely because you need to add a smidgen more pectin, about 20%. Get more canning guidelines here!
Why is it recommended that you use bottled lemon juice instead of fresh? Fresh fruit varies in acidity and water content. Bottled juice helps ensure that your preserves have a consistent level of acidity, making them safe for canning.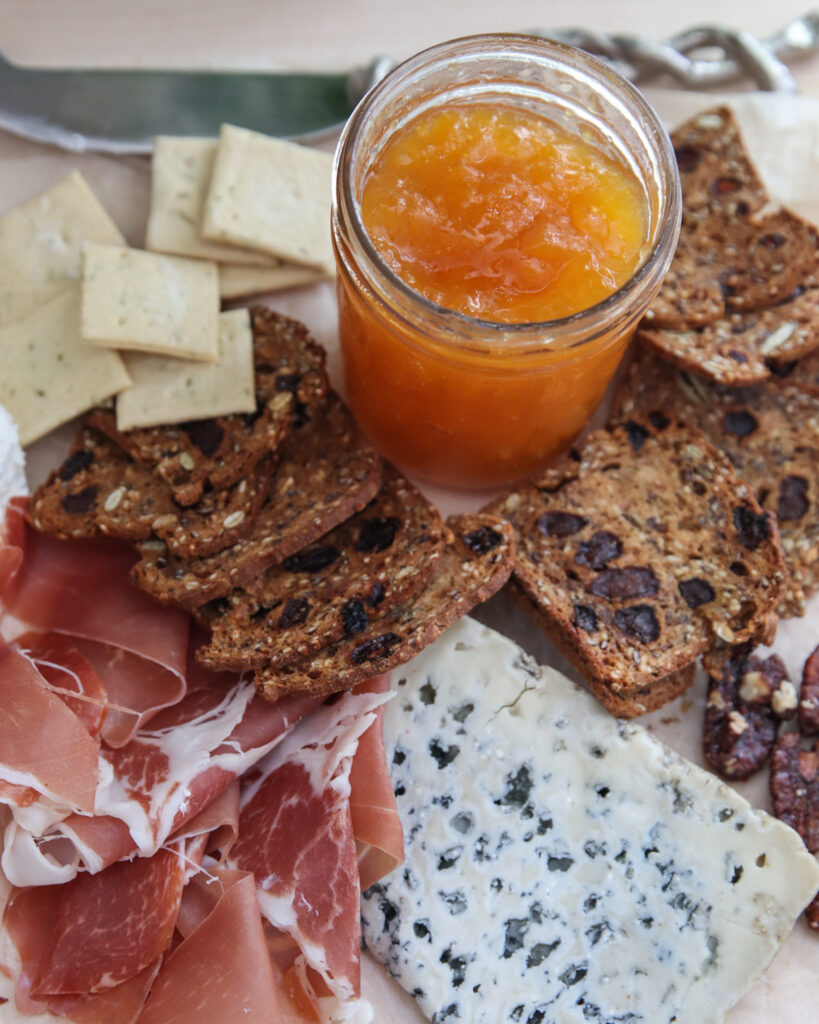 Homemade Bourbon Peach Jam
Ingredients
2 pounds or eight peaches
1 1/2 to 2 cups of sugar depending on how sweet your peaches are
3 tbsp Ball classic fruit pectin
2 tbsp Bourbon (optional)
2 tbsp bottled lemon juice
Directions
Peel and cut peaches into medium chunks and place in a medium pot. You should have 2 – 2 2/3 cups.
Place your largest dutch oven or canning pot and put it on the stove. Place a rack on the bottom to keep the jars from touching the bottom of the pot when boinling. Fill each jar with water and place in the pot in a single layer a single layer and add enough water to cover the jars.
Heat the pot of water until simmering and allow to sit.
Mash peaches and add pectic, lemon juice, and bourbon.
Heat the peach mixture on medium/high to boiling. Stir constantly and allow the mixture to boil for about a minute or so. Careful not to burn!
Add sugar, return to a boil and allow to boil for another minute removing any scum off the top.
Remove glass jars from water with tongs or canning jar lifter. Invert on a cotton towel to make sure there is no water on the glass.
Spoon peach jam into jars leaving 1/4 inch at top (for expansion during canning).
Use your jar lifter to place jars back inthe pot of water. Jars need to be covered by at least 1-2 inches of water so add more water if needed.
Turn heat up and cover pot. Bring the water to a full boil and THEN set a timer for 10 minutes.
After 10 minutes, turn off heat and remve lid. Allow the jars sit in the hot water for 5 more minutes.
Remove the jars with a jar lifter and place on a towel to cool. Allow jars to sit for 12-24 hours. You might hear lids popping as they seal. Do not loosen or tighten lids during this process otherwise you might compromise the seal.
Push center of lids to check for flex. If they pop up and down, they are not properly sealed. Remove the bands and check the seals again. If the edges lift easily, the jar is not properly sealed.