How to Make a Tuscan Panzanella Salad
Summer is officially here so let's talk about how to make a Tuscan Panzanella Salad. I guarantee this salad will be on repeat all summer long.
June marks the beginning of summer and I always make an effort to embrace all that summer has to offer. We joined our local CSA (Community Supported Agriculture – a group whose members receive weekly shares of food from a local farm near-by) so the majority of my recipes will be focused around the produce I receive.
Let's first start out by saying .. this is my kinda salad! Lots of crusty bread, roasted with olive and sea salt, fresh fruit, sweet heirloom tomatoes, and lots of buratta .. give me all the buratta, and don't forget to roasted pine nuts.
Usually this salad is made with onion and cucumber. Well I nixed that idea and went straight to my favorite fruits. Why? Well because I had lots of fresh fruit from the farmers market and I needed to use it! That's what's nice about this salad, you can get creative and use whatever is on hand.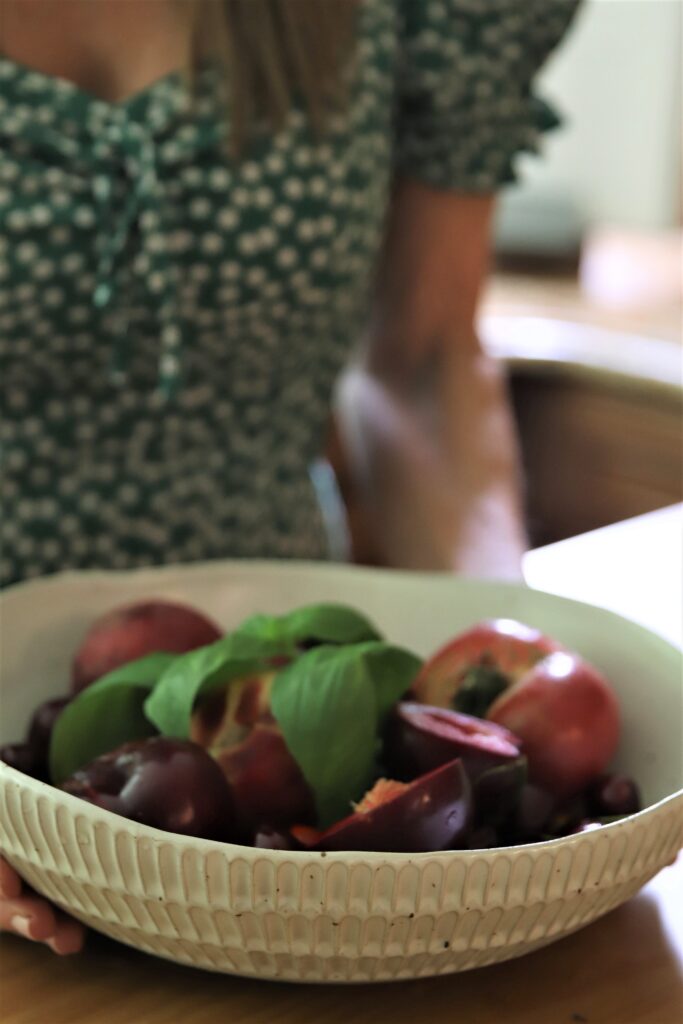 Watch my Panzanella tutorial here!
Why We Like Tuscan Panzanella Salad
Besides being delicious, Tuscan Panzanella Salad is filling so it's perfect when you have a larger than expected crowd and you want to stretch your meal. I also make Tuscan Panzanella Salad if I'm serving a few ladies lunch. It's yummy with a crisp white wine and Cowboy Ranch Cookies for dessert. Tuscan Panzanella Salad is also versatile! Check out this Late Summer Panzanella recipe! I sliced up sweet figs, added a few blueberries and tossed them with heirloom tomatoes and crusty bread. So delicious!
What is a Panzanella Salad?
A Panzanella Salad is a traditional Italian salad that's made from day-old rustic bread that's been torn apart, drizzled with olive oil and seasoned, then either lightly fried in a pan or put in the oven until toasty. The other main ingredient is tomatoes. Choose whatever variety you'd like. My favorite is Heirloom. I like the different colors and the flavor is so sweet.
How to make Panzanella Salad
I start with day old bread. Tear or slice in to small pieces, and set aside. In a small pan, carefully toast the pine nuts with some olive oil and salt. Don't walk away with the pine nuts on the stove as they burn easily. When done, remove from heat. Cut up your fruit and tomatoes. You can put this salad in a large bowl or lay everything out on a wood serving board. Add buratta cheese, sprinkle with pine nuts, and drizzle with homemade dressing
Tuscan Panzanella Salad
Serve as a light lunch or an appetizer.
Ingredients
3 cups day old bread, torn or cut in to small pieces
1 or 2 large heirloom tomatoes
1 pint of cherry tomatoes
2 peaches
3 plums
2/3 cup pitted cherries
1 bunch of fresh basil
3 tbsp pine nuts, lightly toasted
8 ounces Buratta Cheese
7 tbsp olive oil
3 tsp red wine vinegar
1 tsp course mustard
salt/pepper
Instructions
Tear or cut up left over bread, you'll need about 3 cups.
Preheat oven to 400 degrees F.
Line a baking tray with parchment paper.
Add cut up bread and drizzle with olive oil, salt, and pepper.
Bake until toasty, about 10 minutes.
Meanwhile, slice up your fruit and place on a serving board or in a bowl.
Prepare dressing: olive oil + vinegar, mustard, salt and pepper. Stir well.
Pour a tablespoon of olive oil in to a saute pan. Add pine nuts and gently saute until lightly toasted. Be careful not to burn!
Scatter bread over the top of the fruit mixture.
Add Buratta cheese. I pull mine apart just a little bit.
Add pine nuts.
Drizzle with vinaigrette.
Serve as an appetizer or light lunch.