How to make the best Cowboy Ranch Chocolate Chip Cookies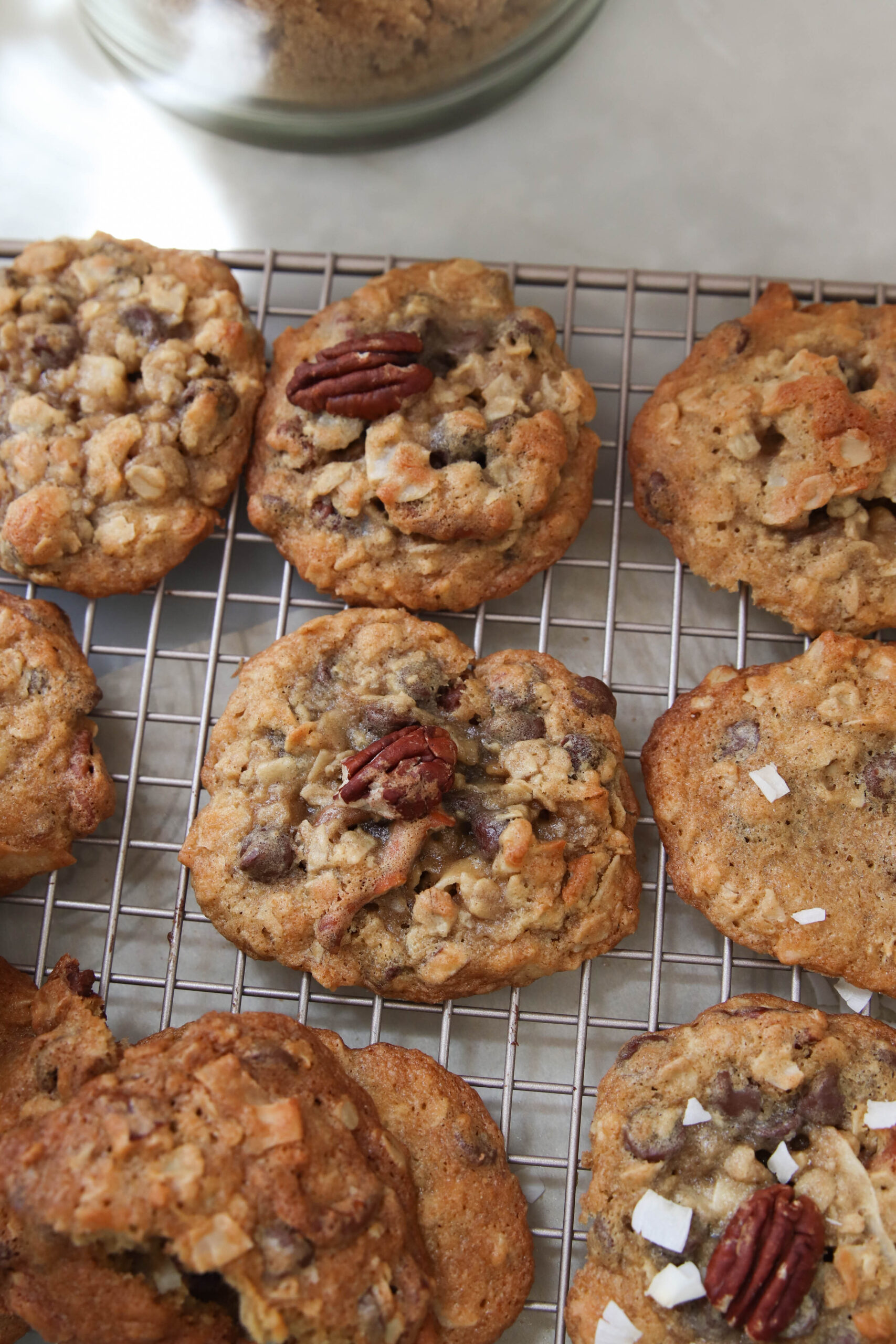 Do you like that salty, sweet, chocolate combination? I do! Today I'm sharing yummy Cowboy Ranch Chocolate chip Cookies for your Memorial Day weekend baking. Made with chocolate chunks, salty pretzels, oats, raisins, and coconut, these are sure to be the best chocolate chip cookie you've ever had! Each cookie dough ball is stuffed with a salty pretzel and baked to perfection. Kinda crispy but still soft and the perfect amount of gooey in the center.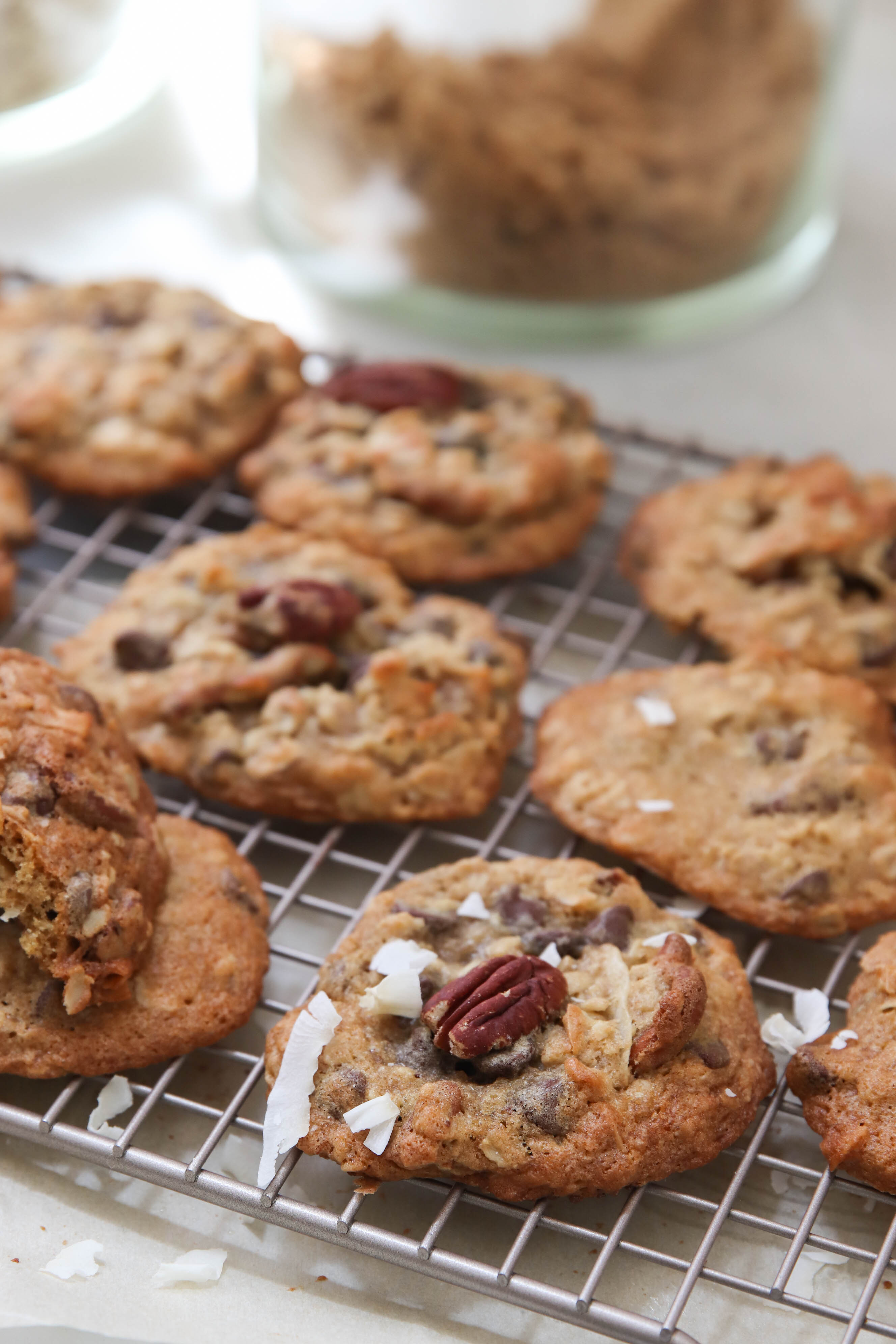 Before I start talking about the cookies I wanted to let you know that I'll be sharing more about our home adventure soon. Since we returned from our trip my husband and I have been working round the clock trying to arrange for contractors to start work on our new home, painters, and wood floor people. With the long wait times for all these things we've had to get a move on it. More coming ..
Anyway, I can't believe we are rounding out the month of May and starting summer! We are looking forward to a three day weekend ! Do you have any plans? It's supposed to be about 80 degrees here so I'm hoping for a picnic at the lake. The rest of the weekend will be spent packing and getting ready for our move.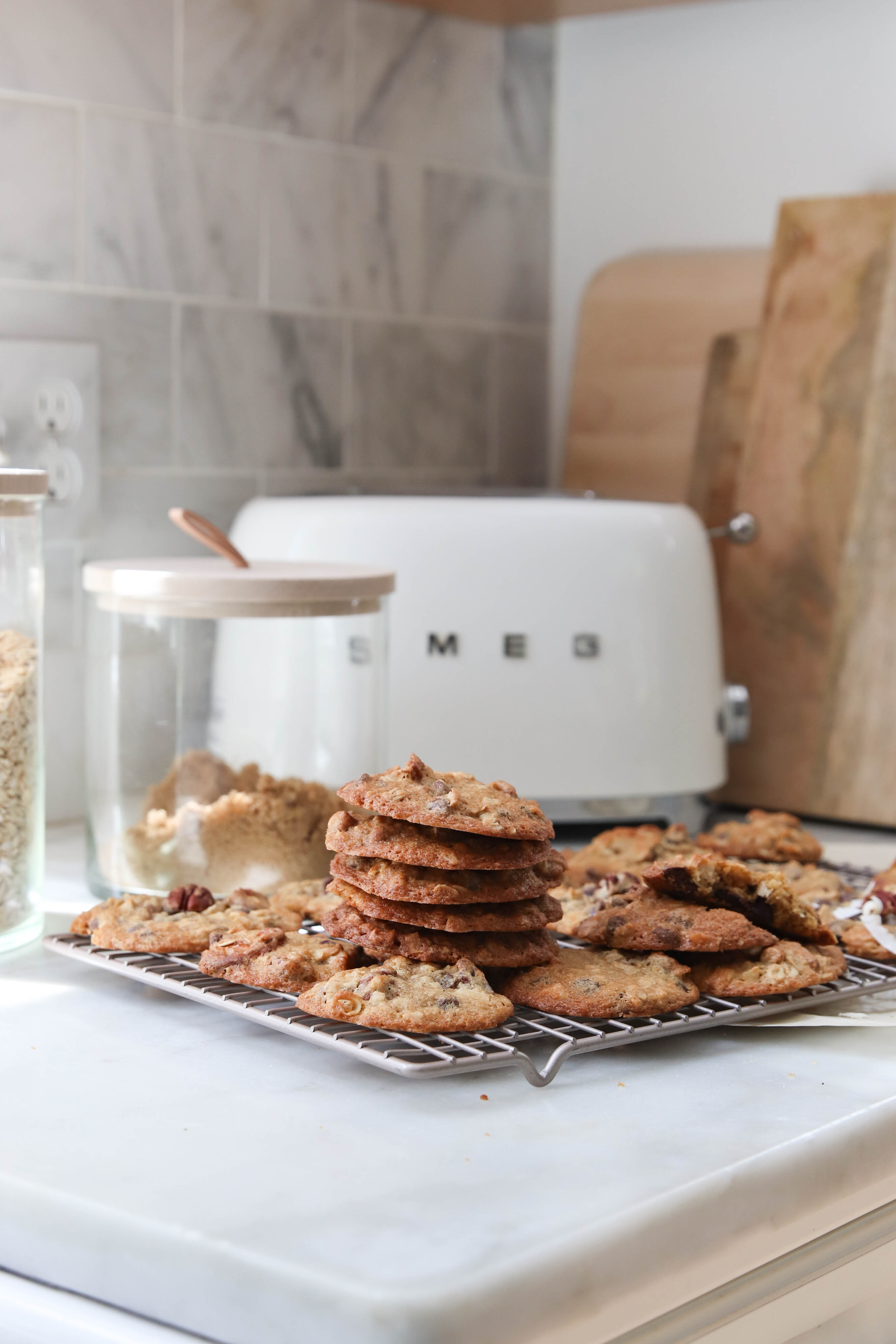 I recently recieved these glass canisters and love them so much. They are too pretty not to have out on the counter. Don't forget you can always receive a 15% discount on any Jenni Kayne purchase with lemongrovelane15.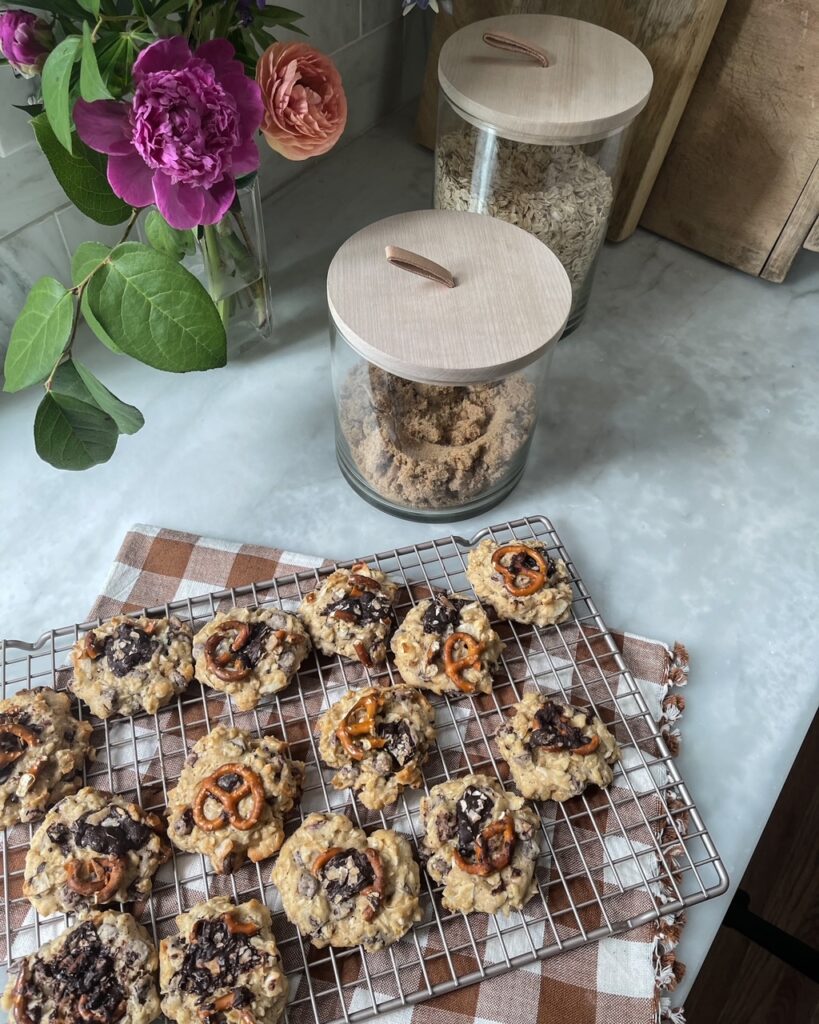 I try to share a combination of recipes, primarily healthy(ish) but there are times when you have to pull out all stops and just make something that's not part of your regular weekend meal plan. These Cowboy Ranch Chocolate Chip Cookies fall into that category. I truly believe that just about everything in moderation is okay. Life is too short to not enjoy the little things. Anyway, I'll be freezing some (otherwise I will eat them ..all!) and packing some in our picnic basket for this weekend. Also, one more thing, I highly recommend warming these cookies up prior to eating. So delicious!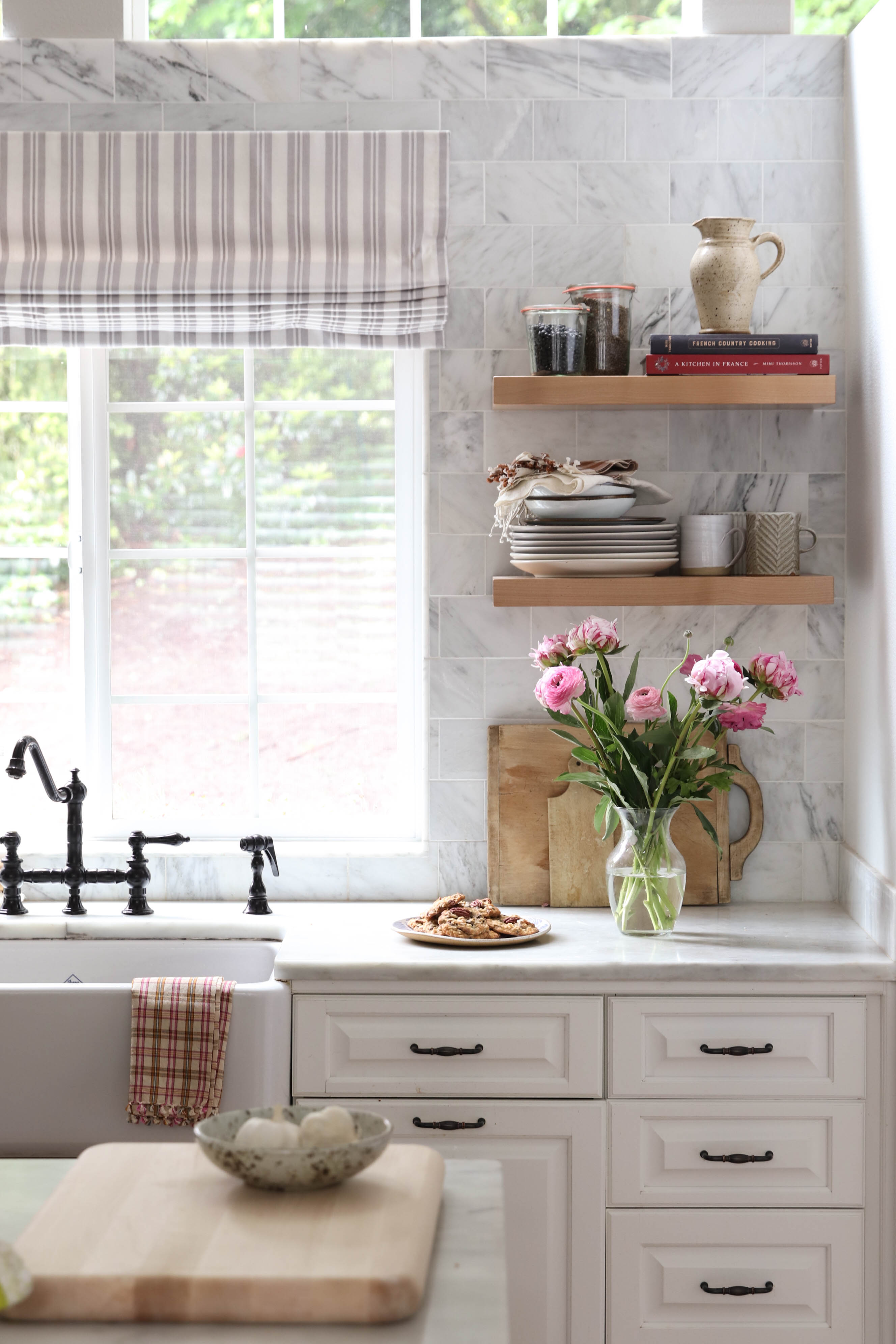 Why we love these cookies!
Cowboy Ranch Chocolate Chip Cookies are simple to make and perfect summer camp or picnic cookie. In fact, you might consider bringing them along with these yummy sandwiches! Freeze whatever you'd like for another occassion otherwise your cookies will last up to five days in an airtight container. One more thing, I'm not saying these are healthy cookies, but they do have oats, coconut, and nuts added to the chocolately goodness so there will be lots of energy for making sand castles at the beach or boating at the lake. I ended up making these cookies two different ways. One had pecans and the other had raisins and extra pretzels. Both are delicious and I encourage you to get creative!
How to make cowboy ranch chocolate chip cookies
Start by gathering all of your ingredients. There are lots of 'additions' in this recipe (raisins, chocolate chips, oats, etc..) so pull everything out of the pantry so you don't forget anything. One of the first items I pull out are the eggs and butter. According to baking experts ;) both should be at room temperature when it's time to whip up with sugar and the other baking ingredients.
First I whip up the butter and sugars until light and fluffy. Add the vanilla and the eggs and yolk one at a time and then slowly add the flour. Once everything is incorporated I stir in all those extras. If you don't have something, simply replace it with something similar. For example if you don't have 1/2 cup raisins, add the same amount of another dried fruit.
Roll into balls and place on parchment lined baking sheet. You can chop up the pretzels and add with the rest of your ingredients or place a pretzel on to of your cookie dough ball and 'press' gently to flatten slightly.
Bake until the edges of the cookie become golden brown. Remove from the oven and allow to cool for a few minutes.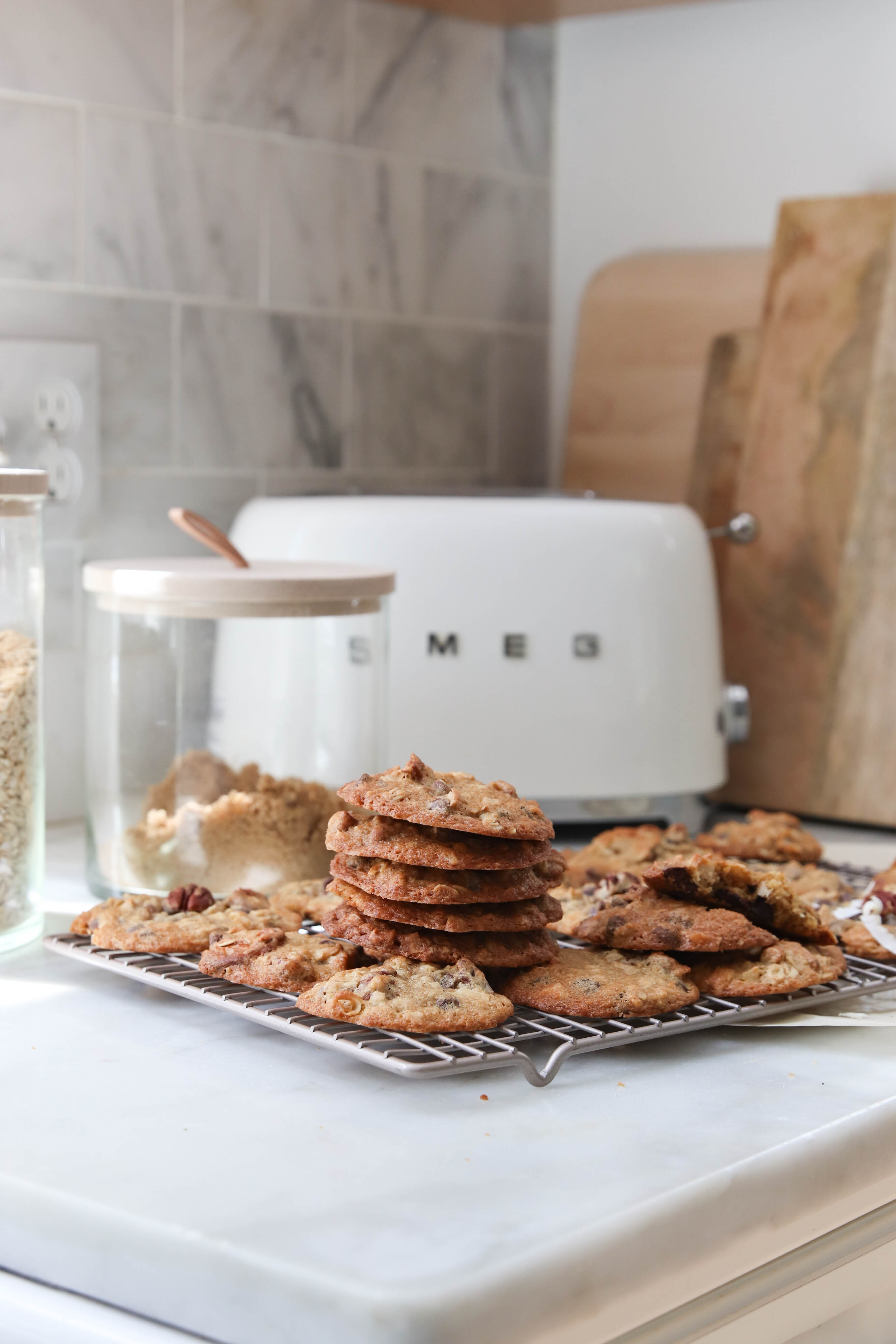 Q & A regarding Cowboy Ranch Chocolate Chip Cookies
Why did the name cowbow ranch cookies come from?
Suposedly cowboy cookies were popular back in the 1800s as a treat for cowboys to enjoy while they were working on the range. This is just what they say .. it's kinda fun to imagine what they ate though. Spending the day managing cattle all day had to be tiring so I hope they had something delicious to keep their energy level up!
It's also interesting to know that the original chocolate chip cookie recipe was created in the late 1930s by Ruth Wakefield who famously ran the Toll House restaurant in Whitman, Massachusetts.
Can I substitue the added ingredients? Yes! Add whatever you have in equal portions. For example if you want to replace the pretzels with Chex cereal, go for it!
Can I freeze these cookies? Absolutely! Place cooled cookies in a freezer bag and freeze for up to 6 weeks. To thaw out, allow to sit at room temperature or heat/microwave slightly.
Cowboy Ranch Chocolate Chip Cookies
Ingredients
1 cup unsalted butter, at room temperature
1 cup light brown sugar, lightly packed
1/2 cup granulated sugar
1 Tbsp vanilla extract
2 large eggs plus one yolk, at room temperature
1 Tbsp cream (binding agent)
1 1/2 cups all-purpose flour
3/4 tsp baking soda
1 tsp salt
2 tsp cinnamon
2 cups oatmeal (regular rolled oats not instant)
1 cup of coconut flakes
2/3 cup crushed pretzels
1 1/3 cups semi sweet chocolate chips
1/2 cup chocolate chunks (I use a dark chocolate bar for this)
1/3 cup raisins optional
1/2 chopped pecans
Directions
Preheat oven to 350 (F) Line 2 large baking sheets with parchment paper.
In a large mixing bowl, combine butter and sugar and blend until light and fluffy, about 3 minutes. Add eggs and yolk one at a time.
Add vanilla and milk, beat until combined.
In a medium bowl whisk together flour, baking soda, salt, and cinnamon.
Add all the 'extras' and use a large spoon to mix all of the ingredients.
For large cookies, use an ice cream scoop to make your cookie dough balls. For smaller cookies, use a soup spoon for scooping.
Add a pretzel or pecan to each cookie if you'd like and press them down gently.
Bake for 12 to 15 minutes, depending on size. Remove from oven when they start to get golden around the edges. Allow to cool slightly prior to packaging up for a picnic!