How to make Elderflower Chiffon Cake with Strawberries
We went from chilly springtime weather to full blown summer (with a heat wave ) in just a view weeks! I'm not a huge fan of the high temps but I do enjoy partaking in the season's bounty. I'm talking about berries on the table, strawberry jam, strawberry muffins, fresh cut garden flowers on the counter, lavender martinis, and strawberry cake! Today I'm sharing how to make a chiffon cake, layered with fresh strawberries and a boozy whipped cream. This dessert is light, fluffy, and floral.. the epitome of summertime.
Strawberries and cream have never tasted better than when paired with fluffy, floral, vanilla cake layers. Developed as a 3 layer, 6-inch cake, Elderflower Chiffon Cake with Strawberries is perfect for your summer celebrations and intimate gatherings.
Why we like this recipe
There are many recipe variations out there, but this one has fairly simple ingredients, most of which can be found in your pantry. The method is simple, adding the wet ingredients to dry, with the exception of the egg whites. You have the choice of using the Elderflower Cordial or you can use whole milk and 2 tablespoons of vanilla in its place.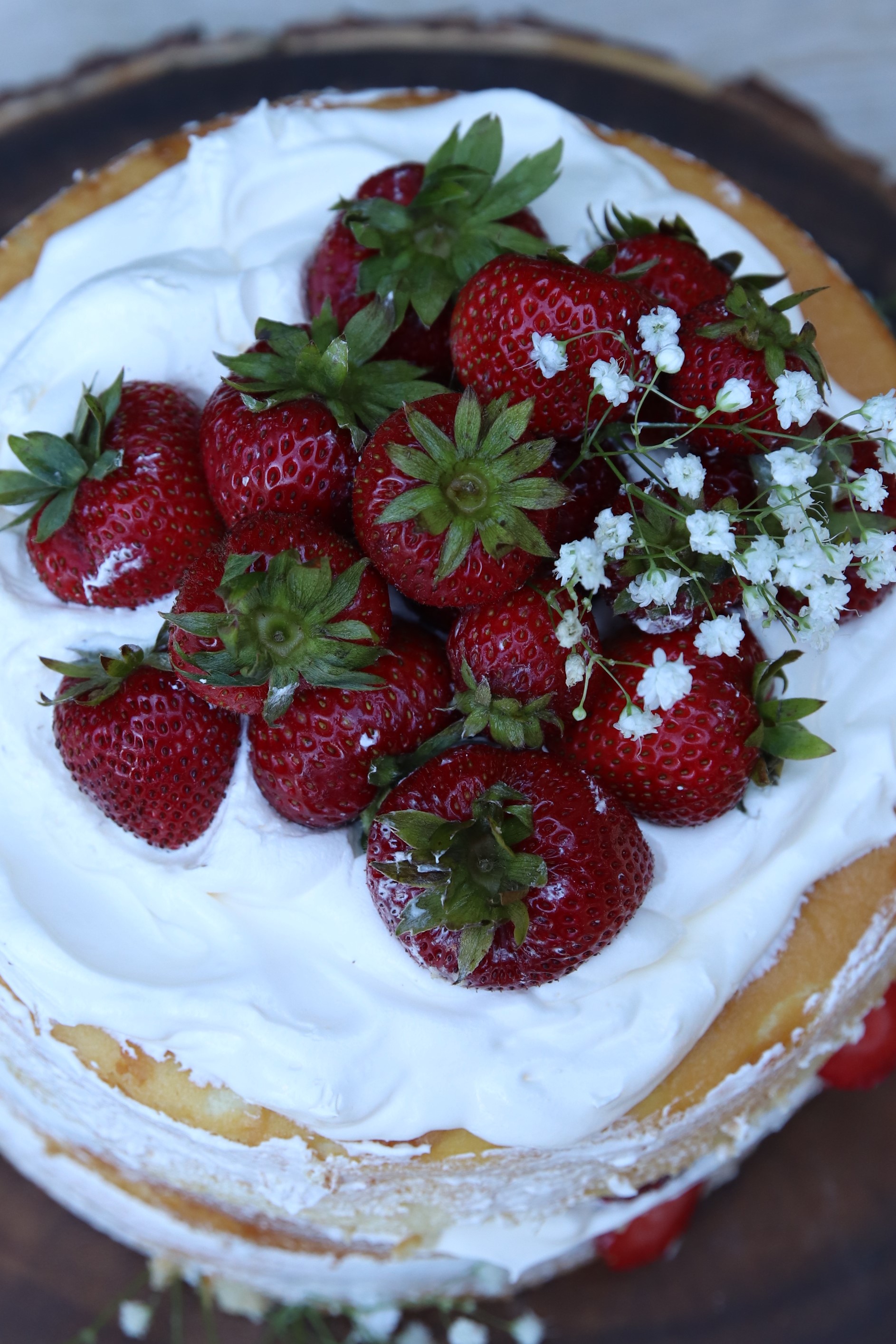 FAQ'S
What is Chiffon Cake? Chiffon cake has a high ratio of eggs to flour and is leavened mainly from the air beaten into the egg whites. It's texture is similar to angel food cake. Instead of using only egg whites, chiffon cake recipes incorporate the whole egg, giving the cake a richer and more flavorful taste to taste.
What is the difference between regular and caster sugar? The difference between caster s and granulated sugar is texture. Caster sugar has finely ground so it dissolves faster, making it a good choice to use in creamed mixtures and whips.
What's the difference between sponge and chiffon cake? Sponge cakes use artificial leavener such as baking soda and baking powder, chiffon cakes are leavened mostly from the meringue (stiffly beaten egg whites).
Can I replace All-Purpose Flour for the Cake Flour? Cake flour is soft and perfect for chiffon cake. Make your own cake flour by mixing 2 cups all-purpose flour (minus 4 tablespoons) mixed with 4 tablespoons of cornstarch.
Why do chiffon cakes shrink after baking? To help prevent shrinking after baking, use an aluminium, ungreased pan. Make sure to invert and cool completely after cooking.
What you'll need to make Elderflower Chiffon Cake with Strawberries
Make sure to purchase berries that are ripe and in season so they are sweet and delicious. You'll need about 4 pints.
You can use all-purpose flour but I recommend cake flour so the cake is extra soft.
Pasture raised eggs.
Caster is the best to use in this recipe but you can also use regular granulated sugar.
Whipping Cream
Avocado or Grapeseed oil (canola oil can also be used however it's not my preference).
Elderflower Chiffon Cake with Strawberries
Ingredients
2 cups cake flour
1 1/3 cups castor sugar
2 1/2 teaspoons of baking powder
3/4 teaspoon of salt
6 tablespoons of Elderflower Cordial plus 2 tablespoons of fresh squeezed lemon juice
3 egg yolks
8 egg whites
1 teaspoon cream of tartar
4 pints of ripe strawberries
2 cups whole shipping cream
1/3 cup confectioners sugar
1 tablespoon of Elderflower Cordial (for the whipped cream frosting)
pinch of salt
Directions
Preheat oven to 325°F. Prepare pans by lining the bottom of three 8 inch round cake pans with parchment paper. Spray lightly with nonstick cooking spray and lightly dust with flour.
Place a small bowl in the freezer to make whip cream frosting later.
Whisk together cake flour, 1 cup sugar, baking powder, and salt in a large bowl.
Whisk oil, elderflower cordial and egg yolks in a medium bowl and then add to flour mixture. Using a hand mixture, whip until smooth.
Separate egg whites and beat with hand mixer until foamy. Add cream of tartar and continue beating until soft peaks form. Gradually add the the remaining sugar until soft peaks form.
Stir one third of of the stiff egg whites into the egg mixture. Gently fold in the rest of the egg whites in two equal parts until no white streaks remain.
Divide the cake batter among prepared pans and bake at 325 degrees F. for about 20 minutes or until the cake slightly springs back when touched.
When done, remove cake pans and cool on racks upside down to prevent shrinking.
Remove bowl from freezer and start the whip cream frosting.
Beat the cream until frothy adding the sugar and elderflower cordial gradually.
Whip until stiff peaks form.
Remove cakes from cake pans. Place the first layer on a cake stand. Pour 1/3 of the whip cream on top and spread with a pastry knife. Top with berries. Continue the process with the other two layers.
Top with a generous amount of whip cream frosting and berries and then secure layers with skewers if you'd like.