Easy Strawberry Jam Recipe
We talked about how to freeze all those sweet strawberries you picked here so now let's talk about what to make with them!   Frozen strawberries can be used in pies, smoothies, an this easy strawberry jam recipe!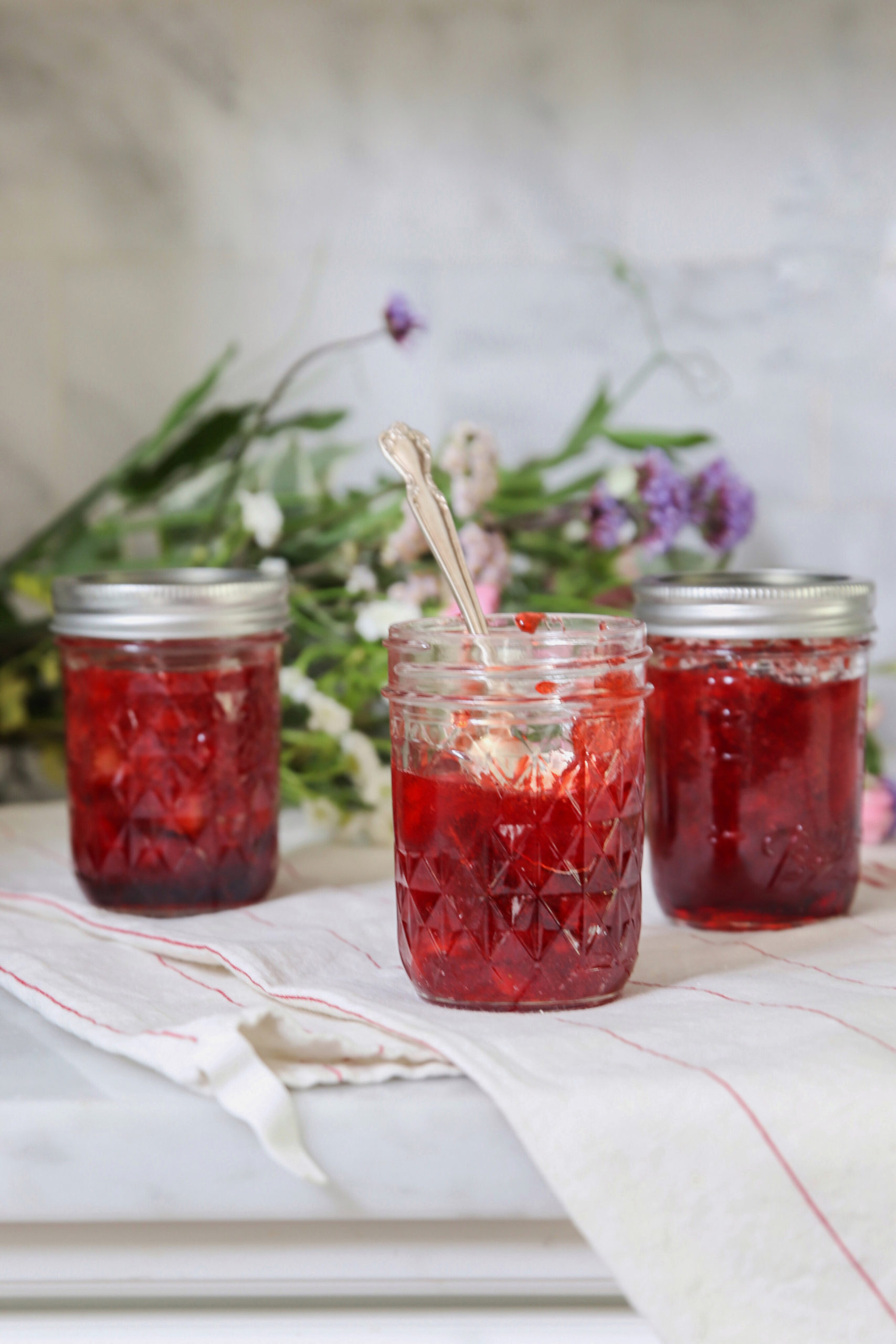 Strawberry Jam Q&A
What's the difference between jam, preserves, and jelly? Jam is my personal favorite.  I like the fruit pieces and the looser, spoon-able texture. With jam, fruit pieces end up in the final product. It's a mix of solid and liquid. Preserves contain the most fruit usually in whole pieces, and have the least gel-like consistency. Preserves are great for serving with cheese.  Think about spooning an entire berry or cherry on top of your Gorgonzola.  Jelly is the smoothest of the three and is simply crushed fruit so there are no chunky leftovers, only the fruit juice.  Mixed with pectin, you are left with spreadable, smooth jelly.
The recipe calls for lemon juice.  Is fresh squeezed lemon juice okay to use? Achieving the right amount of acidity in jam is important. Unfortunately fruits vary with regards to acidity. Bottled lemon juice has a consistent acidity level and is recommended over fresh for making homemade jam.
Do I need to use Pectin? Pectin is a soluble fiber so it's acts as a thickener.  Fruits and vegetables contain varying amounts of pectin. Strawberries don't contain a lot of pectic so you will to add some. You can use Sure-Jell or Ball (which I used for this recipe) to achieve desired results.
Can I use frozen strawberries to make jam? Yes! Make sure they are thawed out prior to cooking.
Will my jam still work if I reduce the sugar?Adding sugar to your fruit allows it to set. If you would like to reduce the sugar in your homemade jam use low or no-sugar-needed pectin is the way to go. These pectins bind with calcium instead of sugar to form the gel. You can cut the sugar in half.
What are some options for serving jam? We spoon jam on toast, waffles, pancakes, yogurt, and on top of a warm brie crostini.
More on strawberries:
Easy Strawberry Jam Recipe
Try making this delicious jam! It's easier than you think. Make sure to have all recommended supplies on hand and get started!
Ingredients
3

tbsp

Ball® RealFruit™ Classic Pectin

2 1/2

cups

crushed strawberries

2

tbsp

lemon juice

3

cups

granulated sugar
Instructions
Prepare boiling water canner. Heat jars in simmering water for at least ten minutes or until ready to use, don't boil. Wash lids and bands in warm soapy water and set aside. Wash strawberries, remove skins, and place in a wide heavy bottomed saucepan. Using a potato masher, gently break down the berries.

Combine strawberries and lemon juice in saucepan. Gradually stir in pectin. Bring mixture to a full rolling boil, stirring frequently until it thickens and begins to gell, about 15 to 20 minutes.

Ladle hot jam through a funnel and into jar leaving a 1/4 inch headspace. Wipe jar rim. Center lid on jar and apply band, adjust to fingertip tight. Place jar in boiling water canner. Repeat until all jars are filled.

Process (boil) jars for 10 minutes. Turn off heat, remove lid, let jars stand 5 minutes. Remove jars and allow to cool 12-24 hours. Check lids for seal, they should not flex when center is pressed.
Recipe Notes
Preserving method: Water bath canning