How to Make a Strawberry Galette
This rustic Strawberry Galette is delicious served as a weeknight family dessert and fancy enough to serve your guests. Just a few ingredients and no special pans required!
This Strawberry Galette bakes up perfectly, and the robust strawberry flavor carries through nicely as it bakes. The taste of lemon zest is subtle and works perfectly with the sweetness from the strawberries. Galettes can be made with any fruit really. Try adding blueberries to this recipe for something a little bit different. This Strawberry Galette is meant to be rustic, so don't worry if the ends of the crust isn't perfect.
Why we Like Strawberry Galette for Dessert
Galettes are fool-proof and easy to prepare. There aren't lots of ingredients either so you can easily pull this dessert off in a pinch. This Strawberry Galette is healthy-ish. It's what I would consider a wholesome dessert as we use organic flour, farm fresh butter, local honey, and organic farmers market strawberries. We add just a drizzling of honey so our Strawberry Gallete isn't too sweet. Feel free to adjust the sweetness to your personal taste preference. Serve warm, straight out of oven with vanilla ice cream or as is. My Strawberry Galette is also delicious warmed up the following day. If you are preparing this for guests, make 2 or 3 and you can make the dough a couple days ahead of time if you want to plan ahead.
Experiment with different fruits! Here is my Peach Galette Recipe. Also, if you like strawberries as much as I do, make sure to try my Strawberry Chiffon Cake and Strawberry Jam Muffins!
If you'd rather not have something sweet, go savory! A savory galette is basically a pie that you eat for dinner. Your savory galette can proudly sit in the center of the table along with mixed greens or a side of grilled fish or poultry. This is the kind of meal you can serve during the week or turn into a fancy weekend meal. Serve during the cooler months or alfresco wearing your favorite sundress!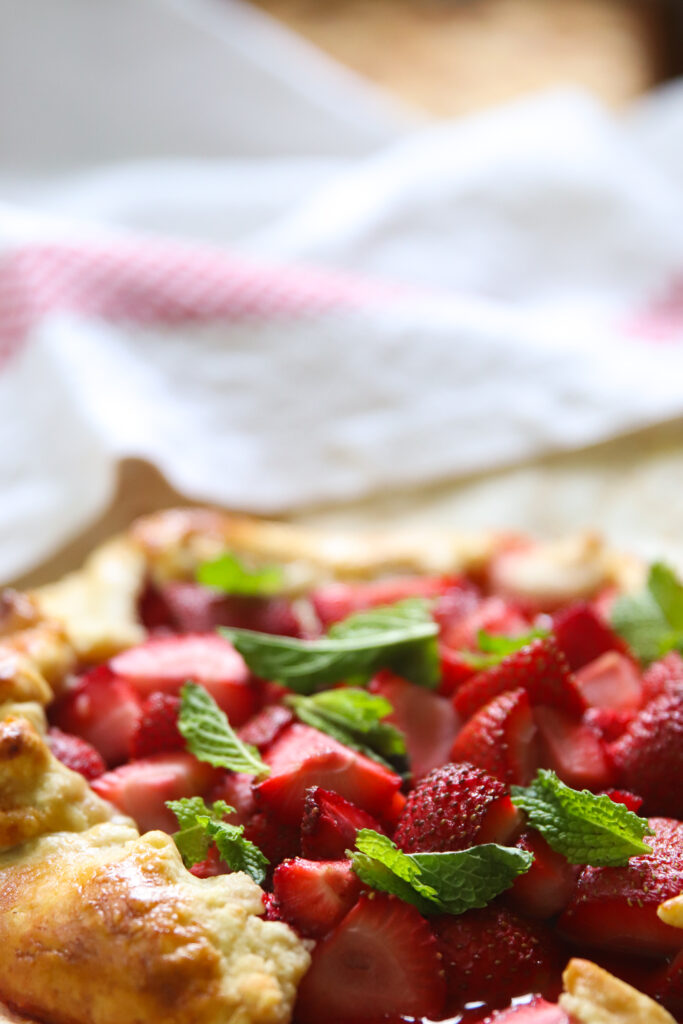 How to Make a Savory Galette
Make your pie crust (see recipe below)
Cook your filling: The sky is the limit here! Saute onions, mushrooms, fennel, leeks, chard, kale, and cheese of course.
If you are cooking watery greens, make sure to press some of the water out of the veggies prior to placing on the dough. Use a colander and the back of a spoon or you hands.
Place the veggies in the center of the dough and fold the dough around the greens and cheese.
Watch my tutorial here!
How to Make a Strawberry Galette
Whisk your dry ingredients and lemon zest together in a large bowl. Add quartered or grated butter. I put everything in a bowl or on my marble counter. Mix the ingredients with a fork or use your hands. Add ice water a splash of white vinegar and mix again.Once incorporated, place the dough on a sheet of plastic and press into a round disc about 1 inch thick. Refrigerate for 30 to 40 minutes.While the dough is in the refrigerator, prepare the strawberries. Slice berries in half and sprinkle with sugar and arrowroot. Remove the dough and place on floured service. Roll out into a long rectangle and add the strawberries leaving a couple inches of dough to fold over to form your galette. Bake in a preheated oven, remove when galette edges are golden and serve with ice cream.
You can also try this recipe! Lavender Peach Galette
Yield: 4-6 servings
Strawberry Galette
This strawberry galette is easy to make and can be serving as a quick weeknight dessert or to guests on the weekend.
Ingredients
1½ tbsp powdered sugar
¾ tsp. kosher salt
1⅓ cups all-purpose flour or gluten-free flour, plus more for surface
1/4 cup almond flour
pinch of salt
2 tsp lemon zest
¾ cup (1½ sticks) chilled butter (quartered or crated)
2 tbsp ice water
1 tsp white vinegar
1 egg (for egg wash)
3 cups strawberries
3 Tbsp honey
2 Tbsp butter
2 tbsp arrowroot or 1 tbsp corn starch
Fresh mint garnish and powdered sugar is optional
Instructions
Whisk sugar, salt, all-purpose and almond flour, and lemon zest into a medium size bowl. Cut butter into rectangular pieces or grate, and add to dry ingredients to coat. Dump the mixture on to a work surface or bowl. Use a fork to cut-in the butter until small pea size pieces are formed.
Drizzle with vinegar and ice water. Use your hands to form a loose ball of dough.
Transfer the dough to a piece of plastic wrap and use your hands to knead the dough for about a minute so everything is incorporated. Don't over-mix or handle the dough too much.
Press dough into a circular disc about an inch thick. Cover with plastic wrap and refrigerate for 30 minutes.
While the dough is chilling, preheat your oven to 380 degrees degrees F. and start making the fruit mixture.
In a medium size bowl, add sliced strawberries. You can also add blueberries or peaches if you'd like a mixture of fruit.
Drizzle 3 tbsp honey and arrowroot over fruit and toss to coat.
Top with a couple pats of butter.
Remove dough from the refrigerator. Set out on to lightly floured surface. Try not to handle the dough too much. Use your rolling pin the roll out the dough in a 10 to 2 inch circle.
Place the strawberries in the center of the dough. Fold in the sides to form a circle around the strawberries.
Whip an egg and brush on the dough prior to baking.
Bake at 380 degrees F. until dough is a golden brown color, about 40-45 minutes.
Cool for a few minutes and serve. I like to sprinkle powdered sugar on top. You can also add ice cream or whip cream.
Notes
Try different fruits! Make sure to check out my Peach Galette with culinary Lavender.