How to make pickled veggies | refrigerator pickle recipe
August has settled in nicey, sweet like honey. The intense heat of summer is gone and the sun is golden and warm. Days are shorter, and mornings great us with drops of dew. Summer is taking a back seat and Fall is ready. The bears are gorging on blackberries, salmon will run soon, and hibernation is right around the corner.
As the season changes I enjoy the process of taking stock and changing things up a bit. We've got lots of tomatoes and mini cucumbers so I'm canning tomato sauce and making pickled vegetables. Our neighbor has an abundance of mini cucumbers so I brought a bunch home and made refrigerator pickles. They are simple to make if you don't want to go through the 'canning' process and delicious.
What you'll need in order to make refrigerator pickles:
Air tight jars (these are my favorite)
Distilled white vinegar
Sugar
Salt (kosher or pickling salt)
Various spices and herbes such as garlic, onion, pepper corns, dill, coriander seeds, slices of lemon, etc..
Mini cucumbers. I like to use Kurby cucumbers.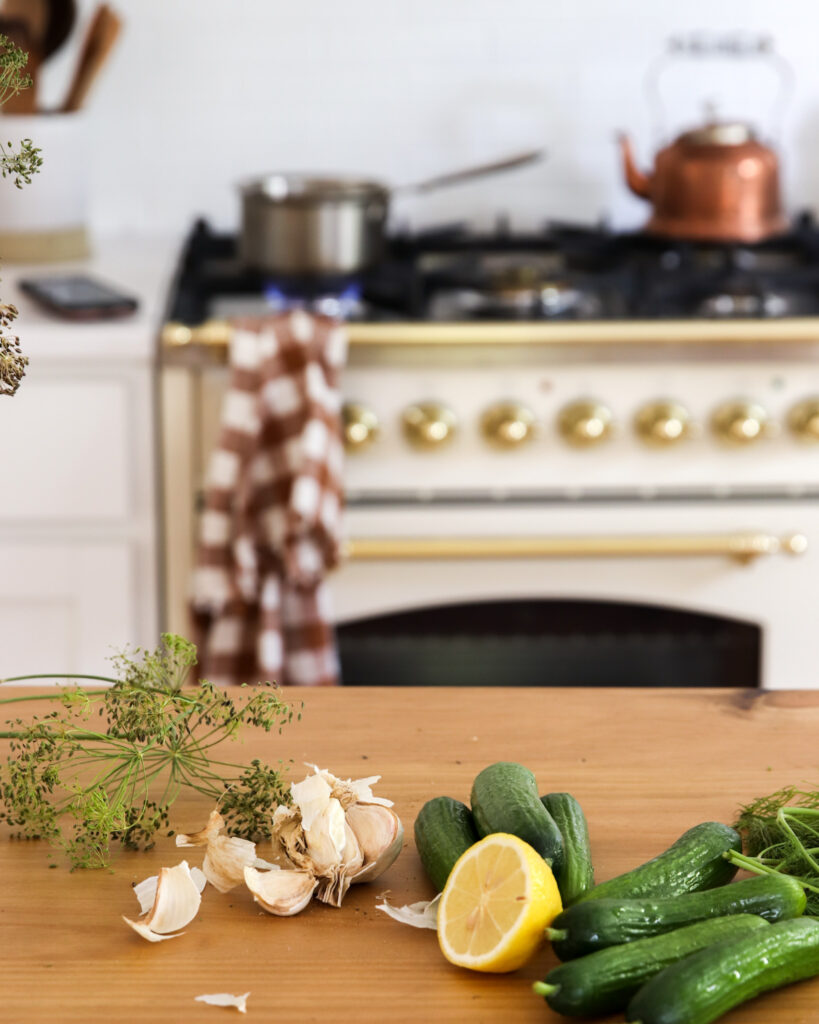 Q & A
What is the difference between refrigerator pickles and canned pickles?
Both are preserved in a brine consisting of vinegar, sugar, peppers, and other spices. The difference is that canned pickles are processed with a waterbath canner and can be stored at room temperature on your shelf. Refrigerator pickles are preserved in a vinegar brine and must be stored in the refrigerator so they don't spoil.
How long will refrigerator pickles last?
Refrigerator pickles last about 2 months in the refrigerator. The longer they sit they less crunch they will be.
Why do you need to boil the brine?
Boiling helps marry the flavors. Make sure you allow the brine to cool prior to pouring over the pickles, otherwise the picles will briely cook and the result will be a less crunch pickle.
How to make homemade refrigerator pickles:
I start with kurby cucumbers. After they've been rinsed and dried, I slice them into spears. Next, prepare the brine. Some recipes call for apple cider vinegar. I tried that and it turns the brine a pinkish color and not my preference, so I use regular distilled white vinegar. There are so many different brine options. I like 50-50 sugar/vinegar ratio and then I also like to add onions and lemon slices, along with the traditional spices. Heat the salt, sugar, and vinegar in a saucepan until boiling. When the ingredients dissolve, remove from heat and allow to cool. The last step is to pour the brine over the sliced cucumbers and then add the the spices.
Homemade Refrigerator Pickle Recipe
Ingredients
3 cups mini cucumbers sliced in spears
2 tbsp kosher salt
1 1/2 cup white vinegar
1/4 cup water
1/2 cup sugar
1/2 cup sliced onion
1 tbsp pepper corns
1 tbsp coriander
small hand full of fresh dill
a few slices of lemon
1 or 2 jalapeno, sliced
1 tbsp mustard seed
1 tsp celerby seed
Directions
Slice cucumbers into spears and set aside.
In a medium saucepan, add vinegar, water, and sugar. Bring to a low boil, stir until dissolved and allow brine to cool.
Place cucumber spears into air tight jar. Pour brine over the cucumbers and then add the remaining ingredients.
Refrigerate for 24 hours prior to eating.
Regrigerator pickles will last about 2 months in the refrigerator. They are likely to be less crispy as time goes on.