Lemon Chicken with Orzo in the Instant Pot
Hi Everyone! Today I am joining Lory from To Have to Host  along with a group of several other talented bloggers to share an Instant Pot Recipe. If you enjoy entertaining or are simply looking for inspiration, make sure to check out Lory's  beautiful blog.  You'll find lots of hosting ideas recipes, wine pairings, and gorgeous tablescapes.  Don't forget to check out the other blog posts listed at the end of this post for additional recipes!
Lemon Chicken with Orzo in the Instant Pot
Are you still enjoying soup?  Over here it's cold, dark, and rainy .. very much soup weather.  In the wintertime I like having something simmering on the stove.  The house smells good and there is family and friends can help themselves after coming in from a chilly hike in the woods.  A warm bowl of steaming soup or simply holding a mug of soup is so comforting.  Like my Chicken Soup,  Lemon Chicken with Orzo soup is great if you're feeling a cold coming on especially if you are making it with bone broth from scratch.  
Okay so let's move on ..
Check to make sure you have these items.  If you don't have an Instant Pot use a dutch oven.
Cloth bowl covers (here and here)
Bone broth  (if you don't have homemade)
Details:
Full disclosure here, this was the first time I used the Instant Pot to make a meal.  So far I've only made hard boiled eggs and lots of bone broth, a staple in the wintertime.  What I learned was that all of your veggies should be chopped and ready to go ahead of time.  The Instant Pot gets HOT fast and so you'll need to have everything ready to go.  If your pot starts to burn or you get tripped up for any reason, press cancel and start again. Depending on which Instant Pot you purchase, there may be a slight variation in the process.
Start by putting your Instant Pot in saute mode.  When it's ready for you to add the oil, HOT will be displayed.  When the Instant Pot is HOT add the oil and when shimmery (just a few seconds) add the chicken.  I am using Rice Bran Oil because it's a light, neutral oil that is heart healthy, free of Trans-fats, and has a smoke point of 445 degrees Fahrenheit, making it suitable for high-temperature cooking such as pan frying, sautéing, and deep -frying.  Rice Bran oil also has a delicate, subtle flavor as is great to use in baked goods, salad dressing and dips.
..back to cooking
Once the chicken is seared, remove from the Instant Pot and pour in a splash of lemon juice or white wine to deglaze the pot.
Turn off the Instant Pot if it gets too warm. Back in saute mode, add the onion and saute for a couple of minutes.  When translucent, add the garlic and give it a quick stir until soft and fragrant (don't burn!).
Add remaining ingredients, stir and then add the chicken back to the pot.
The fresh herbs and lemon make this soup feel like it's almost springtime but it's still cozy enough for a hearty winter meal.
For the orzo, I recommend boiling it in a separate pan.  Adding it to the Instant Pot is likely to turn it into a mushy mess. Once the orzo is cooked, drain (don't rinse) and spoon into bowls.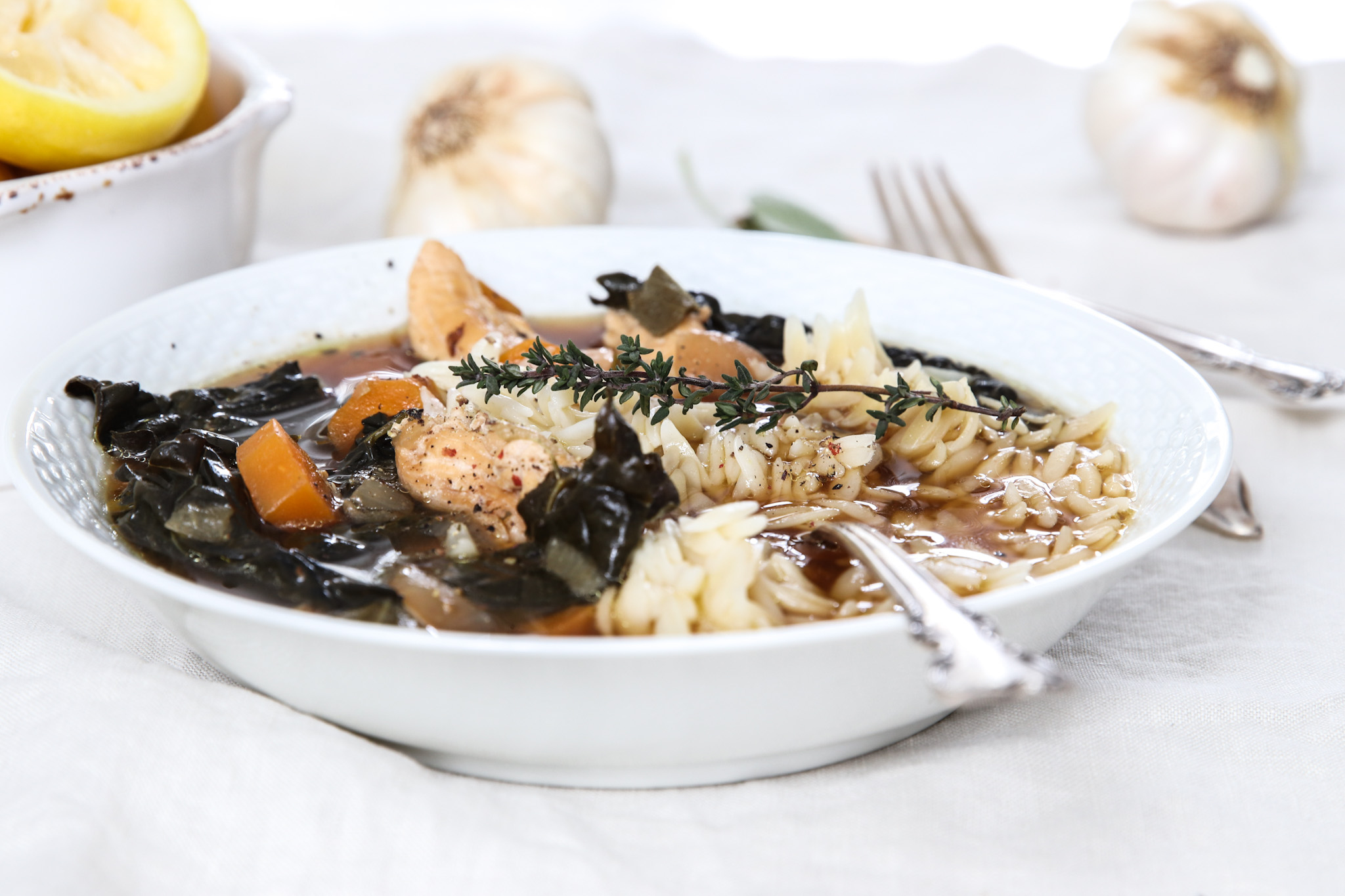 Watch me make the Lemon Chicken with Orzo!
Can this soup be frozen?
This soup will last up to 5 days refrigerated in an airtight container.  Lemon Orzo Chicken soup makes great leftovers and a satisfying snack when you feel like something warm and satiating.  I recommend using a Stasher for freezing.
Share or Pin for later!
Thank you so much for stopping by!
This post contains affiliate links which means that if you were to make a purchase using one of my links I would receive a small amount of compensation. I only link to products that I personally own, or know and love.
 To Have To Host / Living with Amanda / It's Anna Blog / Lemon Grove Lane
Lemon Chicken with Orzo in the Instant Pot
This is an easy instant pot recipe that you can make for a hungry family on one of those busy weeknights. Makes a hearty lunch and great leftovers too!
Ingredients
1

pound

Chicken thighs

1

pound

Chicken breasts

I used chicken strips

32

ounces

Chicken broth

I used my homemade bone broth

2

tbsp

rice bran oil

You may also use coconut oil

2

tsp

Lemon zest

Zest plus 1 tbsp lemon juice to deglaze the pan

1

small

Onion

2

cloves

Garlic

4

Carrots

1

Celery

2

tsp

Fresh rosemary

1/3

cup

dry white wine

(optional)

1

bunch

Kale

Sliced thin or torn in small pieces

8

ounces

Orzo

4

tbsp

Parmesan cheese

2

tbsp

Fresh Italian parsley

For garnish

2

tsp

Kosher salt

Salt to taste

1/4

tsp

Pepper
Instructions
Make sure to prep all your veggies ahead of time. The instant pot gets hot and you will need to move quickly.

Set your instant pot to saute mode. When it's warm add chicken pieces and cook until brown on the edges or seared slightly.

Remove chicken pieces and deglaze the pan with wine or broth.

Add diced onion, celery, kale, and carrots and cook until onions are translucent.

Add crush garlic and saute for about 30 seconds. Be careful not to burn the garlic. Add additional oil, wine, or broth as needed.

Put your chicken back in the instant pot and add the rosemary and chicken broth.

Put your instant pot lid on and set the steam valve to SEAL and set to pressure cook or manual and set to +/- button to 3 minutes.

When the cook time is finished you will need to do a controlled release of the steam/pressure. Carefully release the steam in short bursts. Once this process is complete you will be able to take the lid off of your instant pot. The lid can't be removed if there is too much pressure and heat in your pot.

Add fresh lemon juice and more salt or pepper if needed.

Ladle soup into bowls and add orzo, freshly grated parmesan, and parsley for garnish.
Recipe Notes
The instant pot gets really hot in saute mode.  If your pan begins to burn, cancel your program and allow everything to cool and restart in saute mode.  You can also make this recipe with spinach in place of kale.  If you choose that option, add the spinach after pressure cooking.