How to shop for vintage or Turkish rugs
One of my favorite styling pieces is a vintage or Turkish rug. They add character, warmth, and instant beauty to any space. Sourcing these gorgeous rugs can be a challenge so today I'm sharing how to shop for vintage or Turkish rugs and where I purchased mine!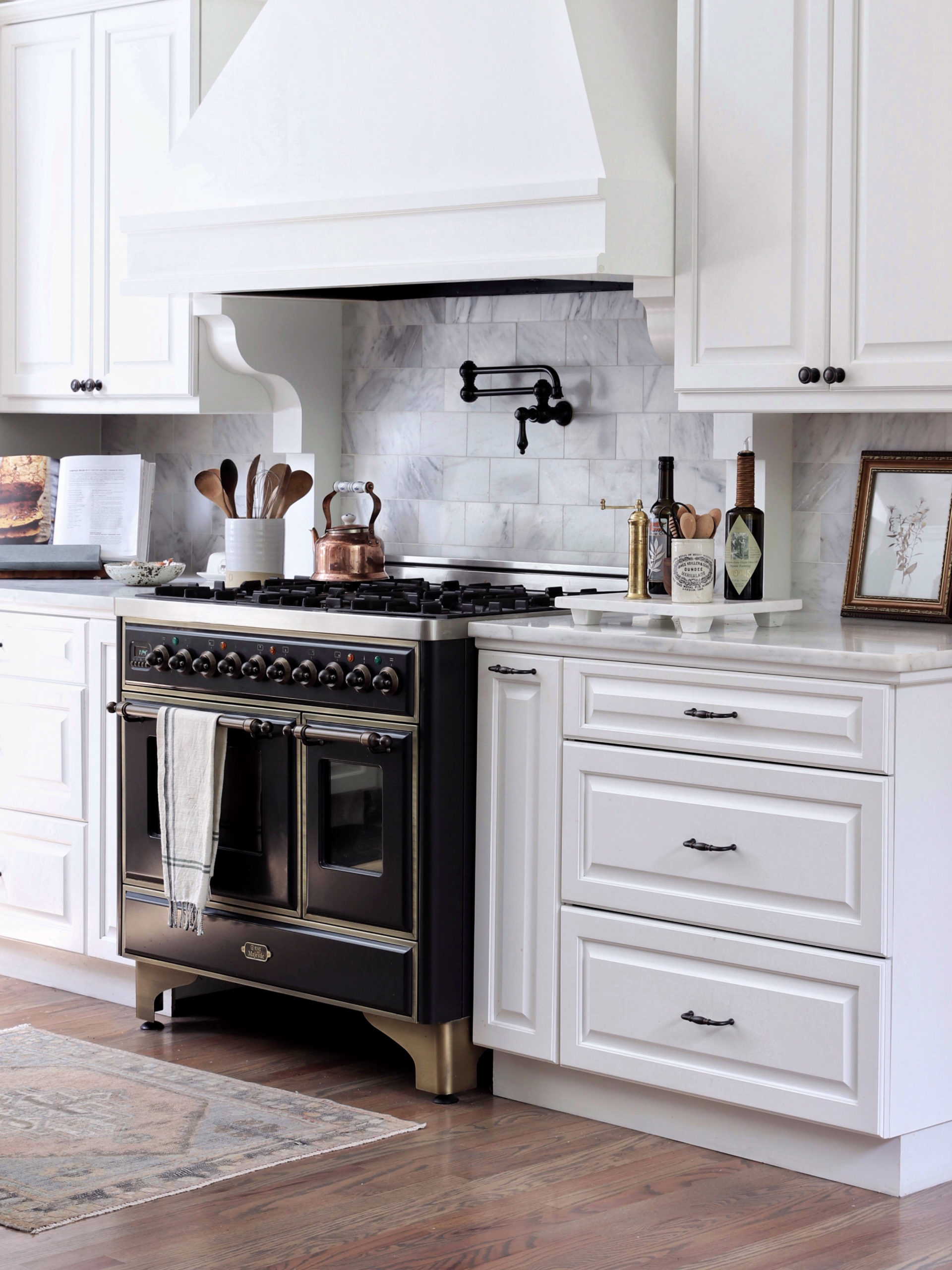 For additional ways to make your kitchen feel more homey and still keeping your budget in mind, head over to this blog post!
How to shop for vintage or turkish rugs
There are lots of inexpensive online sources for vintage rugs. Most of them are located in Morocco or Turkey where they have been produced and used for hundreds of years. My favorite place to purchase Turkish or vintage rugs is on Etsy. I've purchased two rugs and had a good experience with both sellers. The rugs came as they appeared in the photo and were shipped quickly. That said, it's always a good idea to check the seller feedback section prior to making a purchase.
start by opening up Etsy in your browser.
in the search section, type vintage, turkish, or oushak rug.
you can also add a filter or narrow your search to show a specific rug size, shape, or color (home and living>rugs>rectangular, etc.)
Five neutral vintage rug options from Etsy
Here is one that I purchased to use as a reference. The second rug is in my powder room that is waiting for Etsy prints to come from France. I will share the powder room update when complete!
This bohemian vintage rug is handwoven and made of wool. It measures 4.3 x 7.5 and shipping is free.
2. Vintage runner, Turkish, hand knotted. Size is 2.8×8.8, ships free.
3. This is a gorgeous ZANAFI BERBER hand-knotted wool rug in a creamy white and brown geometric pattern.
4. This is the company I purchased my kitchen rug from. These are one of a kind so mine is no longer available but this one is equally as gorgeous. It's 100% wool and measures about 10′ by 3′.
       5. I purchased a small rug for my powder room from this company.  I'm waiting for a couple prints that are coming from France to finish the bathroom so stay tuned for that blog post.  Again, free shipping, rug was as pictured and good experience with the seller.
Pin for later and don't forget to head over to my Pinterest page for more inspiration!
If you'd like more kitchen and great room inspiration, check out our spring kitchen and great room updates!
Thanks so much for visiting! This post contains affiliate links which means if you choose to purchase an item I would receive a small amount of compensation to help support my website. I only link products that I personally own or items that I love.
Hopefully you feel inspired to shop from Etsy and to help support small businesses! Please feel free to reach out to me personally or leave a comment below if you have any questions. I'm happy to try and help!