how to organize your kitchen pantry cabinet
How to organize your kitchen pantry cabinet
At first I thought I would not share my kitchen pantry. It's nothing but a closet really, no built-ins, special lighting or anything like that. Then I got to thinking that maybe there would be plenty of families out there trying to figure out how to make the most effective, efficient use of their small pantry while still having it be a pretty space. With a little creativity and the desire to get organized, I believe we can all create a functional and aesthetically pleasing pantry cabinet. Here are a few of my ideas!
Kitchen Pantry (how to organize your kitchen pantry cabinet): learn how to better utilize your kitchen cabinet space with pretty storage containers so you can see what you have and need!
When we were discussing where the pantry would go in our small kitchen there was only one option. I was disappointed initially as I had envisioned a larger, walk-in space. That said I felt the space was workable providing we put in carefully placed shelving. Using a small space means you purchase and waste less, another plus. To make my pantry functional, my husband put in shelves (Home Depot) and then I added stacking shelves for miscellaneous items and canned food. Placing a lazy susan in the back corner was my favorite addition. Reaching in back corners is sometimes awkward and food items can get pushed to the back and out of site easily. With a rotating lazy susan it's easy to see things quickly and then you can grab whatever you need.
Items to consider having on-hand prior to organizing your kitchen pantry cabinet
Before you begin the process of organizing your pantry, make sure you have whatever containers, baskets, or jars that you will need for storage. Here are the items I used in my pantry:
How to organize a kitchen pantry
The first step is to remove everything so you can develop a clear vision of what you'd like this space to look like. Think about where you want snack foods and canned items. If you have children, you'll want certain items to be easy to reach. Heavier items that are used less frequently can be put on the floor and in the back.
Add adjustable shelves for canned goods and miscellaneous items
Add extra space by adding moveable shelves. This is such a simple idea and will allow you to store more items and have a better view of what you have in your pantry.
Check for expired items and throw out what is not likely to be used
When you shop, do you put your new items upfront or behind existing items? Make sure you look at expiration dates and put newer items towards to back.
Consider putting cereal and boxed or bagged food in to clear, air-tight containers
If you purchase cereal in bulk using an airtight container is essential to keep it fresh. Boxes are sometimes opened and not closed properly so for that reason, I usually empty the contents into a container to keep the cereal fresh.
Place items that are used frequently in the front or on shelves that are eye-level
Plan to have items that you use frequently at easy reach and make sure the kiddos' can reach their favorite snack foods. Large items, or items that are used infrequently can go in the back or on the floor.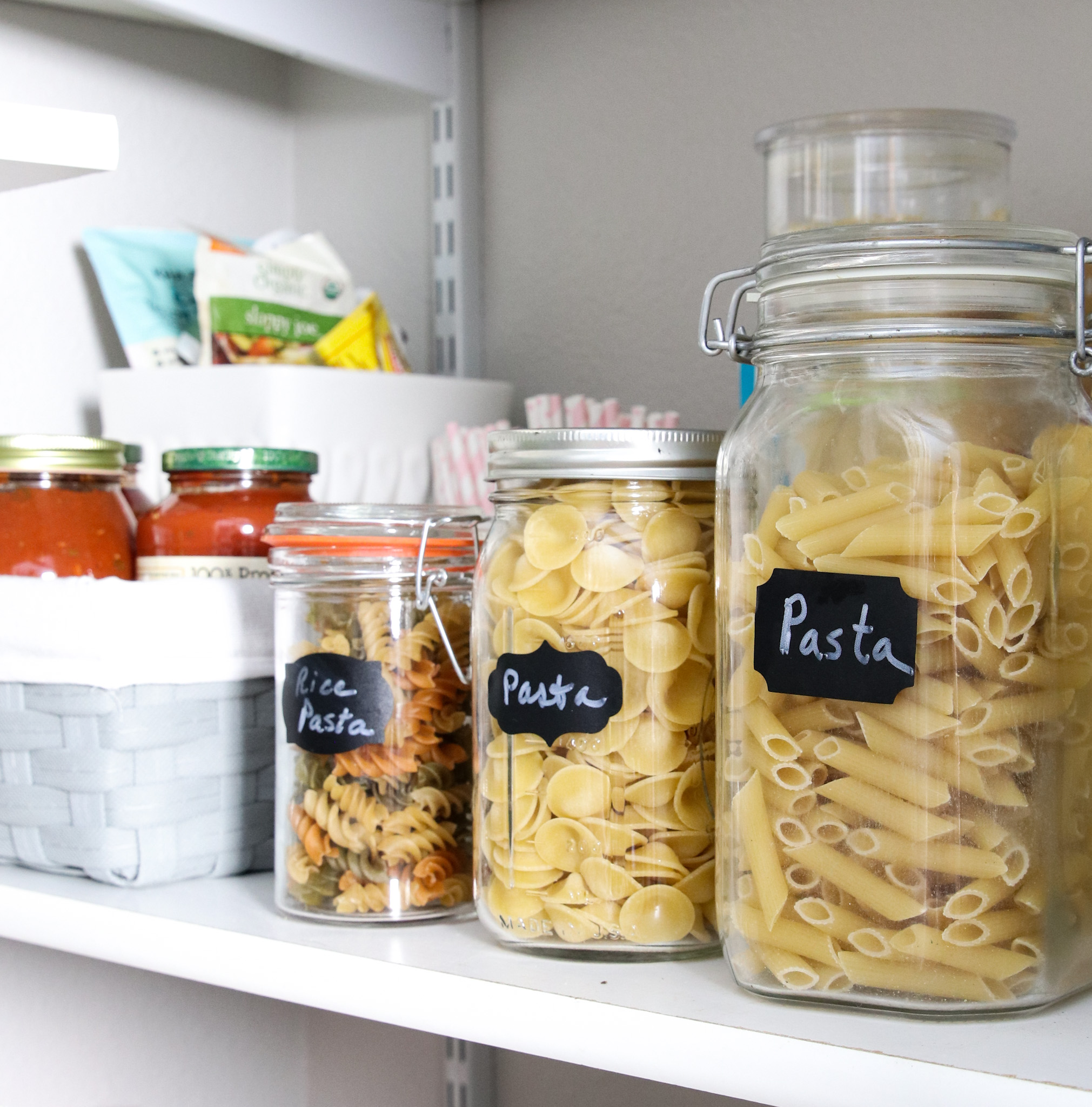 Invest in a few storage items
After a year or so, baskets can get stained and worn. I replaced my existing baskets with fresh, new ones and purchased a set of jars with airtight lids. These items were not expensive so if they get dirty or break they are easily replaced. The jars actually came with labels and a pen so I didn't have to create or purchase labels.
A circular rotating tray makes reaching in those back corners easy and allows for much needed storage space. I invested in one that is heavy and solid so it will hold heavy items when I need it too. The one I purchased is also pretty (a bonus) so I can use it for entertaining as well.
Last, schedule a time about every 6 months or so tackle deep cleaning and organizing projects. If you missed how I organized my refrigerator, click here to go directly to the blog post.
Share with a friend or PIN for later!
Thank you so much for stopping by!
This post contains affiliate links which means that if you were to make a purchase using one of my links I would receive a small amount of compensation. I only link to products that I personally own, or know and love.