Making Stove Top Potpourri is so simple and is also a wonderful gift idea!  In just a few minutes you can have a simmering pot of fragrant warming spices, herbs, and fruit simmering away.  Our winters are dark and cold here in the Pacific Northwest and potpourri makes our home feel so cozy!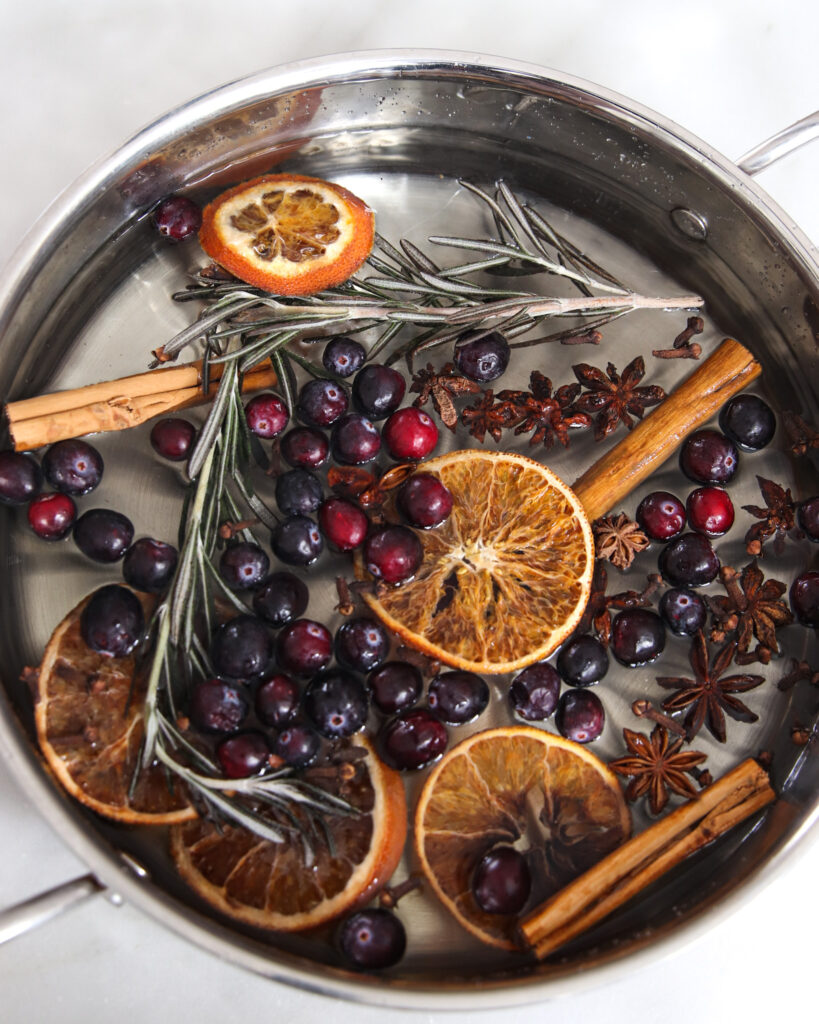 Living so far north we get less daylight which means extra cold, dark winters.  Feeling the need to hibernate is definitely a thing.  So with more time spent indoors, I try to make our home extra cozy (see how we hygge) with lots of candles, and simmering stove top potpourri especially around Christmastime.  Once the holidays are over I start the editing process and  feel inspired to organize and clean!  Having a clean and organized home with plenty of candles, simmering stews on the stove make getting through the long winters a lot easier.
What we love about Stove Top Potpourri
It's quick to put together for last minute entertaining
All ingredients are natural with no synthetics or chemicals
The recipe is easy to change up seasonally
Stove top potpourri is so cozy.
Ingredients
Dried oranges
Fresh or dried apples
Cardamon
Cinnamon
Star anise
Cloves
Cranberries
Rosemary
A jar filled with all the ingredients for stove top potpourri makes such a wonderful gift.  If you'd like to see the blog post sharing how to make this jar of potpourri, here's the blog post. 
Stove top blends
Fall
Pears
Apple
Cinnamon
Pumpkin Spice
Christmastime
Dried oranges
Fresh cranberries
Rosemary
Cinnamon
Star anise
How to make potpourri
Add water to simmer pan.
Add fruit, spices and herbs of choice.
Simmer gently, add water as needed.
Helpful tips for making stove top potpourri
Use whatever you have on hand!  We keep our stove top potpourri for several days.  Just keep adding water.  Sometimes I add spiced cider or a splash or red wine.  Get creative!  And while you're simmering potpourri, try making these chocolate, peppermint shortbread cookies!  Your home will smell good and feel extra cozy!
If you don't have dried oranges, try sliced lemon or apple!
Follow us on Pinterest!