Kitchen Organization |How to best organize your spices
This blog post may contain affiliate links. Please read my disclosure policy.
Having an organized kitchen makes daily living so much easier! Today I'm tackling kitchen organization, specifically how to best organize your spices. There is nothing more irritating than trying to get dinner prepared and not being able to find a cooking tool or your favorite spice.
In our last house we had a pull out spice cabinet next to the range. I really liked it and miss it so much. This home doesn't have an obvious spot for spices so I'll be putting them in a drawer or stack them in my pantry. I don't recommend cabinets because the spices just tend to get pushed back. Using a drawer or stacking unit is the best way to go. I also like a wall mounted rack if you have the space.
You can find more posts on kitchen organization here!
Questions & Answers About Spice Storage
Is it best to store spices in plastic or glass container? It's best to store spices in glass containers as plastic can be porous, allowing air to damage the spice. In addition exposure to plastic may have harmful effects on human health. See the research here.
Where should I store my spices in the kitchen? Your spices should be kept in a cool, dark area of your kitchen. I've read that red-colored spices like red pepper, paprika and chili powder should be stored in the fridge. Full disclosure, I don't do this so if you do and have noticed a difference let me know! I believe that as long as you are storing your red-colored spices in a cool area you will probably be okay.
Can I freeze my spices? Humidity can alter the flavor of spice and encourage the growth of mold or bacteria. For this reason it's best to not store spices in the freezer unless they are vacuum sealed.
Are pull out cabinets near the range okay to store spices? Because spices are heat sensitive it's best to not store them near your range. That said, there shouldn't be any heat transfer to a pull-out cabinet. I had one in our prior home and it was great and my spices were fine.
How long can I keep my spices? Whole spices will stay fresh for about 4 years, ground spices for about 2 to 3 years, and dried herbs for 1 to 3 years.
Watch me organize these spices!
How should I store spices?
I had a narrow pull-out cabinet next to m range in our prior home and I miss it so much. In our new home I have no spice storage so I'm creating a space. To keep it easy I purchased a stackable wood piece so I can see all my spices. You can also purchase a metal or acrylic piece spice organizer or Lazy Susan. Both will allow you to see all your spices so you're not having to dig for something when you need it quickly.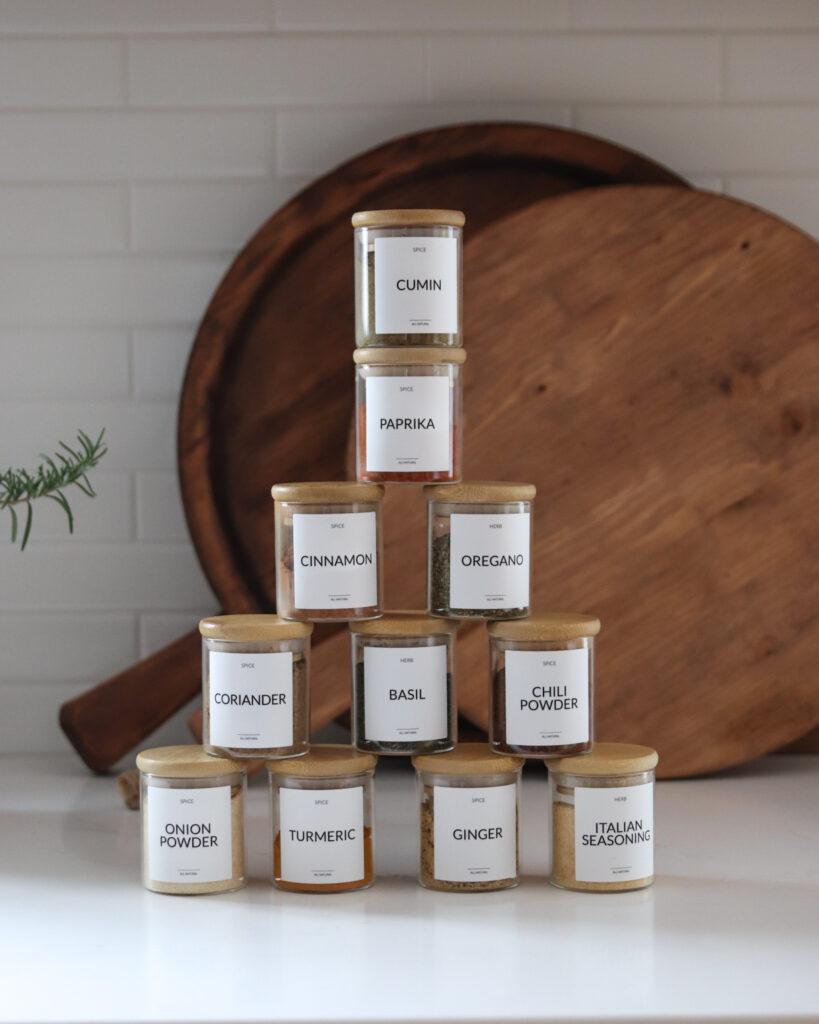 What spices should I have on hand?
If you cook from scratch a lot you're likely to need more spices, otherwise there doesn't seem to be a need to accumulate lots of spices. When I cleaned out my spice cabinet I realized I had spices that I hadn't used for years. Because I try not to have too much in the way of clutter or items that aren't used laying around, I tossed the spices that I don't typically use. I'm sure I will accumulate more spices over time but it feels good to purge and start anew.
Rather than buying full bottles of spices at the market I purchase just what I need for several months in the bulk spice department at my natural food grocery store. The spices seem fresher and taste better than those that have been bottled up and stored.
Want to connect with me more?
Find me and Lemon Grove Lane on
Facebook, Instagram, Pinterest!
What containers should I store my spices in?
Glass is by far the best choice in my opinion. I found my glass spice jars and bamboo top on Etsy and then I added labels. You can make your own labels if you have a printer or just purchase on-line which is what I did in order to save time.
I hope that after reading this blog post that you are inspired to take a look at your spice collection and toss what you don't need and then reorganize the space so it works efficiently for you.
As always, thank you so much for being here today and if you have a favorite way to store your spices I'd love to know! Share your tips in the comment section below!