How I organize my kitchen in three easy steps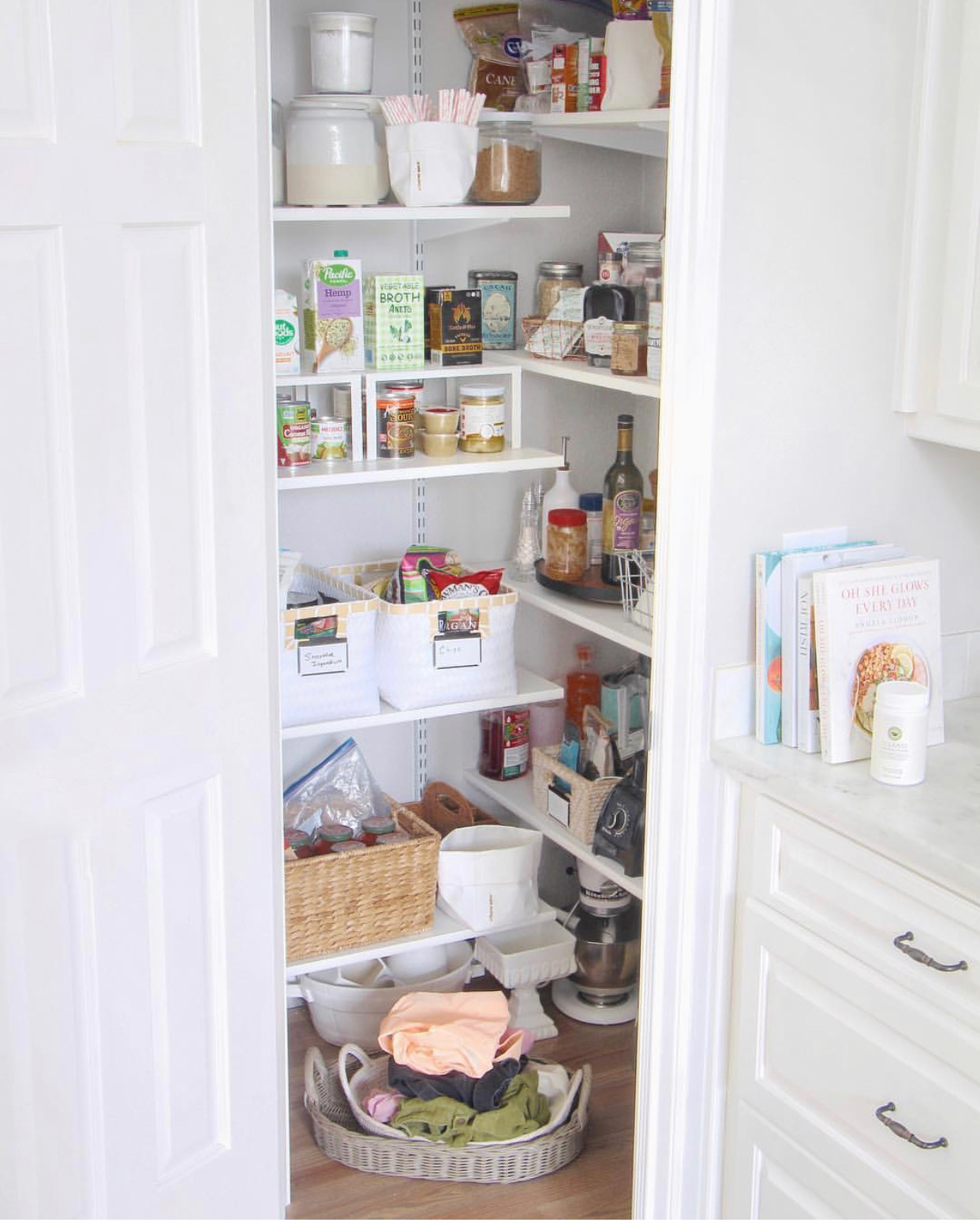 Reduce clutter and keep or have only what you need.
  Today I'm sharing how I organize my kitchen in three easy steps!
When we downsized several years ago and rebuilt this home, I  wanted a walk in pantry.  Well, that clearly didn't happen but over time I made the space work for our family.  Small can work perfectly, you just need to keep the space clutter free and organized!
How I organize my kitchen in three easy steps
Pantry
Our home was built three years ago and I'm embarrassed to say I don't think I've done a complete re-do of my pantry since then.  To tackle the project I first removed everything and checked for expired items.  Oh my gosh!  I had food items that expired back in 2016!  Everything got a good wipe down and then I added these shelves.  This is the best way to store your canned goods and you basically double your space!  Grouping items and keeping what is used most at easy reach is important and helps when family members are searching for something.  For example all baking supplies are stored on top and I use airtight jars to keep my flour and sugar fresh.  Purchasing food items such as nuts, beans, and cereal in bulk is cost effective.  I store nuts in small jars and cereal goes in a pop dispenser.  If you want to see my actual pantry re-do, go to my Instagram Highlights.   Serving baskets  do double duty here, storing  my Baggu shopping bags until I need them for entertaining.  Okay, I have to tell you about Baggu.  I've been using their canvas and nylon totes forever and they are well worth the purchase.  These sturdy bags hold tons of groceries, are washable, and come in a variety of colors and patterns.  Today Baggu is offering 15% off at checkout with the code SALEONSALE if you are interested in purchasing a few.  Click here for details!
2. Drawers
We built deep drawers for storage of heavy pots and pans.  I've scaled back on my supplies, having only what I really need.  For stove top saute I use The Green Pan.  It's a non-stick pan manufactured without PFAS, PFOA, lead, and cadmium. The coating is ceramic and won't blister or peel so it's ideal if you want to safely cook on a nonstick pan.  My other two favorites are the Staub skillet and dutch ovens.  My bowls are Milk Glass and I use them for serving and baking.
    3. Storage
If you ever do a remodel consider adding narrow pull-outs on either side of your range. They come in handy! I store spices on top and then follow with rubs, and my aromatherapy oils.  On the other side of my Ilve Range I store cookie trays, cooling racks, and cutting boards for easy access.
Kitchen Supplies: