How to add simple Autumn touches to your home
Autumn is my favorite time of year here in the Pacific Northwest and I find myself getting my nest ready for the long winter ahead. Today I want to share easy, inexpensive ways to add simple Autumn touches to your home. Side note: we are still waiting on refrigerator panels, a bed, and two more bathroom renovations so I'll be showing what I can and then as we make progress on the house I'll share more. Grab a cup of tea and lets get decorating!
Simple Autumn decor
This blog post is filled with easy autumn decor ideas that will get your creative juices going so you can create a cozy and welcoming home this fall!
Add pumpkins! There are so many varieties and I like them all. In my entry I placed this darling pumpkin on a vintage milking stool. I like the long stem, it gives the pumpkin character don't you think?
Mix up color: I like to blue and white in with the fall decor. See how I added a blue and white vase to my fall mantel? Blue and white looks beautiful with my pastel colored pumpkins.
In my kitchen I filled a vintage iron stone pitcher with grocery store flowers to add a pop of Autumn color to a corner of my kitchen.
Break up the orange with white. If you don't like the dark orange, look for Cinderella pumpkins at your local farm stand or grocer. They are typically more muted and work anywhere.
Mix pumpkins with other organic items. Here I've set a plate of dried oranges (learn how to dry oranges here) and flowers next to my pumpkin.
Add a throw to your couch or chair. This one is pretty and budget friendly!
Cozy lighting! These twisted candles are my favorite and I also these for a lot less. A pair of candles will add a seasonal touch and warm glow to your dining table.
Woven kitchen towels. Give your kitchen a fresh look for fall with a set of dish towels in gingham or textural tones. Have your seen these?
Put a wreath on it! I've added wreaths to my mantel, front door, and range hood. I use a command hook or wreath hanger for mine. Terrain has gorgeous wreaths and if you'd like to make your own you can order your supplies here.
Add dried floral pieces and grasses to your favorite vessel. This basket is my favorite and adds so much warmth to my home. I use it year round. On my mantel I used nesting baskets to add texture to the space. You don't even need a vase!
Add fall foliage or hydrangea to large vases. These hydrangea are also beautiful when they are dried.
Bring out all of your vintage wood pieces! In case you missed it, check out my recipe for homemade spoon butter. It is simple to make and your favorite wood pieces will thank you for it!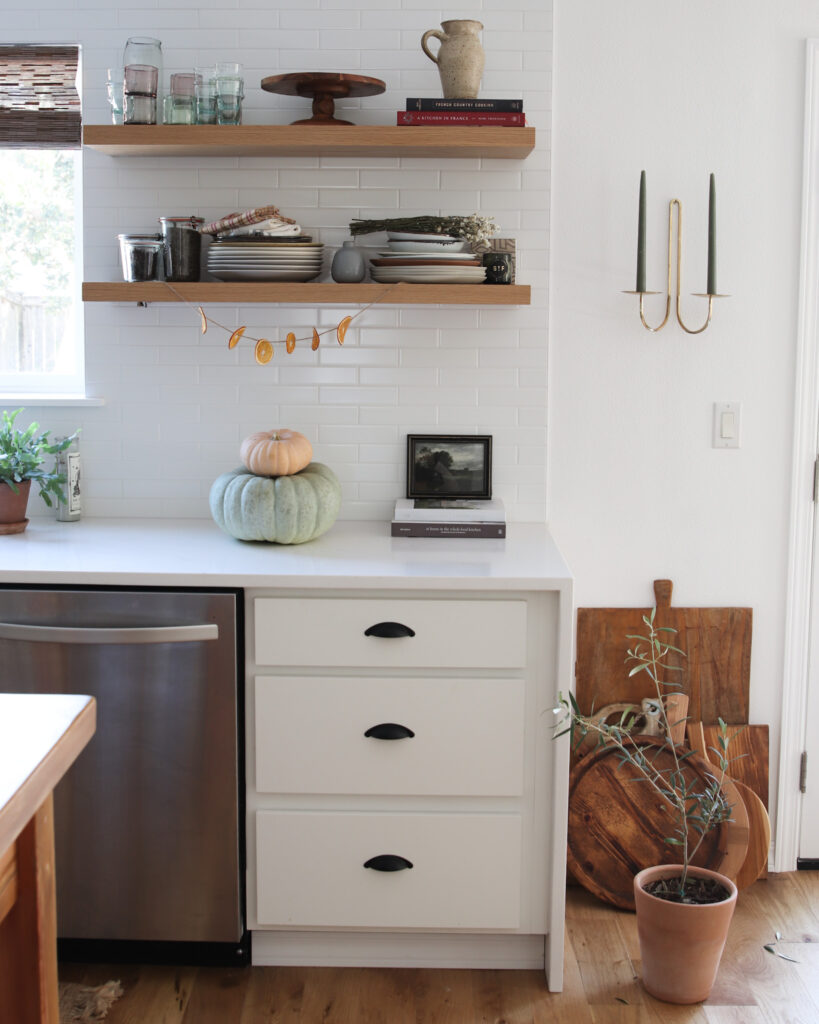 For more Fall inspiration check out these blog posts!
This blog post may contain affiliate links. Please read my disclosure policy.