Dehydrating Citrus | How to make an orange garland
For this holiday season I am keeping things simple, and nature inspired so I thought I'd share How to Dehydrate Oranges to Make a Festive Garland . Drying citrus is easy or you can purchase them on line or a some floral markets. I used thread and twine to hang mine but you can also use ornament hooks to hang them on the simple branches. Since putting up our citrus garland I've come across lots of variations to the theme. Try adding vintage bells or cinnamon to your chain!
How to Dehydrate Oranges to Make a Festive Garland
Orange garland adds a fresh and nontraditional look to the holiday greens.
A dried orange garland can be used instead of, or in addition to traditional cedar garland. Dried orange garland is simple to make and all the supplies are available at your local market or on-line. Unlike cedar garland that gets dry indoors, dried oranges last about a month.
Tools and materials you'll need to have on hand to make a festive orange garland
Oranges (I used Naval but blood oranges are beautiful too!)
Knife
Large needle with eye large enough for your twine
Paper towels
Step 1: prepare oranges
Preheat your oven to 225-degrees F.
Slice oranges as thin as you can. If they aren't perfect, no worries.
Set the oranges on a paper towel to remove some of the moisture.
Line a baking sheet with parchment paper and lay oranges in a single layer.
Step 2: dehydrate oranges
Lay orange slices on baking tray. Cook oranges for about 40 minutes and then flip for another 40 minutes. At this point, keep setting the timer to check your oranges every 10 minutes until they are done. I like mine slightly brown on the edges but you can take them out whenever they look pretty to you. Allow your oranges to cool and if possible, sit overnight (this helps dry them out a bit more).
Step 3: assemble the dried orange garland
For your garland, all you need is twine or thread and large-eyed needle. Measure the length of the garland you'd like and then run your thread (stitch) through each orange. You can also use a small, sharp knife to make an opening large enough to push the twine through. I did it both ways and it was easy. Make sure to leave enough room on each end to hang your garland.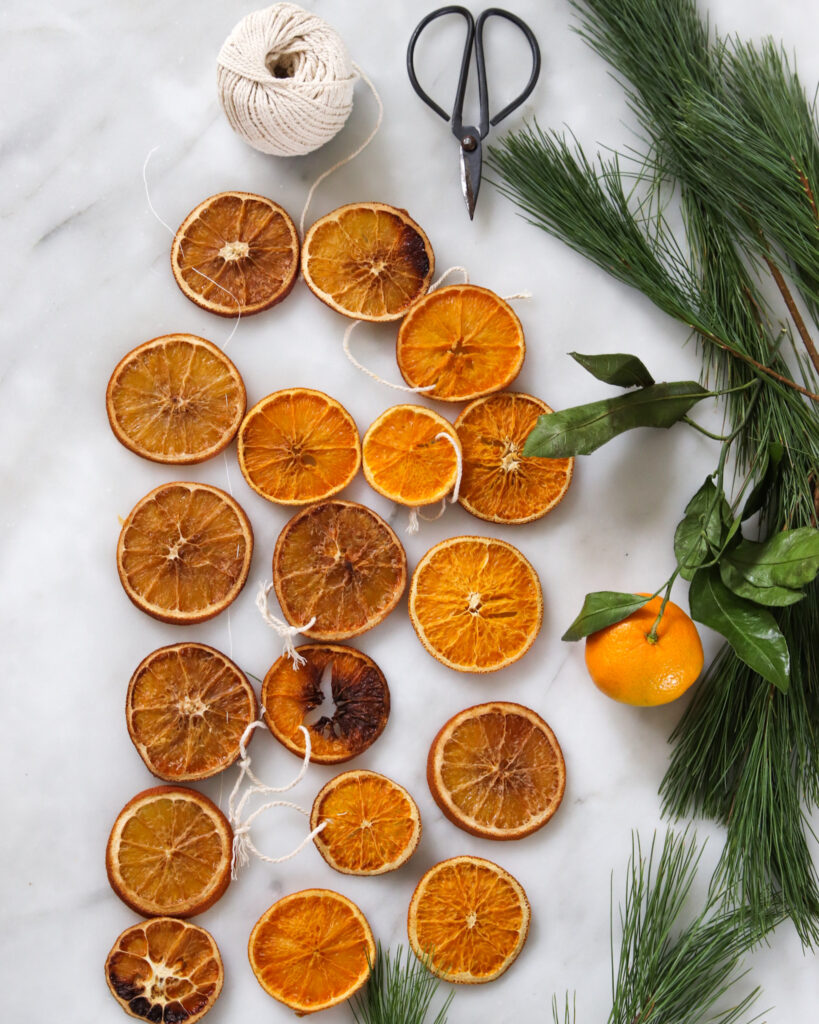 You can also use the dried oranges to make my favorite stove top potpourri, which btw makes a great hostess gift.
Have you visited our Pinterest?

Other DIY holiday gift ideas:
Have you seen my home Decor and holiday shop on Amazon? Click on the icon below to go there!