Old Fashion Apple Spice Cake
Welcome the season of Fall with this easy Old Fashion Apple Spice Cake! It's moist and smells so delicious with the added pumpkin pie spice. Top with a rich brown butter frosting or enjoy as is!
During the month of September it's a tradition to go apple picking. We spend the following day making homemade applesauce to use all year long!
This cozy apple spice cake is more like a quick bread, similar to my chocolate zucchini lemon, and pumpkin breads. The batter is easy to put together and then you simply pour it into your baking pan. You can also make this recipe into muffins.
What is the best way to serve this Old Fashion Apple Spice Cake?
This apple spice cake can be served straight from the pan or remove using the parchment and serve on a pretty dish or tray. Serve your cake with a brown butter frosting, top with nuts, or leave as is.
Enjoy a slice of old fashioned apple spice cake on a rainy afternoon or as a dessert of a chilly Fall evening.
How to store your Apple Spice Cake
Cover and refrigerate for up several days or freeze in small pieces and thaw out when ready to serve.
Yield: serves 8
Old Fashion Apple Spice Cake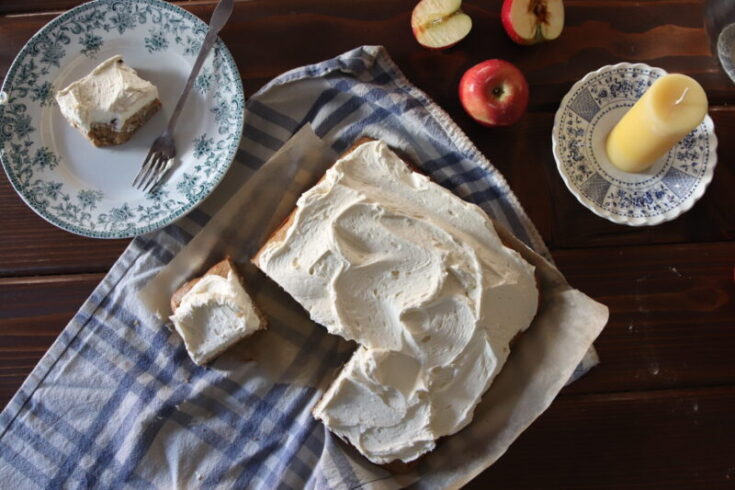 Perfect for Fall, this Old Fashion Apple Spice Cake is so delicious and super moist.
Additional Time
20 minutes
Total Time
1 hour
5 minutes
Ingredients
2 cups all-purpose flour
1 teaspoon baking soda
1 tablespoon pumpkin pie spice, *see link below in recipe
1/2 teaspoon salt
1/2 cup (1 stick) butter, room temperature
1 cup brown sugar
3 large eggs
1 teaspoon vanilla extract
1 cup applesauce
1/4 cup of buttermilk
For frosting: 2 cups powdered sugar, 1 and 1/2 cup butter, 1 teaspoon vanilla extract
Instructions
1. Preheat oven to 375°F. Lightly grease an 8-inch square baking pan and line with parchment.
2. In a medium bowl, whisk together the flour, baking soda, pumpkin pie spice, salt, and set aside.
3. Using an electric mixer or stand mixer, beat butter until light. Add the sugar and beat until fluffy. Add one egg at a time beating to incorporate. Add the vanilla and applesauce and beat until smooth.
4. Add half the dry ingredients, blend lightly and then add the buttermilk. Mix in the remaining dry ingredients until completely incorporated.
5. Pour batter into prepared cake pan. Place in the middle rack of the 375°F oven and bake for 25-35 minutes, or until a toothpick inserted into the center of the cake comes out clean.
6. Remove the cake from the oven and allow to cool for about 15 minutes. Remove cake and transfer to a cooling rack to continue to cool completely prior to frosting,
Brown Butter Frosting
In a small saucepan, melt 1/2 cup butter. Continue simmering until the butter turns a golden brown color. Remove from heat and allow to cool. In a stand up mixer, add 1 cup of butter. Whip until fluffy. Add 2 cups powdered sugar, 1 teaspoon vanilla extract, and the browned butter. Whip for about 2 minutes until the frosting is light and fluffy. Frost your cake and top with edible flowers or nuts if you'd like.
Recommended Products
As an Amazon Associate and member of other affiliate programs, I earn from qualifying purchases.
This blog post may contain affiliate links. Please read my disclosure policy.