Healthy Apple celery cucumber juice
This Apple celery cucumber Juice is the ultimate beauty drink!  It's super hydrating and packed full of nutrition and low in sugar. 
Give it a try first thing on an empty stomach and I promise you won't be disappointed! Drinking fresh juice is a great way to get to boost your health with vitamins and other nutrients.
Celery apple cucumber juice recipe.
Apple celery cucumber juice is made from various green vegetables along with a little bit of fruit to sweeten it up.  For added health benefits, you can also add ginger, turmeric, parsley, or mint—great additions for their anti-inflammatory properties.
Some of us are considered dedicated juicers and prefer blending our own however you can purchase bottled green juice at most grocery stores. 
However, make sure you check the ingredients though as some can contain lots of sugar.  A teaspoon of sugar will show up as 6 grams in the ingredient list.  Some beverages contain up to 36 grams of sugar, that's a whomping 6 teaspoons of sugar so always read the ingredients. 
Green juice is best consumed as a refreshing and hydrating beverage. It's a great way to improve overall health  It's not meant to be used as a meal replacement as it doesn't contain much fiber, healthy fats, or protein. It should also not be used for weight loss.
Benefits of apple celery cucumber juice.
Fresh fruit juices are a great way to improve your overall health. Fruits such as apples, celery, and cucumbers are nutrient-dense and a great addition to your diet.
Apples are a great source of Vitamin C and Vitamin E – both of which are great for the immune system. They've also been shown to help lower the risk of cardiovascular diseases. The sweet taste of apples also helps to reduce bitterness often associated with green juices.
Cucumbers are full of antioxidants and have also been shown to help improve blood sugar. Juicing cucumbers with the peel on helps to maximize these benefits. Besides, cucumbers are about 95% water, an easy way to keep yourself hydrated.
Celery is a great good source of vitamins A, K, and C. It's also rich in potassium and folate. Not to forget,one of the most impressive celery juice benefits is blood pressure management. While it is nutritious, too much can often result in gas and bloating. Something you want to avoid especially for those with sensitive stomachs.
You don't have to stick to a combination of apples, celery, and cucumber to make green juice. There are lots of other celery juice recipes or cucumber juice recipes to try.
What do I need to make apple celery cucumber juice?
There are different ways you can go about making green juice.  If you don't have a juicer, you can blend the veggies and fruit in your blender and strain it through a nut milk bag.
  This is easy and then you don't have to worry about storing another appliance. 
I use my Vitamix, the powerhouse of all blenders.  Here's the model I use, not the most expensive one but works perfectly as it's a high-speed blender. If you want to see how I strain my juice, head over to this blog post.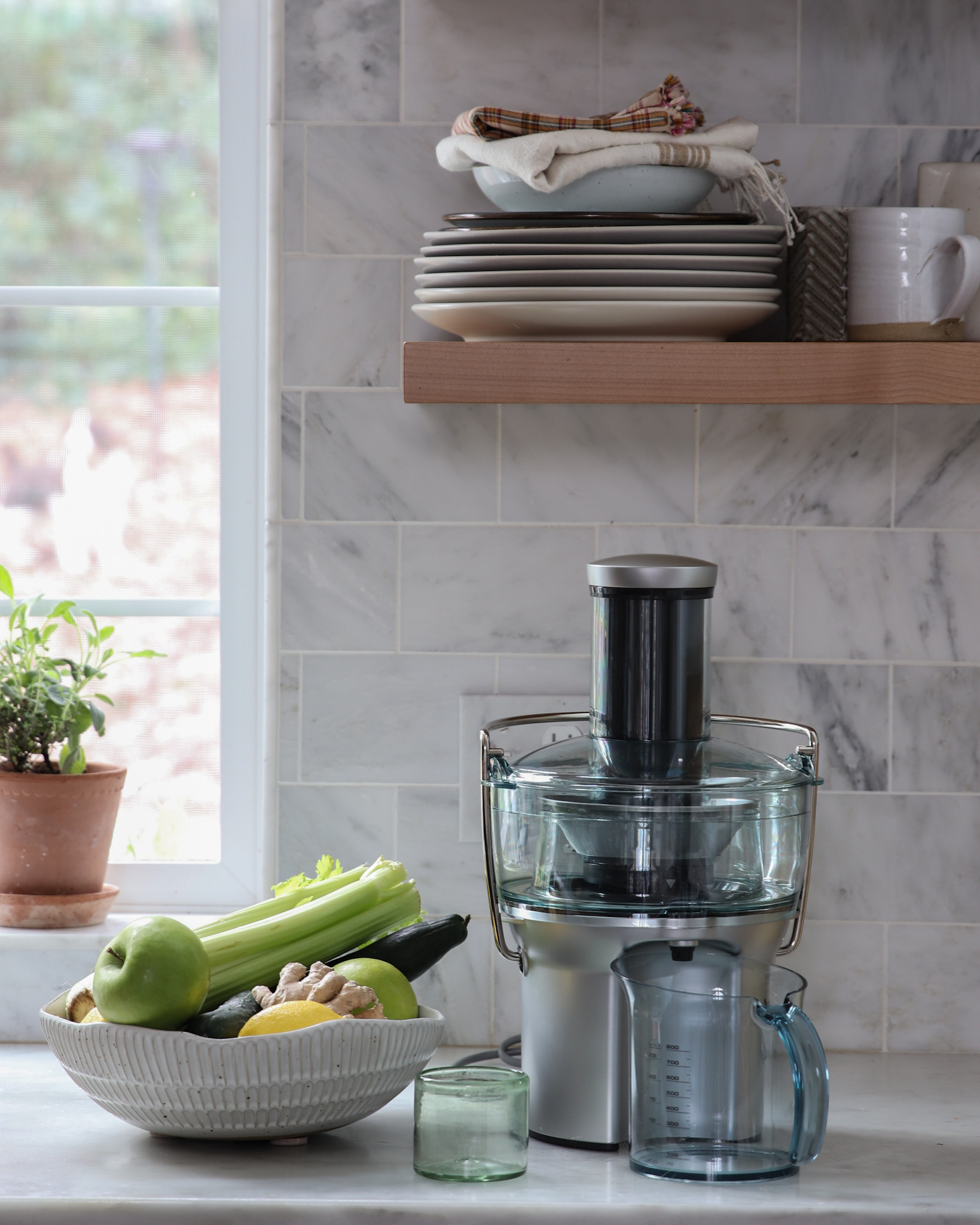 I had a huge juicer for a least a decade and I finally tossed it.  It was replaced with a Breville. It's the best juicer I've had as it's much smaller, easier to store, and clean.
The best green juice recipes include ingredients such as; Kale, spinach, celery, apple, ginger root, lemon, and cucumber.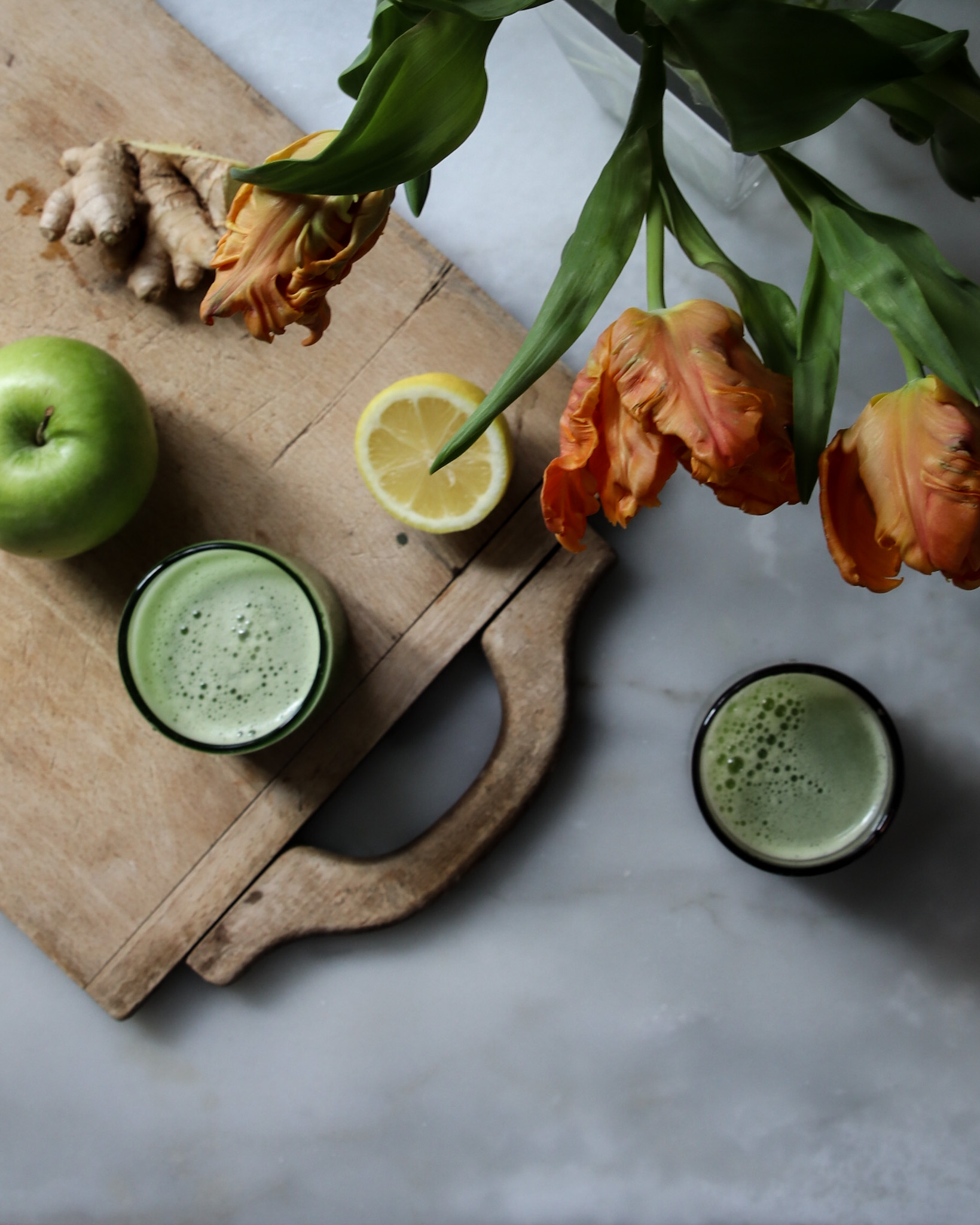 How to make apple celery cucumber juice.
Try this version and if it's not pleasing to your taste then change it up by adding more apples, less ginger, etc.
Ingredients;
2 small cucumbers peeled
4 organic celery stalks
1 green apple
1 lemon peeled
1-inch piece of fresh ginger root use more or less according to taste preference
Wash and cut up your veggies and fruit.  I peel my cucumber and lemon, everything else goes in as is.  Pour green juice into two glasses and enjoy immediately!
Celery cucumber juice recipe with apples