five simple ways to welcome fall into your home
Welcome Fall, I am so ready for you! The cooler weather and rain is a welcome and much needed change.  Our streams dry up in August and the forest is ready for water.  With nights getting down into the forties, we are seeing the leaves change color and it's absolutely gorgeous.   Living in the Pacific North West it's easy to feel inspired as the seasons change!  This year I am drawn to muted rust, soft gray, and blues for our home.  I've gathered outdoor foliage, market flowers, pumpkins, fruits, and vegetables to create a welcoming fall feel in our home.
Add pumpkins and natural elements to your home
Before  pumpkins are available I use artificial ones that I've collected over the years. These darling felt pumpkins from Terrain are an inexpensive, easy way to instantly create a fall-feel in my home.  As the leaves continue to change I'll add more color to the mantle.  Take a hike or simply go into your yard and pull branches with color and put them in your favorite containers.  You can also pick up a bunch of eucalyptus (very inexpensive) at your local grocery store!
I love to change out my pillows and add layers in the fall.  I've added  large, soft pillows and cozy throws from Pom Pom at Home.  My Pottery Barn sectional is filled with eco friendly down creating an irresistibly cozy spot to enjoy a good book or visit with friends and family.  The combination of the pillows, throw, and couch feels like one big cozy sweater!  It's so easy to bring fall into your home with pillow and accessories.
Add small tables, baskets, and other containers to your home
This olive bucket is a wonderful multipurpose container.  I used it in this post for apples, and also use it to store throws, and birch wood in the winter.  Adding a simple linen is an easy way to style your container for fall.  I picked up this round side table  at Target and use it to display seasonal decor or simply as a place to rest a cup of tea or coffee.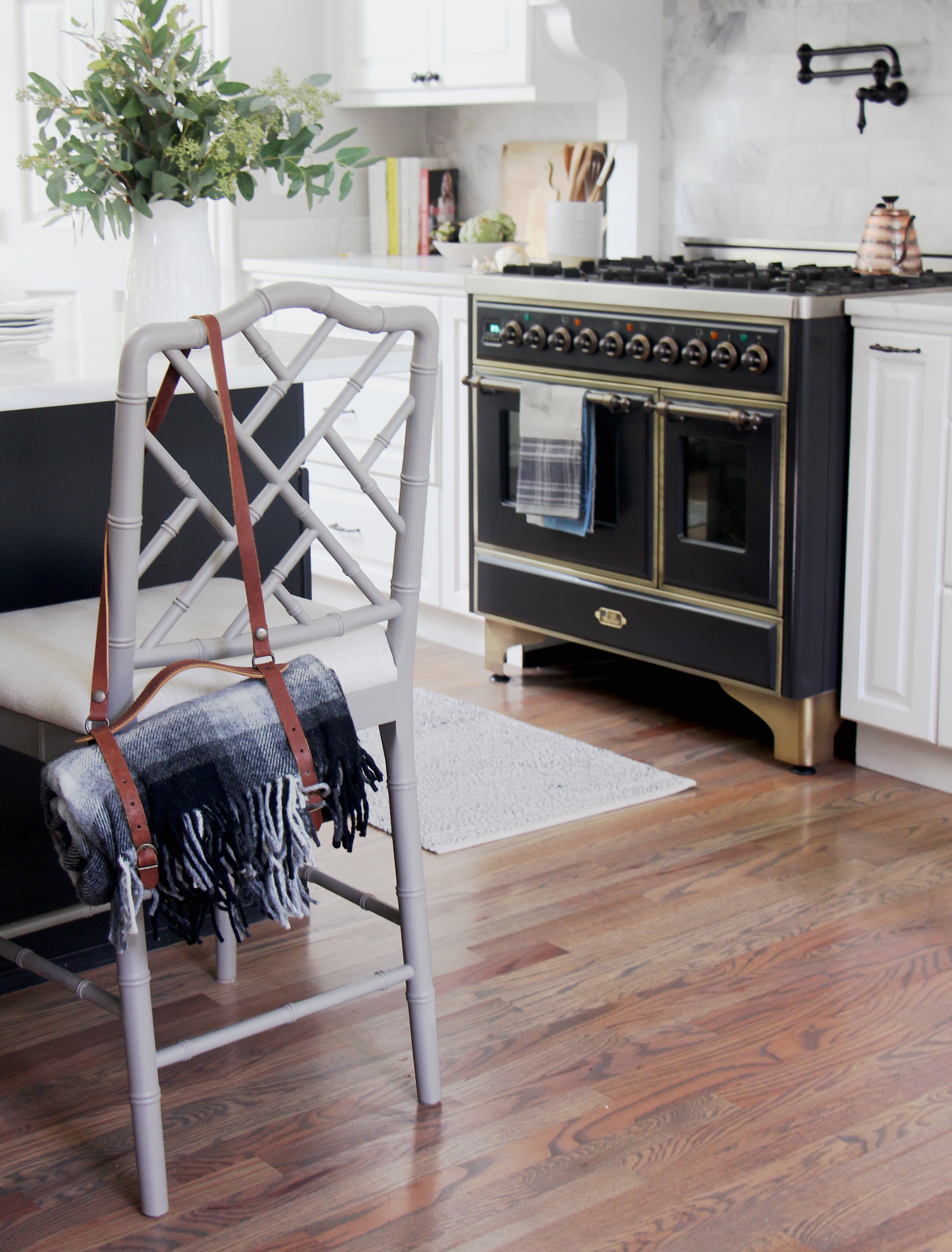 I keep a wool throw and carrier handy as a reminder to get outside and enjoy the gorgeous fall weather!  We use this for picnics and it's super cozy.  The leather strap makes it easy to carry!
Fill containers and add seasonal candles
You can find  pitchers everywhere and they don't need to be expensive. Add fresh eucalyptus, mums, or sunflowers for a fun autumn vibe. Seasonal candles are a must and there are so many fun options for fall.  I choose natural burning, soy wax candles over those with paraben when possible.   Light, floral fragrances are switched out for pumpkin and other fall fragrances.  There's nothing like walking into a home that smells like pumpkin bread is in the oven!
Display your favorite fall utensils
Bring out your cutting boards and fill a crock with rosemary.  I've got my pie plate and rolling pin out to remind me to bake an apple pie this weekend!  My favorite pie plate is the Emile Henry Classic 9″ Pie Dish.  It cooks evenly and as a bonus, is pretty to look at.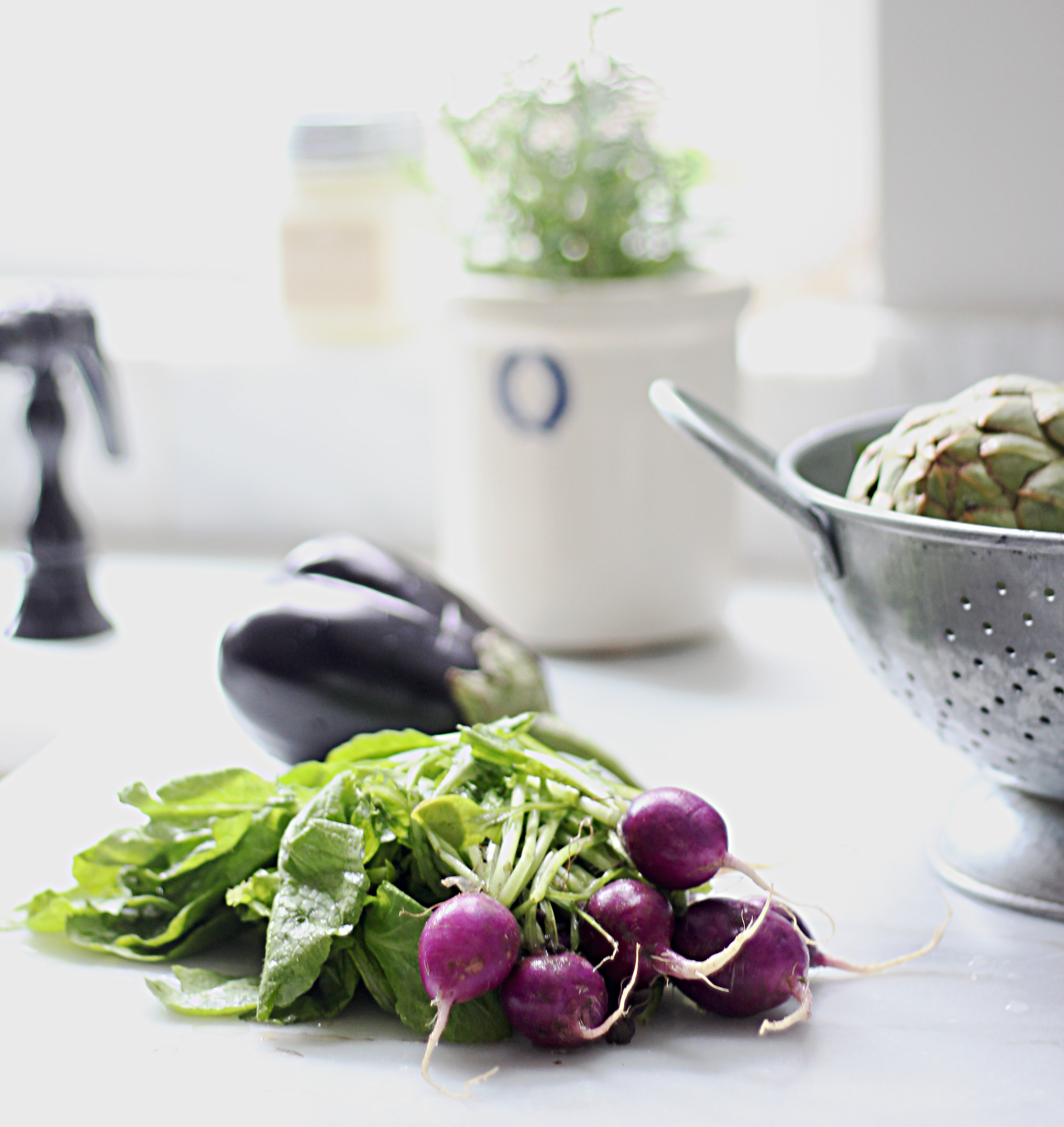 Purples are fun to bring into the mix.  A little bit of dried lavender, radishes, artichoke and eggplant are easy ways to create a fall feel in your kitchen.  I read cookbooks like novels and don't mind having a few at a time out on the counter.  In the fall I display my favorite fall/winter cookbooks.
Shop this Post