top kitchen essentials for a minimalist kitchen
Getting rid of what's not necessary and reorganizing our kitchen space with just the necessities will create greater efficiency and help streamline meal preparation .  Today we are sharing our top kitchen essentials for a minimalist kitchen.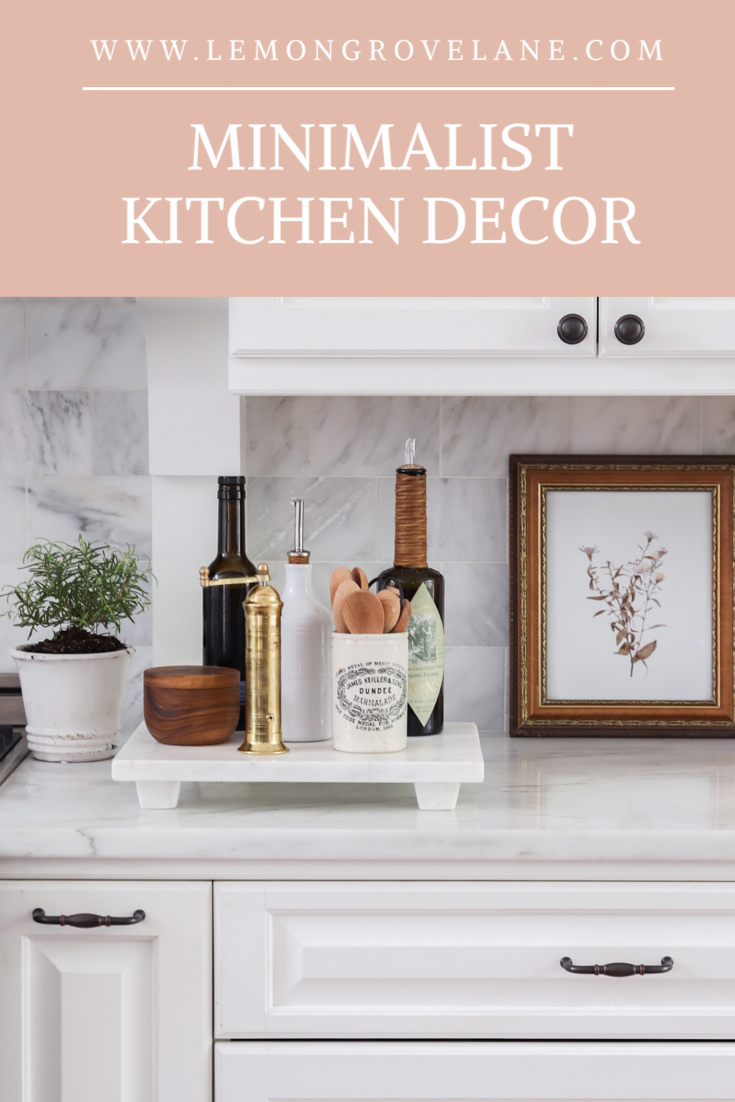 Spending more time at home has changed the way we work and live on the daily basis.  Besides serving as shelter, homes now serve as a place of work (home office) as well as round the clock cooking, cleaning, and homeschooling. We view our homes differently and many of us are reconsidering how we can best utilize our space for simple and efficient living.
We've gotten into a work and shopping grove and learned to stay focused throughout the day.  Going out to shop has been cut to a minimum.  Using online services and pick up seems to make the most sense.  Amazon has just about everything and most businesses (large and small) offer online shopping.
rug, tea pot,marble pedestal,range,linen,crock (similar), book,pepper mill
candle, tray, mason jar containers
The world is moving away from excess .. we are simplifying things and you hear the word minimal a lot.  A kitchen stocked with just essentials ~ everything you need and nothing more is the goal.
This doesn't mean we can't splurge on fun kitchen gadgets and equipment, just think about it first.   Do you really need it?
Where to begin
Go minimal and get rid of clutter and all the stuff you almost never use.  You know that waffle iron or donuts pan?  Is it worth storing? When setting up your kitchen and home, consider how you live and use your home and specifically the kitchen area.  Do you cook from from scratch or prefer putting something in a slow cooker and walking away from it.  Do you enjoy baking? If so maybe a stand up blender is worth the splurge!  Let's use the example of an Instant Pot.  I use mine for making hard boiled eggs and bone broth, that's it, so you could argue that I could have done without it.  Bone broth is full of collagen, boosts immune function, and helps the gut.  The long simmer time (read more about bone broth here) makes it tough to prepare stove top so the instant pot has come in handy for that purpose. When it comes to cooking though, I prefer to simmer soups, and slow cook roasts so for most meals I use my dutch oven or cook stove top.  In the case of the instant pot, if I use it for nothing other than making my stock and bone broth I feel it was worth the purchase.

Everyday kitchen essentials
Everyday kitchen essentials are those items you use daily and should be organized so you can access them quickly.  Items such as spatulas, a good pair of scissors, cutting board, a chef's knife, whisk, wooden spoons, tongs, are a few of my favorite essentials.
Large items
If your kitchen is small think carefully before you purchase a large item.  Where will it sit on your counter or do you have a place to store it?  Stand up mixers are one of those items that look pretty on the counter and are functional providing you do a lot of baking.   I don't do that much baking so mine sits on the bottom of my pantry.  It's kinda buried and a huge hassle to move so I use my hand mixer most often.  I love a good latte or espresso but we've avoided purchasing a large coffee machine as it would take up too counter space .  Our Moccamaster coffee maker  is nothing fancy but it makes great coffee and uses a minimal amount of counterspace.  Many are going for a pour over coffee these days and I'd like to try that.  This process is supposed to make a great cup of coffee, the container doesn't take up much space, and it's pretty to look at. If you enjoy making toast every morning, invest in a pretty toaster.  We purchased the SMEG toaster and it works well, is easy to clean, and is aesthetically pleasing.
2. Cutting boards
I use a BOOS cutting board daily for slicing and dicing.  We also use smaller, thinner cutting boards to set larger items on to prevent spilling directly on our marble counters.  We also use these on our farm house table to protect warm pots and pans from damaging our table.
3. Everyday tools
All you really need is one good knife .. well maybe two: pairing knife, chef's knife. Measuring cups, stir spoons, spatula, a good whisk, scissors, and a zester are all everyday tools I use.
4. Blenders
An immersion blender is the least expensive, easiest way to quickly blend ingredients.  Counter top blenders vary in price depending on size and power.  Over a decade ago I bought my first Vitamix.  I used it for years and just recently replaced it. It was actually still running but it was unable to get basic replacement parts because it was so old.  Now that's a testimony to a quality product!  I use a Vitamix every morning to make my smoothie, nut milks and also to puree ingredients.  If you are looking for a small blender that can blend up your morning smoothie I also like the NutriBullet.  This one is perfect for one smoothie and is priced right!
5. Baking dishes and bowls
Buy one good pie dish, my favorite is Emile Henry, and maybe a quiche or tart dish if you enjoy baking. It's good to have leak proof bowls on hand for storing leftovers.   I have one set of these and we've been reaching for them a lot with all the cooking at home we've been doing.  One set of glass nesting bowls is helpful for storing and mixing ingredients and I also like these stoneware bowls.  They are great for pouring!  I will also add in my favorite washable bowl covers.  They come in a variety of colors and are washable.  You'll also need a couple baking sheets and two 9 inch bake pans, and a rectangular baking dish.   I would also recommend a cooling rack cooling cakes and cookies before serving.
6. Cast iron pans and dutch ovens
Here's where things can get pricey. If you are just starting out all you need is one medium size dutch oven.  Take a peek at these, many are marked down.  Later on down the road, add to your collection with different sizes.  Having a cast iron skillet makes cooking a breeze! Make sure you take the time to learn how to use your skillet first. It will make your life so much easier, I promise!  Read this blog post for more information on cast iron skillets.
7. Pots and pans 
You don't need expensive copper .. although that's certainly something that you could add to your wish list. Check Home Depot, yep you heard me right, if you want to add a little copper but need to keep cost in mind.  Again, think about what you make the most.  All-clad is a luxurious brand and is super popular.  I've owned this piece for years and use it all the time.  A loaf pan is great for whipping up some banana bread or baking a loaf of sandwich bread if you're so inclined.  This one is a lux brand ~ this one is budget friendly.
Share our Minimalist Kitchen Guide or save for later!
Thanks so much for visiting! This post contains affiliate links which means that if you were to purchase an item using one of my links I would receive a small amount of compensation.  I only link to products that I personally own or know and love.
Click on the pictures below to shop specific items from this post!