Fall Mantel Guide | Simple Autumn Mantel Decor
This blog post may contain affiliate links. Please read my disclosure policy.
Today I'm talking about simple Autumn mantel decor! At the beginning of every season I change up our mantel decor. Our fireplace and mantel is in our great room space so having that area decorated helps set the tone for the rest of the house. Follow along for lots of simple ideas to make your home warm and cozy for the season ahead!
Today's fall mantle guide will help you create the best fall mantel using just a few basic items that you might already have in your kitchen or yard.
You can apply these design concepts to other areas or surfaces in your home to create the perfect Autumn vignette. This blog post is loaded with ideas so pour a cup of coffee or tea and let's get decorating your mantel for fall!
How to create a cozy fall mantel with just a few items!
1. Start with basic mantel decor
Basic mantel decor is the item or items that will stay on the mantel year round.Once you've set the stage with your basic decor all you need to do is make a few changes as the seasons change. Here is my mantel and fireplace ready to be decorated for fall. This print has sentimental value. It's from a local artist and was taken near one of our favorite spots in Eastern WA, Walla Walla area. This space is still under construction so I'm sharing just a snippit of this space. Our built-ins are coming!
2. Shop your home
Shop your home or check storage for seasonal items you'd like to incorporate. I usually bring candle holders and vases out of storage. If you have faux branches and pumpkins in storage, bring those out!
3. Bring in nature
Bring in natural elements ( a nod to nature ). This is my favorite part! You can use faux branches, eucalyptus branches, and fresh flowers in vases. I like using dried flowers and grasses for early fall and as the season progresses I'll add in pumpkins.
4. Add light
Add candles or lanterns. Go with your favorite scented candle and/or pretty tapers. I added simple tapers to brass candle holders for a simple fall look.
5. Utilize the wall behind your mantel
The wall behind your mantel is the perfect space to add decor. Consider a mirror, ship lap, or in my case I added a framed print. This can act as a focal point too! You can also add a second print! If you plan to hang something, keep it low – close to the mantel. If the mirror or framed picture is too high it will not look like part of the mantel and can appear to be 'floating' so watch your scale!
6. Create symmetry or asymmetry
Our eyes like symmetry and grouping. There is magic in threes they say so I follow that rule. Add a piece or two and stand back, take a look, and adjust as needed. Here is a trio using my two candles, and stacked baskets.
On the other side of the mantel I used added a candle, pumpkin, and blue and white vase filled with dried daisies. At first I thought blue and white wouldn't work, it's not a 'fall' color, not so! It works perfectly with the peach colored Cinderella pumpkin.
Asymmetry also works! Asymmetry is when something on one side (the mantel) looks different from the other side, so it's not the 'mirror' image. This isn't as easy to pull off but totally worth it you are willing to take the time to experiment. I've created an asymmetrical look with my mantel. The items are different on each side of my center focal point. It works because I've grouped the items in threes and chose items with similar height to create a balanced look.
7. Don't over decorate your space
Avoid over-decorating. Always leave a little bit of open or negative space: the space between objects, blank areas between your main design elements.
8. Vary heights
Our eyes like to see varying heights, so when decorating your mantel consider choosing items that are different heights. Add a riser or books if your objects need a lift!
9. Add texture
Without texture the space or room will look flat. Texture is how something feels without even touching it. Think wispy pampas grass, woven basics, and leather. It can also be chippy, silky, ruffled, or furry. For texture I added two small baskets. So easy!
10. Decorate the hearth
Don't forget to carry the look down! Some hearths are more elaborate than others. Ours is very simple at this point so I stacked pumpkins in the center and because seating is nearby, I brought over our leather magazine rack.
11. Using the mantel decor on other surfaces
Think about the same or similar concepts: create asymmetry or symmetry, add texture, light, bring in nature, etc.. Here is how I decorated my entry console – on Instagram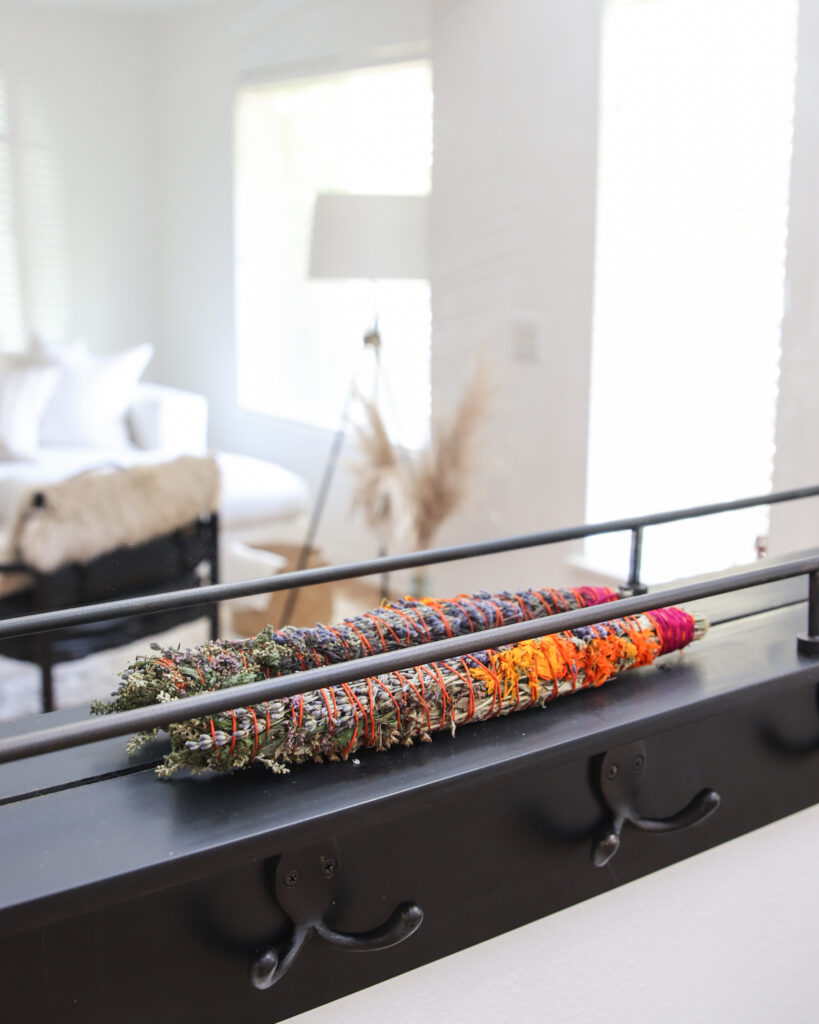 On one of our weekend excursions we stopped at a farmers market and I picked up this herb bundle. It was made by hand and smells so good. I love the colors for fall!
This pumpkin was so adorable and I love the unique stem!
12. Own it, use what you love
Make this YOUR space. Use the decor that you love and what has meaning to you. If you don't care for orange pumpkins, use gourds or pinecones! Fill a vase with faux fall foliage or cut branches from your yard.
What are the best items to use for Fall decorating?
pumpkins or gourds
leaves and branches
fall flowers
candles
wheat bunches or grasses
acorns
pheasant feathers
pinecones
lanterns
Check out these blog posts for other Fall decorating ideas!