Take a peek inside my refrigerator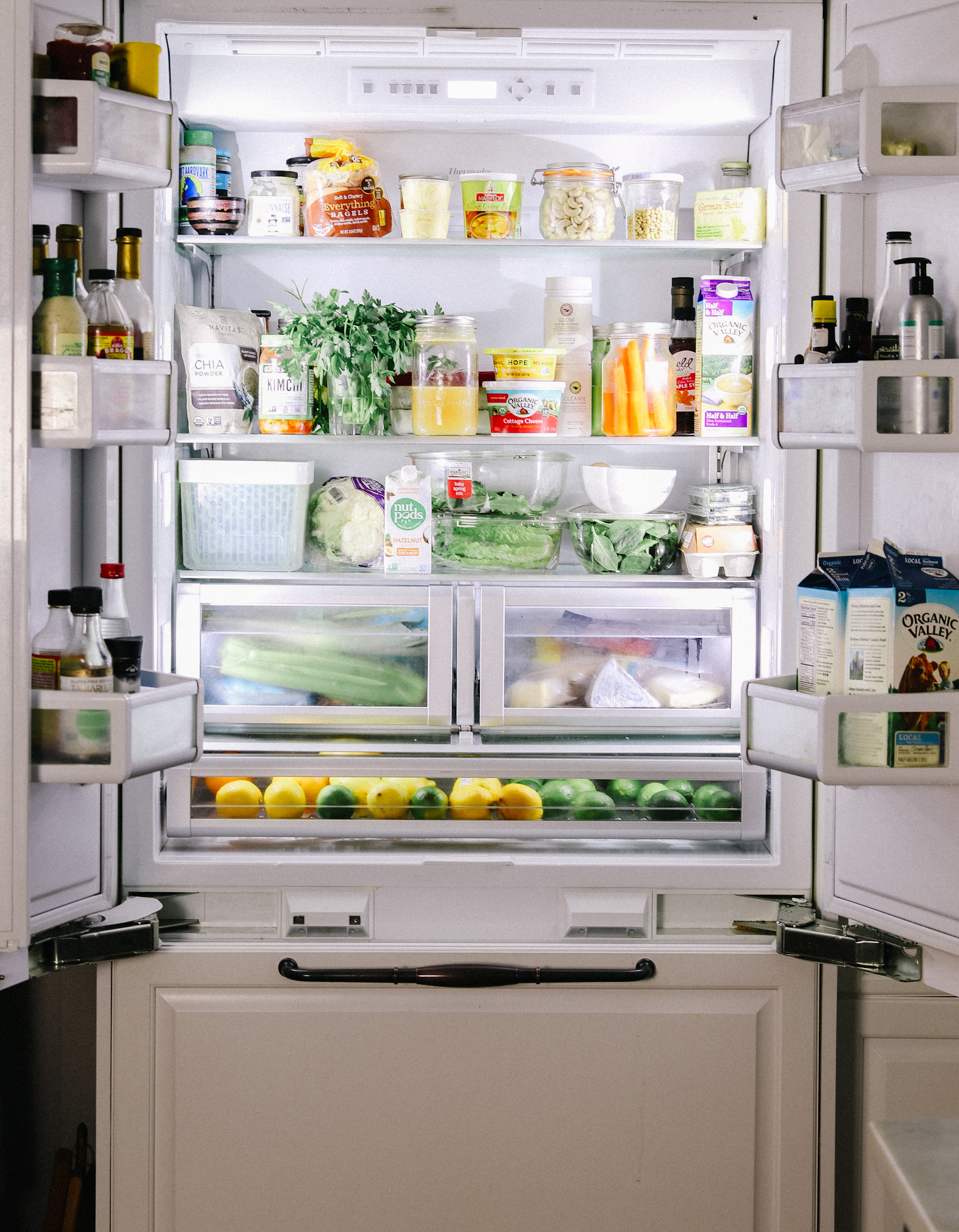 Today I thought it would be fun to take a peek inside my refrigerator during the month of January.  First and most importantly, the quickest way to get back on track after over-indulging is to remove temptation and add healthy foods to your pantry and refrigerator. We talk so much about elimination and cutting calories at this time of year.  Rather than going on meal plan that will not be sustainable try replacing foods that aren't good for you with healthier alternatives.  Include healthy snacks such as hard boiled eggs, nut butters, and avocado.  These foods contain healthy fats that will help keep you from craving sweets and sustain you until your next meal.  Don't forget to eat foods that are in season when possible.  Seasonal fruits and vegetables are not usually transported from other countries and therefore are generally "fresher" and will contain and retain more nutrients than their counterparts. Other benefits of eating seasonally include supporting local farmers that support organic and sustainable farming practices.
How to organize your refrigerator
1. Take everything out of your refrigerator
This year I am focusing on reducing inflammation, improving gut health, and reducing inflammation.  So to start, I removed everything from my refrigerator and gave it a good cleaning with a gentle liquid soap, spray, and microfiber cloth.
2. Toss anything that's unhealthy or expired
Make a shopping list.  My basics are: kale, mixed greens, cottage cheese, nut-milks, organic dairy products and goat cheese, fresh fruit, kimchi, nuts, free range-grass fed beef, chicken, and eggs.  Don't forget to shop seasonally when possible.
3. Clean your refrigerator with a gentle soap and micro fiber cloth. 
I use Mrs. Meyers counter spray and liquid dish soap for cleaning my refrigerator.  These items can be purchased on Amazon or for an even greater discount, Grove Collaborative. This month Grove has created eco-friendly, sustainable bundles and is giving you free cleaning products with your order.  So if you need cleaning supplies head over to their website!   This is my favorite sponge and then I use a Norwex micro fiber cloth to make sure all surfaces are clean.
4. Replenish your refrigerator with healthy foods!
Get rid of whatever shouldn't be there.  I'm always better off when the temptation isn't there.  I've just stocked my pantry with fresh veggies and foods that my body needs and craves after the holiday season.
Here are a few of my favorites:
Pasture raised eggs
Goat cheese, Grass-fed milk/cheese products
Kimchi
Chia powder
Cleanse and Glow powder 
Curry paste
Mixed greens for salads
Kale
Broccoli and other brightly colored vegetables
Smoked wild salmon
Apple cider vinegar
5. Invest in a few storage containers if needed
Most refrigerators come with drawers and compartments that allow us to separate fruit, veggies, and other perishable items so I don't see a point in purchasing multiple containers for items such as eggs, cheese, and the like.  The containers that I find most helpful are those that can be used for left overs or that can help keep cut veggies fresh.  Air tight jars (only cost a couple dollars) and the OXO lettuce crisper are helpful.  To save time I clean and prep my kale for quick weekday dinners.  Keeping the cut up greens in an OXO container keeps them fresh all week.
Helpful Supplies
Ceramic containers (for tomatoes and berries)
(can also be ordered from Grove Collaborative for a discount)
Micro cloth (these are my favorite)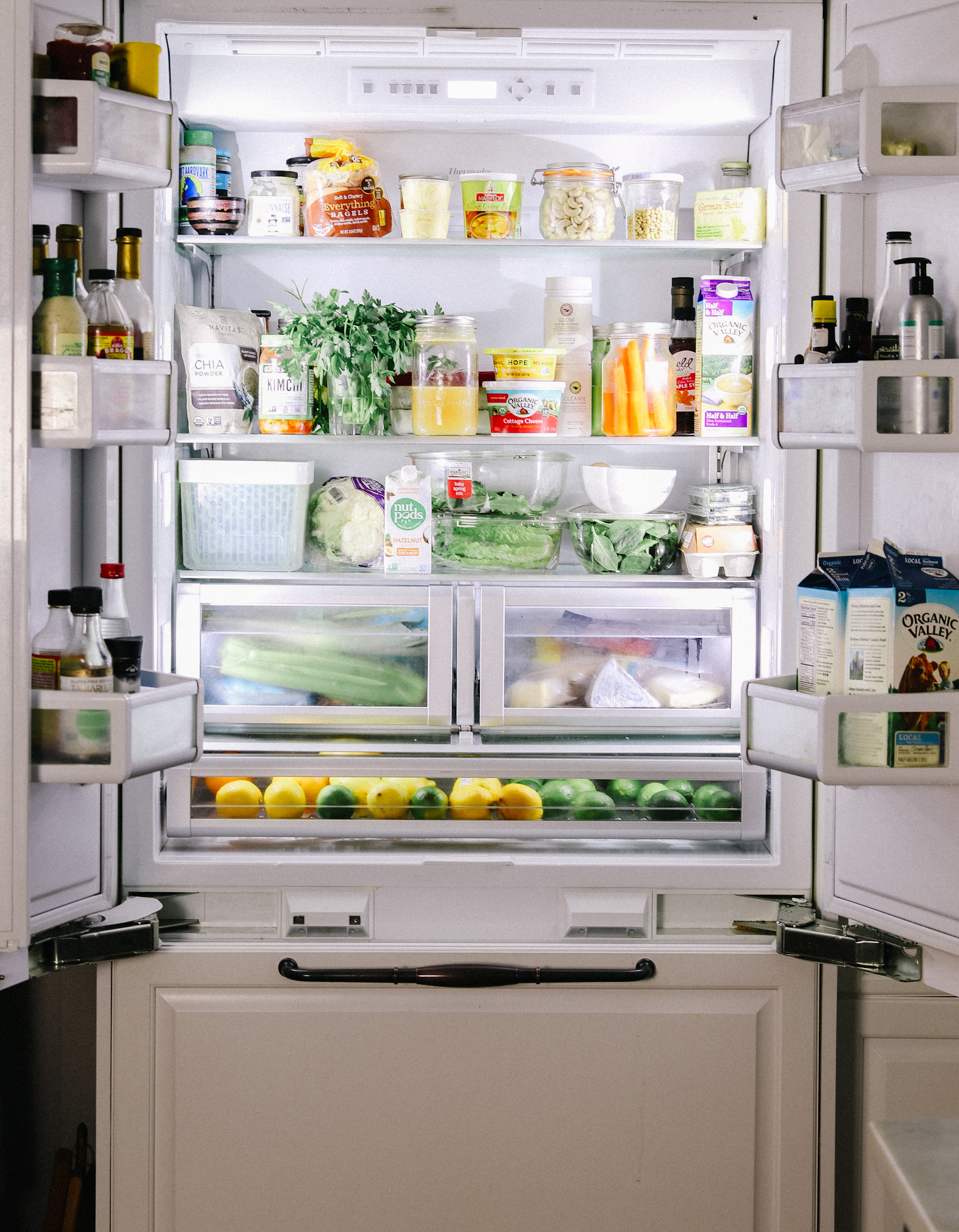 Let's take a peek inside my refrigerator!
Share with a friend or pin for later!
Thank you so much for stopping by!
This post contains affiliate links which means that if you were to make a purchase using one of my links I would receive a small amount of compensation. I only link to products that I personally own, or know and love.