chocolate chunk banana muffins
Gluten-Free Chocolate Chunk Banana Muffins: Why we love these!
Especially during the cold winter months, a warm, freshly baked muffin filled with chunks of chocolate and warming spices really hits the spot. These muffins aren't perfect when it comes to a 'health food' but they are certainly a healthier option when you are craving a little chocolate goodness. Last year I shared a banana bread recipe so this year I thought it would be fun to take it up a notch and add some chunks of dark chocolate.
As far as breakfast goes, my preference is to enjoy one of these chocolaty muffins after a healthy smoothie or as a mid-morning snack. For this recipe I used Rob Mills 1 to 1 flour (gluten free) however you can use oat, spelt or all-purpose flour if you'd like. I'm not gluten intolerant nor to I advocate following a gluten free diet if you haven't been tested to be sensitive to gluten. That said I do feel sometimes we overeat gluten and it's good to change things up and try different types of flour and grains.
Using very ripe bananas is key! They contain extra sugar, which means when you bake with them your muffins will be irresistibly sweet, and moist. Your muffins will taste yummy with whatever chocolate you have but my preference is to use one of those fancy chocolate bars (I used Chocolove Dark Chocolate). The 60% cacao Ghiradelli Chocolate baking chips are also a great choice. For my eggs, I buy from local farmers that allow their hens to roam free (pasture raised) and forage.
You may need these items:
Mixing bowl
Cinnamon, cardamon, all-spice, ginger
Eggs
All-purpose or gluten-free flour
4 over-ripe bananas
Baking soda
Maple Syrup
Dark chocolate
Cupcake baking pan
Paper liners
This is such an easy recipe and you only need one bowl. First combine your mashed bananas, with the eggs, oil, and vanilla in your large bowl. Add the dry ingredients, mix until smooth, and then add the chocolate chunks. In the oven they go for about 20 minutes and your kitchen will smell amazing as they bake! You can also freeze your muffins if you'd like to save a few for another day.
Share this recipe with a friend or PIN for later!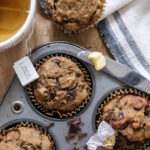 Gluten-Free Chocolate Chunk Banana Muffins
Perfect on a cold winter day (or anytime really) when you are craving some chocolate goodness in your life. These aren't exactly a health food but I would say they are a healthy alternative when you'd like a special treat.
Ingredients
4

Ripe Bananas

1/4

cup

Melted coconut oil or butter

1/4

cup

Maple syrup

2

Eggs

1 1/2

cups

Gluten free flour

I used Rob Mills 1 to 1. You can also use all-purpose flour

2

tsp

Baking soda

1 1/2

tsp

Cinnamon

1/4

tsp

Cardamon

1/4

tsp

All-Spice

1/4

tsp

Ground ginger

1 1/2

tsp

Vanilla extract

1/2

salt

1

cup

Dark chocolate chunks

Use 60 to 70% dark chocolate
Instructions
Preheat oven to 350 degrees Fahrenheit and fill a your muffin tin with liners.

Mash 4 over-ripe bananas in a large bowl.

Add eggs, vanilla, maple syrup and melted butter or coconut oil and mix well.

Add flour and baking soda, salt, cinnamon, all-spice, ginger, and cardamon to the mixture and stir until combined.

Chop up 1 cup of dark chocolate and add to your banana bread mixture.

Stir gently and then add to prepared muffins pan.

You should have 12 muffins total. Bake for about 20 minutes or until a tooth pick comes out clean.

Serve warm as is or with a dollop of butter.
Recipe Notes
Serve these warm out of the oven with or without butter.  If you have extra, pop them in the freezer for a quick snack on another day. 
Thank you so much for stopping by!
This post contains affiliate links which means that if you were to make a purchase using one of my links I would receive a small amount of compensation. I only link to products that I personally own, or know and love.