simple ways to add spring touches to your front porch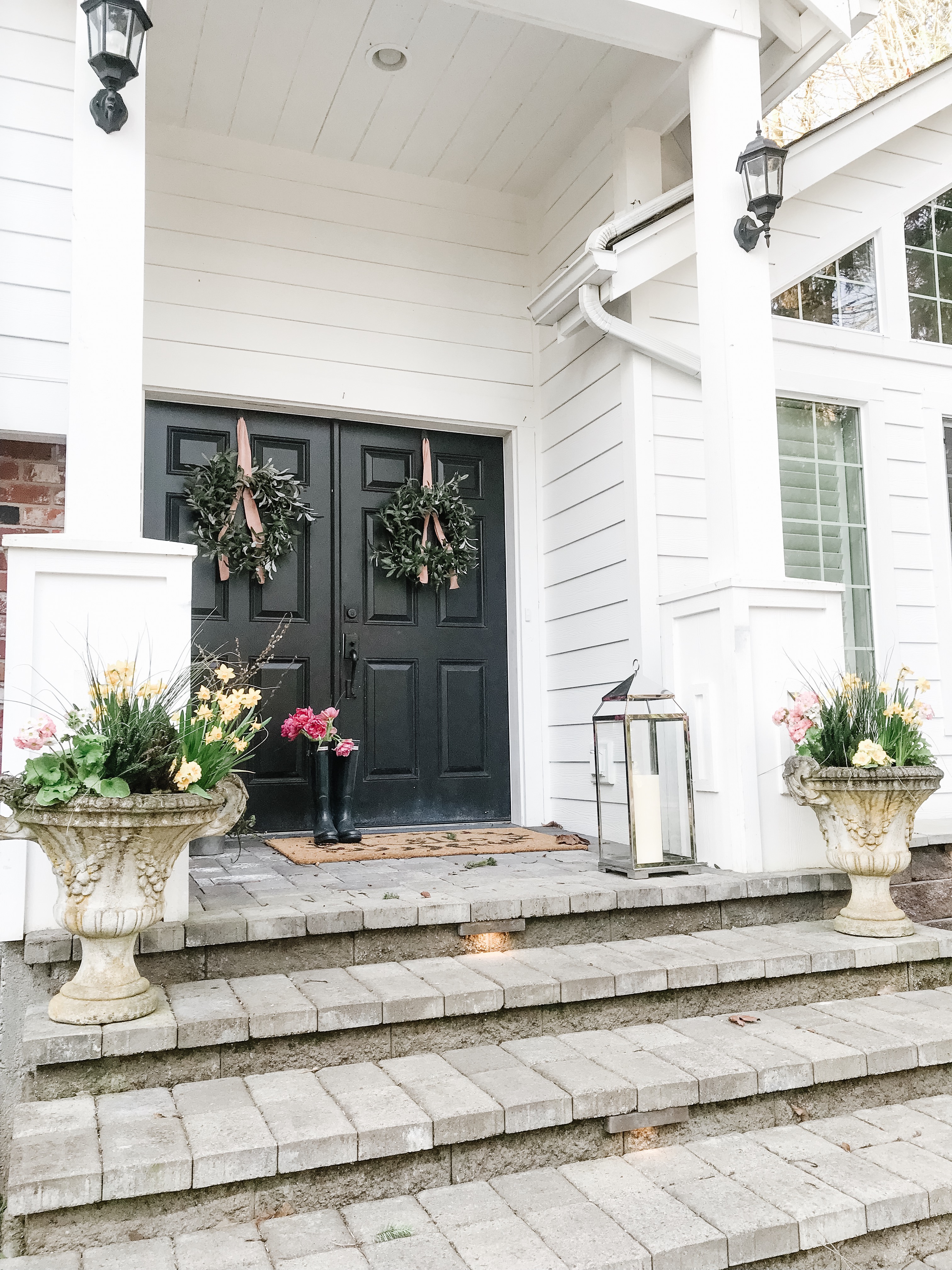 Simple Ways to Add Spring Touches to Your Front Porch
I am not kidding when I say that just a few weeks ago my porch looked like the photograph below, and then just like that it's 70 degrees and everyone is wearing sunglasses and tee-shirts!  After all the cold weather, snow, and rain, everything is a mess and we have a long to-do list to prepare for the warmer months ahead.  Our gardening season is relatively short in Washington State.  It's recommended you not plant garden flowers until the end of April or around Mother's Day. With that in mind as soon as we start getting temperatures in the 70's it seems like everyone and their neighbor;) rushes out to buy plants.  By the end of June it's slim pickings and by mid July the season starts to wind down.  August is my least favorite month because my potted flowers begin to look a bit dry and gangley and are not so pretty anymore.
With the temperatures still dipping into the 30's at night and lots of rain still ahead it's possible that if you plant your flowers now they will not survive.  I've learned my lesson! .. so this time of year I always go with cold-tolerate plants and lots of bulbs.  Until my garden flowers bloom I purchase market flowers so I can enjoy blooms indoors.
Simple Ways to Add Spring Touches to Your Porch
A single lite lantern greets our guests when they visit.  I'll add more as the rainy season wains. A narrow canister makes a great outdoor vessel to hold seasonal branches and flowers. Different colored tulips are everywhere and grow easily alongside daffodils in our yard. They are easy to clip and always look pretty in a vase in my kitchen.   A good rain boot is a must.  I've had these for years and what I love about them is that no matter how much mud I get into they always look like new with just a quick rinse.
You can see our front yard is waiting for our plants to recover from the long winter.  It will look completely different in a couple of months!
The olive branch wreaths are hung with gorgeous silk ribbon.  I thought the coral color would be pretty for spring and then I'll use something different for the summertime.  When ordering ribbon, order more that you think you'll need.  Plan on 2 or 3 yards per wreath depending on where you'd like the wreath to hang.  Command hooks can be purchased on Amazon and you can buy them in different colors.  I've linked my sources below.
Make sure you purchase a good size welcome mat for your front door.  There are so many pretty ones!  I like to layer rugs so I will probably add a layer here when the rain stops.

It was impossible to get Layla to look at the camera for a photo:)  I tried multiple times so I thought I'd share the best one out of the group!
Shop the look!

Gardening Supplies!