ILVE 36″ Nostalgie Range | Why we love it!
We purchased our first Ilve range about 8 years ago, our second range last year, and here we are, another Ilve Nostalgie range. Today I'm sharing pictures of the install process, range details, and why we love our Ilve 36″ Nostalgie Range.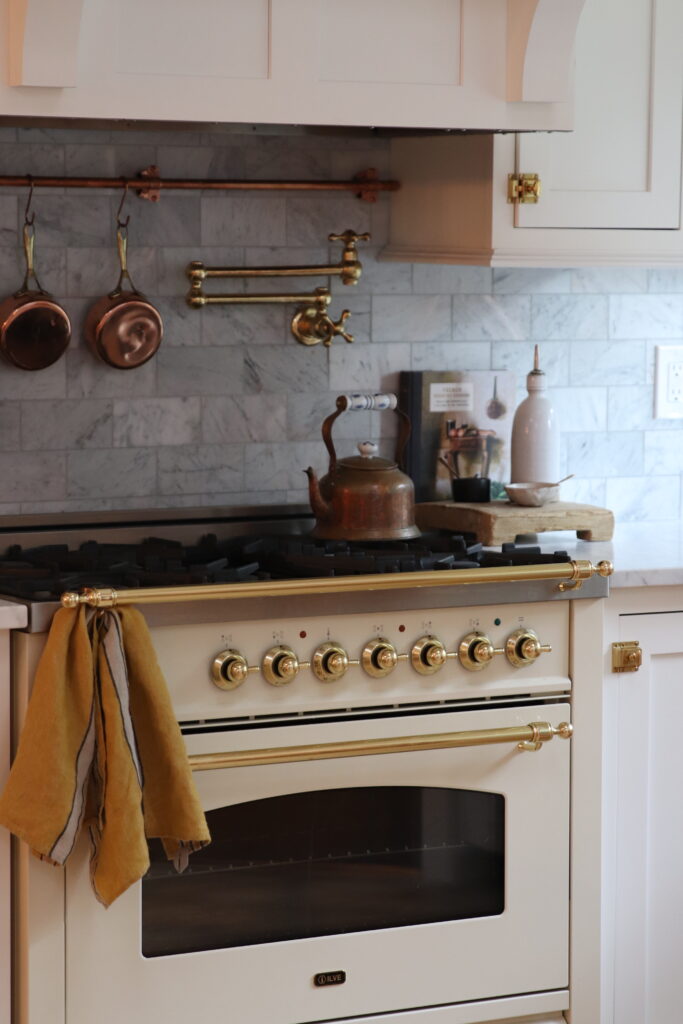 This is our third Ilve Range. Yes you heard that right! If you want that European look, without the hefty price tag, this is the range for you! See the full selection here at their website.
We are so excited to be finishing our remodel. It's been over a year of moving, renovating, moving again, and renovating. With this project, the kitchen was bumped out just a little bit keeping the foot print intact.
With the kitchen being the heart of our home, we designed it to be both functional and aesthetically pleasing and of course, practical. It also needed to reflect the European Farmhouse vibe that we are going for. We designed our hood to be a focal point. I wanted to make sure there was a small ledge that I could use for sharing seasonal items. The cabinets are an inset, shaker style. Shaker style cabinets usually are made up of a solid door and 4 pieces that are connected so the 'box' is flush with the inset cabinetry. The end result is a door that appears recessed.
I was adamant about symmetrical open shelves around the range because the focal point of our kitchen is the beautiful ILVE Nostalgia range.
ILVE 36″ Nostalgie Range | Why we love it!
Traditional European ranges are beautiful and create a focal point for the kitchen. Some luxury brands are pricey. You might spend $10K+ on one of those ranges and that price not always be in budget. ILVE ranges give a classic European style without the over-the-top cost.
Some appliances aren't negotiable and our ILVE range was one of them. Being drawn to design, I wanted something professional grade that felt luxurious. It's beautiful, yes? There were so many colors to choose from. I almost went with a this color, but ultimately decided on the Ivory color as it seemed more in line with our European Farmhouse design. We choose brass hardware and these beautiful legs for a vintage look that works perfectly in our new home.
ILVE appearance
The ILVE oven has a glass window on the oven doors. Most European ranges have solid doors. While that may look nice it's really not functional in my opinion. Opening the door and releasing heat to check on what's cooking isn't a good idea.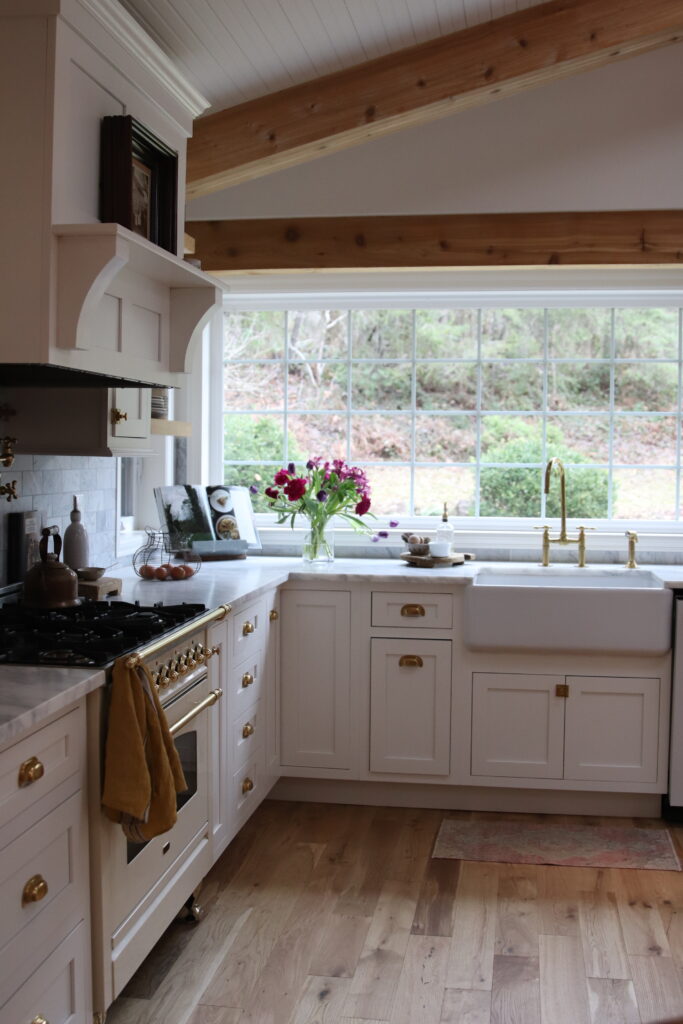 Special Features
Many models come with a griddle, which can be added to the middle burner. If you like to use a griddle for pancakes, this might be a fun feature to consider.
The ILVE range has a double burner which is helpful with even heat distribution or if you want to boil water quickly. There are nine oven settings including a pizza setting when the heat comes from the bottom of the range to keep the cheese from burning. And finally, there is a convection setting to use when you are roasting veggies or baking cookies.
IIVE ranges are made in Italy. They are not just beautiful but they are also work horses, a dream for any chef/cook. Ours is a 36″ IlVE Nostalgia dual fuel (we use propane) in the color ivory. The range has 5 burners and a sizable oven. There are EIGHT settings to choose from when baking. There are also various heating sources that are discussed in the operator manual. This range is solid! Sometimes you can feel heat coming from an oven when you are cooking. Not the case with an ILVE. Very little, if any heat escapes. In our prior home I had a pull out vertical spice cabinet right next to the oven. Readers would always ask if my spices went bad because they were so close to the range. I'd always answer NO. There was little, if any heat transference. Our 36″ range is the perfect size. It's large enough that I can have multiple dishes cooking at once without feeling too crowded on top. Honestly, this stove is a dream and because this is or third you know I most really like it!
Now that I have been cooking with the ILVE ranges for almost a decade, I can say I wouldn't want anything else. Our ILVE has a classic, elegant appearance and also practical. This range is like a piece of jewelry in our kitchen and is definitely the focal point. Stay tuned for a full kitchen tour!